They competed in different events and different eras, but they share a bond.
In track and field, they either ran, jumped, threw, vaulted or coached - all wearing the crimson and blue.
Wednesday was an evening to celebrate their Olympic gold medals, national championships, various records and a slew of other achievements. It was an "Evening with KU Track Legends and Friends" to raise money for the endowment trust fund of the Bert Nash Community Mental Health Center.
Fond memories of great Kansas University athletes that spanned generations filled the Lawrence Holidome. Nine of them gave brief speeches and shared stories that intersected.
About 400 people in attendance watched a black-and-white screen and cheered wildly when they saw a young Billy Mills find his kick on the home stretch of the 1968 Olympic Games in Tokyo and bring home the gold medal in the 10,000 meter.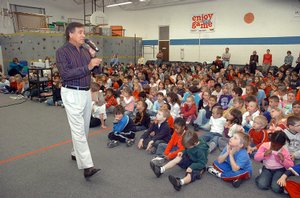 During his speech, Mills, who attended both Haskell and KU, confessed he remembered thinking he might have miscounted laps in that race until a Japanese official congratulated him as the new Olympic champion.
"It was such a thrill to be considered a colleague of Bill Nieder. I had watched him throw the shot so many times at the Kansas Relays. And there were all of the great athletes before me and those after (at KU)," he said.
Mills shared the stage with Nieder, the Lawrence High graduate who won Olympic gold in the shot put.
Others honored included former KU track and cross country coach Bob Timmons, four-time Olympic champion discus thrower Al Oerter, long jumper Halcyon "Tudy" Blake, pole vaulter Candace Mason Dunback, long jumper Theo Hamilton, distance runner Wes Santee, sprinter Cliff Wiley and distance runner Jim Ryun, who is now a Kansas Congressman seeking re-election.
Oerter gave a video address, but all others attended.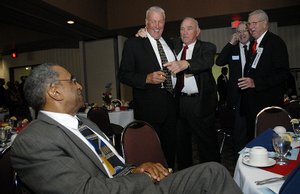 Organizers had Timmons on their radar for the event, said Scott McMichael, Bert Nash's community development director, but the former coach lobbied to make it a night about KU's track history.
The former athletes shared amusing and memorable stories about their coaches and each other.
Ryun said he remembered Timmons telling him he could break the four-minute mile as a high school runner.
"He was a visionary. He was willing to go out to those outer boundaries, when you didn't think it was possible," Ryun said.
Dunback, the youngest of the group, said the legendary names she shared the stage with helped shape her KU career.
"I was fortunate to have all of these personalities as role models," she said.
McMichael said the event raised $50,000, matching the four previous years.
More about the fundraiser
It is Bert Nash's biggest annual fundraiser for the endowment fund, which helps support several programs, including the Working to Recognize Alternative Possibilities, or WRAP, program to help Lawrence's at-risk children.
"The Bert Nash foundation helps other individuals find their dream," Mills said.
More like this story on KUsports.com