Milan Donley, an assistant track and field coach at Kansas University, has been named meet director of the Kansas Relays.
Donley, who has spent the past six seasons coaching horizontal jumpers for the Jayhawks, replaces Tim Weaver in managing one of the nation's oldest and largest track and field meets.
"It is very exciting for me. I have been coaching for 24 years in Division I, and this is definitely a career change," Donley said. "I have been involved in putting on track and field meets throughout my career, but to put on the Kansas Relays is a tremendous honor. It's one of the top college meets in the country and is nationally recognized. It's a great honor and I think there are a lot of great times ahead in putting this event on."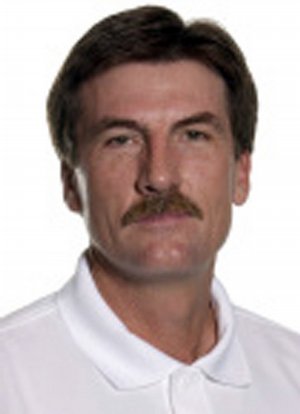 Prior to coming to Kansas, Donley oversaw the development of 17 All-Americans, two national champions, four Olympic team members, two U.S. champions and two American record-holders while holding various track-and-field coaching positions around the country.
As head coach at East Tennessee State, Donley was named Southern Conference Coach of the Year three times. He guided 54 individual Southern Conference champions and two All-Americans, and his teams set 25 school records.
Donley also served as an assistant at Arkansas, where he coached eight All-Americans and 15 SEC individual champions.
The 2006 Kansas Relays were the 79th edition, drawing more than 620 teams and 5,300 athletes from high schools, colleges and the national circuit.
More like this story on KUsports.com