Washburn University's basketball players looked like easy marks to vendors selling Rolex watches, DVDs and sandals last summer on the streets of downtown Shanghai.
The Ichabods, who were sight-seeing in China's biggest city, resisted the temptation to purchase any items - until one persistent peddler made her plea for a box of green tea.
"One little Chinese gal was an unbelievable salesman," Bob Chipman, Washburn's coach, said. "She had us buy not only the tea, but the Emperor's brand - 40 American (dollars) for a box of what looked like grass clippings. It's supposed to cure everything. It tasted like it, too," Chipman cracked.
Washburn's 10-day trip - made possible by the NCAA Div. II-school's playing lucrative "guarantee games" like tonight's 7 p.m. exhibition at Kansas University - was much more savory than the liquid grass.
The 'Bods not only toured Buddhist temples and silk factories, but took to the court in mid-August to smash four Chinese university teams by scores of 93-55, 109-54, 115-48 and 110-71.
It was just what the doctor ordered for an Ichabod squad coming off an uncharacteristically poor 10-16 season.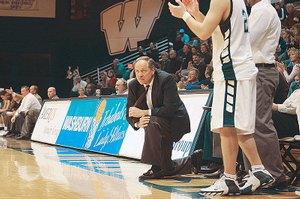 "The universities there ... you have to be in the top 2 percent academically to get in. It would be like us playing KU's Med School, something like that," Chipman said.
"The games were well attended. People wanted to see Americans and wanted to see dunks, which we don't do much. We hit a three-quarter-court shot in one of the games. The Chinese looked at it like, 'Americans can do that. It's no big deal.'"
Tonight's game is a big deal to Washburn and not just because the guarantee money of $20,000 goes directly into the Ichabods' travel fund - one that has paid for trips to France and Yugoslavia as well as China.
Eleven members of the Ichabods' 15-player roster hail from Kansas or Missouri - an area dominated by talk of KU basketball and tradition-rich Allen Fieldhouse.
More KU basketball
"Gosh, yes ... are you kidding me?" Chipman said of the interest in the exhibition. "Our players and fans ... we win national championships, conference championships, no big (deal). It's, 'How about the KU game?' It's magical to be in Allen and getting the opportunity to play there means a lot to our players."
A fired-up Ichabod team fell to KU by just nine points, 79-70, in the schools' last exhibition meeting Nov. 14, 2004.
"Most of the games have been pretty one-sided," Chipman said. His 'Bods fell to KU, 101-66, in 2002; 99-56 in 2000; 90-65 in 1996; and 82-68 in 1993.
"Even if it is one-sided, you can take bits and pieces that can help a team. You can tell a player, 'Look how you guarded Brandon Rush in this stretch; you were down, moving,'" Chipman said.
"KU has a team this year that can get away from people. To me, it appears coach (Bill) Self works on things early in the year that will work late in the year toward winning championships.
"Sometimes they don't blow teams out early when they probably could. They might work on some halfcourt stuff that will help them late. That helps keep the score a little closer, but they are still fabulous."
Chipman knows more than most opposing coaches about the Jayhawks. Many work his summer camps, which take place at various locations in Kansas.
"They are a neat group, they seem to want to win and like each other. They are trying to do things right," Chipman said.
"I was kidding Brandon (Rush) this summer. I said, 'I want the lead-in story on ESPN, not just the scroll (score on bottom).' I said, 'The only way I'll get the lead-in is if somebody scores 50 or more.' I told Brandon we'd get him 50 so we'd be the lead-in that night.''
Another way to get the lead-in on ESPN is for Washburn to win.
The Ichabods, whose best player is 6-foot-6 Effingham junior Kyle Snyder, would have to turn in a one-for-the ages effort for that to happen.
"No matter what happens, it's special for us," Chipman said. "We thank KU for playing us. It helps our program's travel budget, but also makes us tougher, a better team. It helps us to play a team like KU."
More like this story on KUsports.com