Kansas University's men's basketball team has been known as Point Guard U. - at least in the Midwest - for the past three decades.
Kirk Hinrich, Cedric Hunter, Adonis Jordan, Aaron Miles, Kevin Pritchard, Mark Turgeon, Jacque Vaughn and Darnell Valentine have excelled at the lead guard spot, piling up points and assists as well as victories for the tradition-rich Jayhawks, who have a new floor-general in town eager to join that list of greats.
He's Sherron Collins, a 5-foot-11, 200-pound McDonald's All-American out of Chicago, who according to all-time KU and Big 12 assists leader Miles has the stuff of which legends are made.
"Sherron is real good, man," Miles said before heading to France where he's playing pro ball this season. "He is a power guard, but he is quick. He mixes strength with quickness, a shorter version of a Baron Davis is how I'd describe him."
Like Miles, returning KU quarterback Russell Robinson has spent a lot of time guarding and being guarded by Collins.
Robinson is another believer.
"Strength-wise he's probably ahead of every freshman who has come in the last couple years, picking up the weights, not finding anything hard at all," Robinson said. "He can drive, pass it and shoot. It hits the bottom of the net.
"He's pretty quick, strong and finishes well around the basket. I think he'll be able to do a lot of things for the team this year," Robinson added.
Collins - he averaged 33 points, eight rebounds and six assists his senior season at Chicago Crane High - said he'd like to be like all the strong KU point guards of the past in terms of unselfishness.
"I am not here for me," Collins said. "I am here to play ball and help the team win."
To make that happen ... "I will be pass first," he said. "I will try to run the offense first. If there are no open looks, coach tells me to drive it. I will do what coach asks me to do."
Collins said he had spent countless hours working on what some perceive to be his weakness, his outside shot.
"I worked on it all summer. I've gotten confident with it," Collins said. "I've got long range, but I mean, most of the time I won't have to shoot it long range. We've got other guys who can score. I will distribute the ball. There's a lot of good guys around me. But if it's open I feel I can make the shot. I worked on my consistency. It's come along real well."
There has been an adjustment in how quickly he needs to get off the shot.
"Everything is so much faster here and more fundamental," Collins said of college. "We play off a lot of pic and roll. In high school it's dribble dribble dribble. Here it's faster, more speed. Everybody here is good."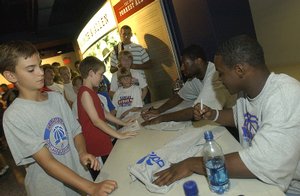 KU coach Bill Self, who likes the fact Collins isn't afraid to lead vocally whereas several of his other perimeter players lead by example, loves the potential of his new guard.
"He's really good at everything, defense, shooting, passing ... he's a good player," Self said.
"He is a point guard who will shoot," the coach added. "It will be kind of exciting to have three guys out there who all have point-guard skills that can play different spots. I would think with Russell in the game, he (Robinson) will be on the ball a lot He and Sherron, Mario (Chalmers) whoever is in the game, I see it being more interchangeable parts more than anything."
Collins said he had fit in well among his new teammates.
"I found I was missing my boys in Chicago. They are my boys now," Collins siad.
"It's a lot different here. Chicago ... I was in the city. It was more hostile. It's more quiet here. That first week here was so hard. You are on the phone every two minutes talking to somebody back home to see what's going on. You miss your home, your friends. Now I realize I got myself to a better situation. It's not too hard an adjustment. The guys welcomed me and we have fun. I think the season will be a lot of fun."
More like this story on KUsports.com