No sense trying to hide what will be obvious at pregame meal, in the locker room and on the Allen Fieldhouse court during warmups tonight.
"Yes, I'm nervous," Kansas University freshman point guard Sherron Collins said. He was referring to days, hours, minutes and seconds leading up to the Jayhawks' exhibition basketball opener against Washburn.
Tipoff is 7 p.m. with a live telecast on channels 27 and 38 and replay at 10:30 p.m. on Sunflower Broadband channel 6.
"The first couple of minutes I get out there, I'll be getting the hang of things, how things are going - get some good defensive stops and I'll be all right," Collins said.
The same goes for fellow McDonald's All-America forward Darrell Arthur, a freshman equally anxious about his college debut.
"I'm kind of nervous, but I have to step up, because that's what we're all about. I have to try to produce," Arthur said.
"A little of both, really," Arthur responded when asked if he was nervous about the big picture of his freshman season or merely Game One. "It's going to be tough."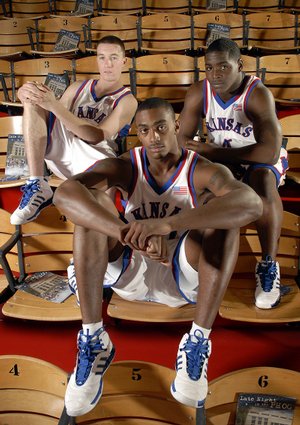 Others making their debuts tonight: freshman scholarship guard Brady Morningstar, as well as walk-ons Brennan Bechard (sophomore) and Brad Witherspoon (junior).
"First game in the fieldhouse ... it's going to be a fun time. I mean that's all I can really say," Morningstar said.
The three freshmen figure to have some time to soak in the atmosphere before taking the floor.
KU coach Bill Self indicated Wednesday that, barring a game-day change of heart, he'd open with the lineup of veterans Russell Robinson, Mario Chalmers, Brandon Rush, Julian Wright and Darnell Jackson.
"These guys will all be nervous as they can be on Thursday. I'd be disappointed if they weren't," Self said of his entire roster, not just the newcomers. "They need to learn to play under those type situations. It's big for our freshmen, but also big for Jeremy (Case), big for Rod (Stewart), big for Julian, who needs to go out and play and have success."
More KU basketball
The 16,300 fans who pack the building will have their eyes on the newcomers, the unknown pieces to what fans hope is a national title contender.
"I think they're going to take it like we did last year, just like me, Mario and Julian. They are going to come out here and just play their type of game," sophomore Rush said of the newcomers. "Just get comfortable with the feel of how we're playing and just don't let the crowd get into your head and just stay focused on the court."
Self said the team was far from a finished product, the Jayhawks having worked mostly on "meat and potatoes" at practice the past couple weeks.
"This is not like (pro) football where you play four exhibition games, and in the first and second one guys play just two series," Self said. "This is a good opportunity for us to do some good things as a team regardless of what the score says or regardless of who you are playing against. You are playing in front of people against a team that is well coached."
Washburn, 10-16 last year, is led by 28th-year coach Bob Chipman, whose squad scared the Jayhawks in a 79-70 loss Nov. 14, 2004 in Allen Fieldhouse.
"All our players know Bob well from summer and (working his) camp," Self said. "He is a terrific coach. He's been doing it a long time and won a lot of games. Last year they struggled a bit but return a majority of the team. It should be a fun game.
"Two years ago it was a nine-point game, a four or five point game late. They really had a shot. I think that game probably helped us in a lot of ways. They played us well and will do that Thursday."
As far as KU's freshmen ... they can dream they'll have memorable debuts.
"Me and Sherron ... every day we talk about trying to earn our spots on the court. Hopefully, we can make it happen," Arthur said. " It's going to be tough because we've got all our starters back except Sasha (Kaun, injured) and C.J. (Giles, suspended)."
"We just want to come out and play as well as we can," Collins said. "We want to do everything coach tells us to do and we should come out on top."
More like this story on KUsports.com