Travis Releford is not one to say no to a challenge - not in flip-flops, not exhausted and especially not against Kansas University guard Brandon Rush.
Shortly after his K.C. Pump N Run team took the U17 title of the Jayhawk Invitational, Releford couldn't resist when Rush challenged him to a duel in Allen Fieldhouse.
"I've been talking stuff to him every now and then," said Releford, a 6-foot-5 guard from Roeland Park Miege, "trying to get him to play one-on-one."
For a few minutes, the highly touted sophomore received his wish, bumping elbows with Rush while missing a pair of jumpers.
"It was good. It was all right," Releford said. "I want him to have some shoes on and me to have some shoes on the next time we go at it."
Though Rush and Releford are nearly five years apart, they know each other from when Rush played at Westport High School in Kansas City, Mo. At the time, Releford was only a grade-schooler.
The two may someday have more in common. Releford - the No. 3-ranked player in the class of 2008 according to scout.com - is considering Kansas, along with Illinois, Iowa, Missouri and others.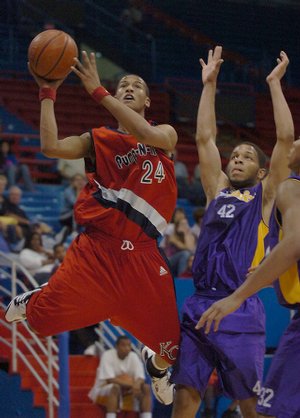 Playing in the Fieldhouse over the weekend didn't hurt the Jayhawks' chances, with Releford saying the experience was something he "could get used to."
"I like the lights and the fans," Releford said. "There's a whole lot of people giving me hype."
In his first action after dislocating his ankle in March, Releford played a supporting role in K.C. Pump N Run's march to the title.
With limited minutes, Releford scored 10 points on 3-of-4 shooting in a 62-57 championship victory over Ft. Sooy (Ill.) No Limit Sunday. The win also helped Releford make good on a promise to his teammates.
"I was telling them, 'When I come back, we're going to win the first tournament,'" Releford said. "And we did."
Pump N Run started strong with long-range shooting from Kansas targets Conner Teahan and Tyrel Reed.
The pair alternated hitting three-pointers in the first three minutes, making their first four long-range shots for a 12-6 advantage.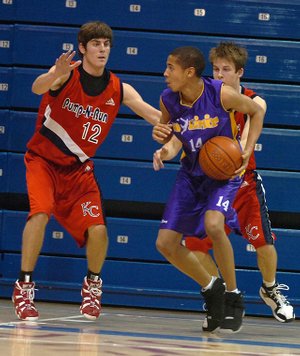 "When Tyrel and I are both on, our team is very good," Teahan said. "This is actually the first time this year that we've both been on at the same time."
Teahan finished with 15 points, making three of his seven attempts from behind the arc.
Reed also made three of seven three-point tries, contributing 20 points and also a pair of steals.
"Conner's a great player. He's fun to play with, and I'm glad I got to play with him," Reed said. "We just came out shooting like we usually do, and we were hitting."
Releford helped seal the game, laying it in on a fast break to make it 59-51.
After a three-pointer, Reed responded with a driving and-one lay-in to bump the lead back to eight.
The game also featured a fourth Kansas recruit, as Verdell Jones played point guard for Ft. Sooy.
The 6-2 sophomore from Champaign, Ill., attended Late Night and also the Kansas-Oklahoma game in Allen Fieldhouse last season.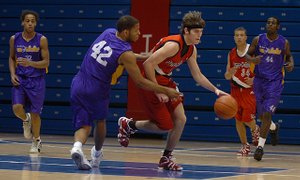 "It feels like a failure not to win it," Jones said of the championship game. "For our first tournament this year, I think we did a real good job. We've got some great players."
Jones finished with eight points, struggling in the second half when he missed 10 consecutive shots before making his final layup.
"I think it's just legs. We just got done playing the game before this," Jones said. "We sort of played the back-to-back games. I think most of our team ... our legs are gone."
Jones - who said he talks to Kansas coach Bill Self "every now and then" - remained awed with his experience in the Fieldhouse.
"It's a legendary place," Jones said. "It's an honor for me to be here. I'd love to play in a place like this."
¢ Future Jayhawk Cole Aldrich was taken to the hospital Saturday night after taking an elbow to the stomach.
After further examination, the 6-foot-11 center was relieved to discover he had only bruised his ribs.
The incident took place in the second half of his Minnesota Magic Elite's 8:50 p.m. game. After sitting out part of the first half with three fouls, Aldrich was injured shortly after re-entering the game in half two. He finished with four points.
Coach Parrish Curry said initially there was some fear that the injury might have been worse.
"You never know with those kinds of things," Curry said. "He thought he had some shortness of breath. The doctors said he could have played today, but I pulled the plug on that."
Curry said Aldrich should not miss any additional games.
¢ Reed said the title was especially significant given that the Jayhawk Invitational had almost turned into Pump N Run's home event.
"It's basically our only tournament in the spring that's close," Reed said. "We're just trying to prove we're one of the best teams in the area."
¢ So what's next for the Pump N Runners?
Teahan said the team would take two weeks off before playing in its next event.
"It'll be nice," Teahan said, "to have a little break."
More like this story on KUsports.com