Three players accounted for 65 percent of the offense during Kansas University's women's basketball season.
All three of those players - Crystal Kemp, Erica Hallman and Kaylee Brown - were seniors, meaning coach Bonnie Henrickson must either restock or regress.
Fortunately, Henrickson has plenty of potential stockage with seven scholarship freshmen coming in.
"They'll bring speed and athleticism," Henrickson said, "and that's the most needed area of improvement for us."
Even though Kansas (17-13) posted the school's first winning season in six years, the Jayhawks were woeful defensively.
"Our steals numbers were terrible, the worst of any team I've had," said Henrickson, who coached at Virginia Tech for seven years before coming to KU prior to the 2004-2005 season.
So were the blocked-shot numbers and the field-goal-percentage-defense numbers. At the same time, while KU boasted a consistent inside scorer in the 6-foot-2 Kemp and above-average three-point shooting from Hallman and Brown, the Jayhawks were toothless in offensive transition.
Henrickson's two returning starters - forward Taylor McIntosh and point guard Ivana Catic - are not multi-dimensional players, but functional. Top reserves Marija Zinic and Shaquina Mosley came on strong late and figure to be in the mix.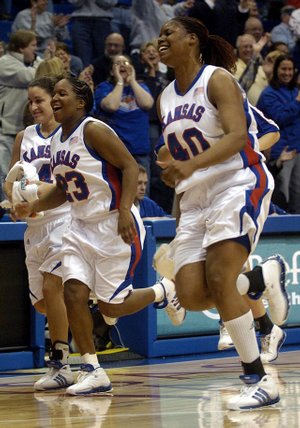 There is little doubt, however, that Henrickson is hoping at least two and as many as four freshmen will make an immediate impact.
Two of the newcomers are from suburban Johnson County schools - Danielle McCray of Olathe East and Lindsay Ballweg of Overland Park Aquinas.
"Danielle has size, speed and skills," Henrickson said of the 6-foot McCray, the Sunflower League player of the year. "She is our highest-rated player in this signing class."
Ballweg, a 5-10 guard, figures to take up the three-point shooting slack caused by the departure of Hallman and Brown.
"She has great size and is able to consistently knock down the three-pointer," Henrickson said of Ballweg. "She's the best three-point shooter of this group."
Both McCray and Ballweg are Kansas All-Staters, but Kelly Kohn, a 5-9 combo guard from Adrian, Mich., is the only one of the seven signees to be recognized by the Women's Basketball Coaches Assn. Kohn earned honorable mention All-American from the WBCA.
"Kelly is not only a great scorer, but she is a coach's kid," Henrickson said. "She has a great mind for the game of basketball and is not afraid of hard work."
Another backcourt signee, LaChelda Jacobs of Mansfield, Texas, looms as the premier perimeter defender Henrickson needs so badly.
KU women's basketball signees
Lindsay Ballweg, 5-10, G, Overland Park Aquinas Rebecca Feickert, 6-2, F-C, Goodrich, N.D. LaChelda Jacobs, 5-10, G, Mansfield, Texas Kelly Kohn, 5-9, G, Adrian, Mich. Danielle McCray, 6-0, F, Olathe East Sade Morris, 6-0, F, Norman, Okla. Porscha Weddington, 6-1, F, Temple, Texas
"LaChelda has tremendous athletic ability," Henrickson said of the 5-10 Texan. "She might be the most athletic player I will have coached."
Three other signees - 6-2 Rebecca Feickert, 6-1 Porsha Weddington and 6-0 Sade Morris - will provide Henrickson with various options because of their size.
Morris comes from Norman, Okla., home of Oklahoma University.
"We are very lucky to have signed her," Henrickson said. "She was heavily recruited by OU. She has length and rated as one of the top 30 wing players in the country."
Weddington hails from Temple, Texas. She's the daughter of Mike Weddington, a former football player at Oklahoma and with the Green Bay Packers, and she has "tremendous athletic ability," according to Henrickson.
Feickert is from the tiny town of Goodrich, N.D. Only two players are in her graduating class.
"She is a versatile player who can step out of the paint and knock down the three," Henrickson said.