Auburn Hills, Mich — One and done : again.
In a game eerily reminiscent of last year's one-point Bucknell bummer, another BU - Bradley University - put an end to Kansas University's basketball season, 77-73, in a first-round NCAA Tournament battle on Friday night in The Palace of Auburn Hills.
A No. 3 seed a year ago versus the No. 14 Bison, this time it was KU going down as a No. 4 seed to the No. 13 Braves, both setbacks in the late, late game that concluded first-round tourney action.
"They both sting bad," KU coach Bill Self said dejectedly outside the team locker room. "We have no excuses, though last year we were hurt. This year we were fine (health-wise)."
The agony of defeat following a game in which KU lagged by 14 points (47-33) with 15:39 left - yet just three with 51.6 seconds to play and three again at 2.5 - was visible in KU's locker room.
"I'm sad. I'm shocked and disappointed," said freshman Brandon Rush, who scored just four points the first half.
"I didn't know they'd come in and shoot like that," he added of the Braves, who made seven threes the first half and 11 total in 21 attempts compared to KU's seven of 18 treys.
Fellow freshmen Julian Wright and Mario Chalmers scored four and zero points in the first half as KU lagged, 37-27, at the break.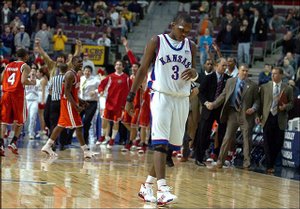 "In the locker room, we were all disappointed and quiet until coach talked," added Rush, who said he was certain he'd return to KU for his sophomore season and not turn pro. "Coach said, 'Put your heads up. You've got another year.'''
KU's seniors - Jeff Hawkins, Stephen Vinson and Christian Moody, plus student assistant Moulaye Niang - had a message for the returning Jayhawks.
"The seniors told our guys, 'Don't forget how this feels,''' Self said. "There's no tomorrow, no time to catch up. This doesn't make for a fun offseason, but we do have a chance to be very good next season if we tighten things up."
Friday night, the Jayhawks needed to tighten a lot of things up, looking as if they were sleepwalking for the second straight year in the late game.
KU had just three assists the first half against 11 turnovers and bumbled through the final 4:12 of the half. BU finished the half on a mind-boggling 11-0 run to lead by 10 at the break. The Jayhawks prior to the run had appeared to right themselves, leading 27-26 after falling behind early 24-17.
"Pitiful," Self said of the three assists the half and 11 for the game. "We got behind, and I don't know if panic is the right word, but we didn't move it (ball). We got impatient. It's not ever best for guys to go do their own thing."
He refused to use youth as an excuse.
"Absolutely not," he said. "We've been young all year and won."
So what happened as the Jayhawks failed to click until the very end?
"'Flat' is not the right term," said Self, whose team was outscored 10-6 to open the second frame in falling behind 47-33. "In awe, maybe. The late games have been bad for us.
"We have a young team. We'd be better off playing and getting it over with. I guess CBS didn't think it (playing earlier) was best for ratings."
What was especially frustrating to the Jayhawks was not only their sloppy play the first half, but the fact there were key mistakes after the squad cut the gap to 67-64 with 2:26 to play.
C.J. Giles was called for his fifth foul. Lawrence Wright hit one of two charities at 2:26. After that, Chalmers missed a three, the carom knocking out of bounds off a Bradley player at 1:59. KU couldn't get the inbounds pass in, turning it over, down four points.
Go figure
17 Bradley's points off KU's 11 first-half turnovers
0 KU's points off Bradley's 6 first-half turnovers
10 Bradley's overall advantage in points off turnovers (22 to 12)
11-0 Scoring run with which the Braves ended the first half
52.4 Bradley's three-point shooting percentage (11-for-21)
38.9 KU's three-point shooting percentage (7-for-18))
2-2 Record by Missouri Valley teams in the NCAAs
2-2 Record by Big 12 Conference teams in the NCAAs
With the score 70-67, KU allowed a deep pass and layup by Will Franklin, who also banked in a three to close the first-half BU surge. With KU down 72-67, Russell Robinson missed a driving layup, and Chalmers fouled on the rebound. BU's Daniel Ruffin hit one of two charities.
"I just felt we are a better team than that," said Robinson, who scored 18 points. "We reverted back to our old tendencies. We didn't match their intensity the first half."
"We went back to our old stuff," noted freshman Wright, who finished with eight points; Chalmers had 15 and Rush nine. "Our old tendencies, (bad) spacing. A lot of it had to do with watching instead of looking. Plus, Bradley was more aggressive early."
The bottom line is, KU is finished for the year just one game into the tourney once again.
"You can't take away the fact we had a really good season," said Self, whose squad finished 25-8. Bradley (21-10) advanced to Sunday's second-round game against Pittsburgh. "You can say we didn't have a great season. To have a great season, you have to perform well in this tournament. We didn't perform well, but that's not a 13-seed we played today. It's a team that could beat a lot of teams."
More like this story on KUsports.com