Fort Worth, Texas — The clock hits 1 p.m., and Keith Langford loudly crashes through the locker room door, turns right and heads down a Nolan Catholic High hallway toward the gymnasium.
Most of his teammates already are in the "Official Training Facility of the Fort Worth Flyers" - as described by a sign inside the otherwise-typical high school venue. Among them is Aaron Miles, who's warming up with jumper after jumper and pausing occasionally to rebound those of a teammate.
Langford puts on his shoes and gets inside in time for the warm-up jogging and stretching. At this point, he hasn't cracked a smile. The whole day will pass without Miles leaving his businesslike, stone-faced demeanor.
Has the fun escaped these two? The plot seems endearing on the surface: teammates and friends for four years at Kansas University, reunited professionally on the first-place team in the National Basketball Association Developmental League.
"Everybody makes it seem like it's a hunky-dory story," Langford says. "But this is a league that nobody wants to be in."
This also is a severe culture shock for Miles and Langford, two four-year standouts at tradition-rich KU who earned fame and adoration from a fan base that couldn't get enough.
Miles started in two Final Fours, in domes that could hold every resident of a two-high-school city. Langford likely would've been the 2003 Final Four MVP, had KU beaten Syracuse in the championship game that year.
Now, this.
For Langford, it has been a season-long conflict of passion for his sport and pessimism for where he plays it.
Miles, meanwhile, might have it even worse - he played half a season for the NBA's Golden State Warriors before being released in January. Now he here trying to remember the sweet taste of the NBA for motivation, yet also trying to forget about it so his present situation doesn't eat him up.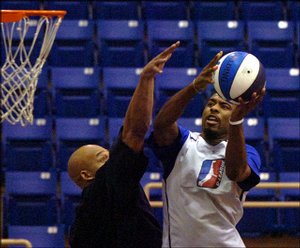 "Look at it," Miles said. "We practice at a high school right now. Golden State, you had your own facility. You traveled charter planes to games, down here you travel charter buses. Up there you stay in a Trump Tower hotel by yourself, down here you're doubling up in the Ramada Inn."
Miles shakes his head at the thought. Thing is, it's not even about the money or the Trump Towers or the travel arrangements. It's about the dream, the goosebumps that pleasing thousands - including himself - provides.
That tingle just doesn't make its way down to the NBDL.
It's 1:30 p.m., and the Flyers are battling each other in 5-on-5 half-court drills. Taking the ball out up top, Langford spins the blue-and-white striped basketball on his finger while coach Sam Vincent barks instructions at a big man. Miles, wearing a dark jersey and standing just three feet away from his buddy, bends his knees and gets ready for Langford to start running the offense of Team White.
Finally, a smile. Keith Langford is asked about his days at Kansas.
"The guys," he said. "Being in the locker room, in the hotel on the road. Making videos and hopping from room to room at (Jayhawker) Towers. That's really what it is."
Langford pauses to reflect on the question: What do you miss most about KU?
"Obviously, I miss the basketball," he continues. "It's not going to be the same whether you're making $10 million or whatever you're making."
The same being, of course, the unparalleled atmosphere offered by Allen Fieldhouse, the thunderous barn that mostly embraced the 6-foot-4 slasher and probably always will.
Langford doesn't necessarily long to play at KU again, adding "it was time for something different. You can't stay there forever."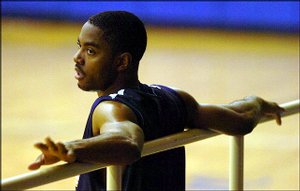 But he will always have the right to miss the way things were. The reporters who loved his honesty. The fans who loved his determination. The teammates who loved all of him because that goes with the territory of brotherhood.
Langford is on a "team" now - but it's the deeper meaning of the word that just doesn't make its way to the minor-league circuit.
"It's a bunch of guys going for each other's head day in and day out," Langford said of the NBDL. "On the same team and on other teams."
At this practice, 10 players are working on a variety of set plays, and Miles and Langford are playing court generals on opposite teams.
Imagine that - Keith Langford a point guard on a team that features Aaron Miles, maybe the truest point guard in Big 12 history.
"I knew I would have to play combo eventually," Langford said. "It's been an adjustment, but it's going to increase my chances at getting to the league."
It all comes back to the league for Langford, who obviously still dreams every day of what he nearly touched. Thought to be a borderline first-round pick after his sophomore year, Langford hesitated to declare because of the lack of certainty in his standing. His jump shot became more reliable his junior and senior seasons, but injuries came in and crippled his athleticism. A bad knee lost strength. High-flying two-handed dunks became less frequent. Basketball became less fun.
"The last two years, it was a shot before the game, a shot after the game, along with pills," Langford said. "Too much going on."
Langford was one of the last cuts of the Houston Rockets last fall, but his NBA quest continues with a body he says isn't fighting him anymore.
"I really had the chance to get healthy and get myself back to the point where I'm still a good player," Langford said. "Finally, I'm able to just play. It's a good feeling."
It's 2:20 p.m., and Aaron Miles has yet to change a single thing about his approach. No laughing, no talking, no horseplay. Langford gets the rock up top, and Miles squeezes the bottom of his shorts and bends his legs. He's ready to defend like hell. Again.
There are seven Crash Davises on the Flyers. You know, that charming character from the 1980s baseball flick Bull Durham - the one who strummed his guitar on the team bus and talked eloquently and solemnly about his cup of coffee in the big leagues.
"Twenty-one days," Crash says slowly. "The 21 greatest days of my life."
Miles' initial taste was all too similar. He was with Golden State for three months, made about $150,000 and, if nothing else, will forever be able to tell his kids that pops played in the NBA.
At 19 games, Miles actually is the Flyer with the most NBA experience. Six others have stints that ranged from two to 16 games - merely a depressing tease.
"The one thing about Golden State that wasn't great," Miles said, "was that I wasn't playing."
He nods his head, then finishes his thought.
"But," he said, "everything else was great."
Miles' taste of his dream came from clawing, fighting and scrapping his way to the top of the mountain.
Undrafted out of Kansas, Miles had summer workouts with San Antonio, Houston and New York before landing - and staying - with Golden State. He signed a partial-guarantee contract, made the 14-player roster, and started the season as the Warriors' third-string point guard.
"I was learning a lot," he said. "I was developing some good relationships with players, and then there was the lifestyle. The way things worked was great."
Miles was released only days before his contract would become fully guaranteed - which would have given him in excess of $200,000 more. Miles never got an explanation for being waived, but signs point to the business side of basketball.
Now he's here, making an NBDL salary that is, at most, 1/10th of his NBA-minimum deal. Not wanting to play overseas, he threw his name in the NBDL pool, and got a call from the team Langford already was trying make a name on.
"It's good that he's down here," Langford said, "but at the same time, I wanted him in Oakland."
Miles tried to be more optimistic than Langford, calling the NBDL an opportunity "a lot of guys wish they could have."
Still, Miles feels he lost his grip for the last time. The next time he gets his hands on the NBA handle bars, he says, he's not about to let go.
"One of my goals was to make the team, and I made it," Miles said. "I wanted to stick, and I didn't attain that one initially. I'm looking forward to getting back up there and staying for a long, long time."
Aaron Miles is the last to finish practicing at Nolan Catholic, shooting a few more free throws while his unappeased teammates head back to the locker room. He then heads over to a small flight of stairs and sits at the bottom, relaxing and reflecting on his unpredictable, bumpy ride since leaving the glory Kansas University gave him.
"You've got to stay as positive as possible," he said. "I'm just continuing to work hard and do what I do. Continue to get better, and leave it in God's hand."
More like this story on KUsports.com