Three Kansas University sports venues suffered damage during Sunday morning's storm.
Arrocha Ballpark, home of the softball team, appeared to have been the hardest hit.
"We don't have a backstop anymore," coach Tracy Bunge said.
Also affected were Hoglund Ballpark, home of the baseball team, and the Jayhawk Soccer Complex. All three facilities are in close proximity south and southwest of Allen Fieldhouse.
According to Jim Marchiony, a KU associate athletic director, a portion of the left field fence at Hoglund Ballpark collapsed when a tree toppled into it.
"A batting cage was also lifted by the wind and moved," Marchiony said. "The scoreboard looks good, but there was some sign damage on it."
Some bleachers at the Jayhawk Soccer Complex were knocked askew, said Marchiony, who also noticed "a little bit of damage" to a goalpost on the adjacent football practice field.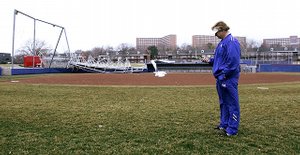 Neither Hoglund Ballpark nor the soccer facility was in use. The KU baseball team this weekend was in Clemson, S.C.
Two Jayhawk Classic softball games had been scheduled Sunday at Arrocha Ballpark. A 10 a.m. game between Portland State and Eastern Michigan and a noon contest between KU and Minnesota were canceled because of the damage.
Temporary bleachers on the third-base side at Arrocha Ballpark were blown into the backstop, knocking the poles holding the mesh screen onto the field. The first-base bleachers, also untethered, went flying, too.
"They went over the (first-base) dugout," Bunge said, "and are lying mangled on the field."
In addition, part of the center-field fence at the 3-year-old softball facility was bent back at a 45-degree angle. The scoreboard was unscathed.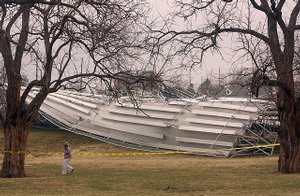 "Fortunately, it'll be 2 1/2 weeks before we have a home game again," Bunge said. "Hopefully, we can get it cleaned up so we can practice on Tuesday."
Today is a scheduled day off for the softball players, who will depart Thursday for a weekend tournament in Honolulu. The next home date is March 30 against Creighton.
KU's baseball team also is on a long hiatus, with the next home game set for March 29 against Wichita State.
Bunge was in nearby Anschutz Sports Pavilion when the storm arrived.
"We had a crew lining the field," she said, "but I got them off because of the lightning, so there wasn't anybody out there when it hit. We were very, very fortunate."
Anschutz Pavilion suffered no damage, Marchiony said. Allen Fieldhouse and Memorial Stadium also escaped the storm's wrath.
More like this story on KUsports.com