Sitting at midcourt with members of his family, Max Falkenstien beamed as his commemorative jersey No. 60 was unfurled high in the southwest rafters of Allen Fieldhouse at halftime of the Kansas University-Colorado game Wednesday night.
His name forever will hang next to 27 of the basketball players he covered in his 60 seasons broadcasting KU athletics.
"I thought it was fabulous," Falkenstien said of the jersey-retirement honor; the 60, of course, signified his years in the business.
"I would have to confess I thought it might be something they'd do tonight, but Jimmy (Marchiony, KU associate AD) and everybody else kept it a close secret. I'm definitely honored by it. It was great."
Falkenstien, 81, who is stepping down after this season, worked his final home game Wednesday.
He not only had family members with him at halftime, but also several former KU basketball players.
Photo Gallery
Max Falkenstien Retires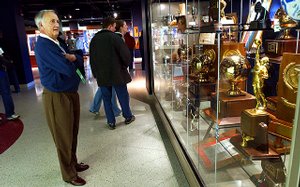 During his 60 years at KU, Max Falkenstien has become the 'Voice of the Jayhawks.'
They included: Sean Alvarado, Jeff Gueldner, Greg Gurley, Bill Hougland, Monte Johnson, Bill Lienhard, Mike Maddox, Roger Morningstar, Patrick Richey, Bud Stallworth and Jerry Waugh.
Ryan Robertson was in the stands, but wasn't told about the halftime ceremony. After the game, he presented Falkenstien with his own special gift. It was a picture of him and Falkenstien taken during Robertson's own Senior Day.
"I really wanted to be here and give it to him," Robertson said. "Max means so much to everybody who's played at KU."
Falkenstien was touched by all the love. The 16,300 fans gave him a thunderous standing ovation during his halftime speech and again when his jersey dropped from the rafters, next to Nick Collison's No. 4.
"As my good friend Larry Brown taught me to say, 'Gosh, this really is special,''' Falkenstien said.
"I thought this day would never come, but since it has, I'm glad I was here to enjoy it," he added, the fans roaring in laughter.
He thanked his wife, Isobel, and other family members and had words of praise for his broadcast buddy and partner of 22 years, Bob Davis.
"My wife packed my travel bag for 60 years. She has been my pal, my partner, a great mom and listened to more games than anybody in this building," Falkenstien said. "Bob and I have broadcast games from the Hawaiian Islands to New York, from Anchorage to Miami, and in 22 years never had a disagreement. We had thousands of laughs, a few tears, great victories, crushing defeats. I'll miss Bob Davis."
Gov. Kathleen Sebelius had this to say about Falkenstien, who worked as the first general manager for Sunflower Cablevision:
"It's going to be hard to imagine KU basketball without the voice of Max," she said. "He's done a terrific job and is known all over the country for being the voice of the Jayhawks."
KU coach Bill Self said: "I'll look back at this as one of my favorite nights, not because we won the game, but I was here when Max got his name dropped (from rafters). That is special, and he deserves it."
More like this story on KUsports.com