"Fathers are just wonderful
In a million different ways,
And they merit loving compliments
And accolade of praise"
That verse, from a poem by Helen Steiner Rice, could have just as easily been composed by several Kansas University coaches who glowingly delivered Father's Day tributes to their dads in interviews with the Journal-World last week.
Here are some of their stories:
¢ Thanks to his dad, Bill Sr., KU basketball coach Bill Self learned how to shoot hoops at a very young age - before he entered kindergarten.
"My dad was a high school basketball coach when I was born. The first memory I have of him is nailing a real goal - not a nerf ball goal - to the back of our bathroom door in the house that we lived in and me shooting baskets on a 3-foot goal," Self said.
He fell in love with the game and became a standout guard at Edmond (Okla.) High and Oklahoma State University.
"He worked with me a lot in the yard in the driveway," Self said of his dad, who left coaching to become director of the Oklahoma Secondary School Activities Assn. for the final 28 years of his career.
"The biggest thing he always talked about was just trying hard and, 'Never put yourself in a situation you don't play well or get beat from a lack of effort or intelligence or focus.' There's no excuse for that."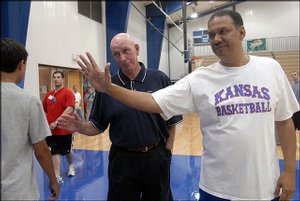 Self, who loves hard-nosed play, picked up that trait from dad.
"He was tough on me, but not so much he quit being a dad. He was a dad first," Self said. "A lot of our dinner conversations were based on me trying a little bit harder."
Self said his dad taught him a lot of sports intangibles.
"The biggest thing is you treat people fair, you are straight with people," Self said. "Do not always tell people what they want to hear."
Self, whose son, Tyler, is involved in baseball and basketball, and daughter, Lauren, in volleyball and gymnastics, tries to attend as many of their events as possible for a busy, major college coach.
"I love watching them play. I have a lot of favorite players at KU, but they are all second compared to my two favorites," Self said.
¢ Sports Illustrated featured Raymond Townsend Sr., in its "Faces in the Crowd" section back in 1976.
Audio clips
Father figures
Townsend, the father of KU assistant men's basketball coach Kurtis Townsend, was recognized as the oldest junior college basketball player in history. Raymond was second man off the bench for San Jose (Calif.) City College at the ripe age of 39.
"I'd go watch him and hear people in the stands saying, 'Gosh, look at how old that guy is out there playing.' They'd say, 'Who's got pops?' Kurtis Townsend said. "My mom joked that he'd do anything for a free pair of tennis shoes."
Ray Townsend, a long-time California high school basketball and baseball coach, was discovered in a physical education class by San Jose's hoops coach, who happened to teach the class.
"He knew who my dad was. He said, 'With your knowledge of the game, you could help us on the court, be a stabilizing guy.' My dad went out for the team and was seventh man. I remember him scoring seven points, 10 points. He was still really good," Townsend said.
Playing against teenagers at the age of 39 wasn't easy on the body.
"The first three or four days he was so sore, our whole house smelled like Ben Gay," said Townsend, who was a senior in high school at the time. "He had blisters all over his feet."
Kurtis credits his dad as inspiration in his own career.
"I think I wanted to coach because he was a coach," Townsend said of Ray, who is retired, but still dabbles in coaching. In fact, Ray worked last week's Bill Self basketball camp.
"He told me, 'If you do something you like to do, it never feels like work,''' added Kurtis, who is father of four girls (Kaliyah, Keisha, Myka, Tanika) and one boy (Marques).
¢ KU football coach Mark Mangino grew up in New Castle, Pa., near the Ohio border, where he played football and baseball in high school.
Mangino, who remains a big baseball fan, inherited the love of the game from his dad, Tom.
"He was always into sports. Being a young kid, probably in the late '60s, I remember driving up to Cleveland to Municipal Stadium to watch the hapless Cleveland Indians in the middle of their 30-year slump," Mangino said of time with his dad, who is deceased.
"We lived closer to Pittsburgh," Mangino noted, "but my dad was an American League fan, so we went to Cleveland a lot. I went and watched the Pirates play a lot, too, and followed them in the National League."
Mangino's dad worked as executive director of children and youth services in Beaver County, Pa. Tom became his son's biggest fan when Mark entered the coaching profession in the 1980s.
"He liked to come and watch the games. He really hated losing," Mangino said, noting his dad passed away "relatively in the early stages of my coaching career (nearly 20 years ago). He wanted to win. Even if he was a fan, he wanted to win. I can appreciate that."
Mangino's son, Tommy, plays football and baseball at Washburn University. His married daughter, Samantha, lives in the Kansas City area.
¢ KU volleyball coach Ray Bechard's dad, Armond, was a World War II hero.
He lost a leg in the line of duty.
"He was doing some hedgerow fighting in Belgium, and he turned the corner, and there was a German tank pointed right at him," Ray explained. "He crawled out and checked on his men and his leg was gone from below his knee."
Armond Bechard was not taken prisoner.
"The way it was explained to me is they (enemy) did not take someone they thought was not going to make it," Ray Bechard said.
Armond, who was in his early 20s at the time of the injury, did survive. He returned to Western Kansas where he and his wife raised a family of five children.
"I only knew my dad with one leg, but when I went to his tank battalion reunion all his buddies said, 'Your dad was the best athlete in our battalion,''' Ray recalled. "He boxed exhibition for a while to the point he was about one step from having an exhibition with (boxing legend) Joe Lewis. He said he's glad that didn't happen."
Bechard, who has a son, Brennan, and daughter, Ashley, learned a lot about life from his dad, a store owner in Grinnell, who died in 1986.
"Here's a guy who lost his livelihood athletically and never complained one time and certainly had something he could have complained about."
¢ Bonnie Henrickson remembers playing basketball with her dad, Odee, in the driveway of their Willmar, Minn., home when she was in first or second grade.
"My dad was never one to tell me to practice, but as soon as he heard the ball bounce in the driveway, he was out there rebounding for me, or playing 1-on-1, or trying to get a couple other guys to play 2-on-2," said Henrickson, KU's women's basketball coach.
Odee (it's a Swedish name) Henrickson was an outstanding football/basketball player in his day.
"He was pretty athletic. I don't know if he has a jump shot anymore. Growing up ... he had a jump shot," Henrickson said. "My dad never blocked my shot. My brother blocked my shot all the time."
Odee, who, along with his wife Alvina, runs a welding supply company in Willmar, not only organized driveway games, but took his daughter to play 5-on-5 on a daily basis during the school year.
"In junior high, we used to play at 6 in the morning. The boys at school allowed me to play with them. I was the only girl," Henrickson said.
"My dad drove me there to play - every day."
Playing against the boys helped Bonnie develop into quite a basketball player. She remains fourth-leading scorer, third leading rebounder and top free-throw shooter in St. Cloud State history, her team advancing to three NCAA Div. II quarterfinals during her tenure.
"My parents were very supportive, never pressured me. I think it was healthy the way they handled it with me," Henrickson said.
Odee had a chance to play college ball himself, declining several football offers because his help was needed on the family farm.
"I don't think he has regrets. He's done awfully well," Henrickson said. "Things happen for a reason. Both parents ... they never told me to treat people right, they showed me. They never told me to work hard, but showed me. They were a great living example for me, every day. My dad is a firm believer in 'Do unto others.' He'd always talk about that through church."
¢ Tim Jankovich, who played college basketball at Kansas State University from 1979 to '82, comes from athletic bloodlines. His dad, Jack, was a quarter-miler at Indiana University.
"I don't know if there are many things harder than running the quarter in college," said Jankovich, KU men's basketball assistant.
"His strength - what he got from his father, my grandfather - was to work hard, be tough and never back down. That was the message I remember getting over and over from him."
Jack Jankovich, who owned a car dealership for many years and also taught small business classes at Kansas State, now works as a consultant in the aviation business. The busy career man still managed to make his children a top priority.
"My first sports memory of my dad was when I was probably 7 years old and my brother was 10. He took us to a junior high close by our house, to the baseball field out back. He started firing pitches at us and told us we needed to hit them. He threw a lot harder than the kids we played against at that time, but it's a great memory," Tim Jankovich said.
Did Tim connect with any of his dad's fastballs?
"Some of them," Jankovich said with a grin.
Of his dad's support throughout the years, Jankovich, who has one son (Michael) of his own, said: "If we played good or bad it was always the same. The only time he'd step in is if he thought we were not trying our hardest or best."
¢ Many times, an athlete's biggest fan is his dad.
"I don't recall him missing a home game. I know he didn't miss one in high school. I don't think he missed one after that," said KU assistant basketball coach Joe Dooley, referring to his dad, Joe Sr., an attorney in Greenville, N.C.
"My parents (Joe and Margaret) would come on the road some. I wouldn't always know where they were sitting on the road. At home, I did," said Dooley, a standout guard at George Washington University.
Dooley, who has one son (Max), said he'd always be grateful for dad's steadfast support.
"He was always there when my brother and I needed to get some place, and he always encouraged us. He taught us to do things the right way - to not always take the safe route."
Dooley's dad never coached him but had great admiration for his son's coaches.
"I can't remember a time he ever criticized a coach," Dooley said. "He knew he was an attorney, not a coach. If something didn't go well, in the car he'd tell you to play hard and everything would take care of itself."
More like this story on KUsports.com