The eyes of 700 basketball campers were fixed on Brandon Rush as he flipped in shot after shot from the free-throw line Monday afternoon at Horejsi Center.
"I think so. I hope so," Rush, Kansas University's sophomore guard/forward from Kansas City Mo., said when asked if KU coach Bill Self's campers could learn anything from the demonstration.
"Maybe it helps them by mimicking my shot," added Rush, who hit 47.4 percent of his floor shots - including 47.2 percent of his threes - as well as 76.1 percent of his free throws his freshman season.
Rush's shooting form was rated as "expert" Monday by a computer program in the new $5,000 "Noah Select" machine recently purchased by the basketball program. A small camera on the front of the machine took pictures of a series of Rush shots, assessing a score to each shot based on the arc he put on the basketball.
The 6-foot-6 guard had scores of 46, 49, 48, 45, 47, 47, 47, 47 and 46 on a series of free throws.
"Brandon hit 47 (average). That's good. It means he has a consistent arc," said camp director Brett Ballard, indicating scores over 50 indicate too high (of arc); scores under 43, too flat.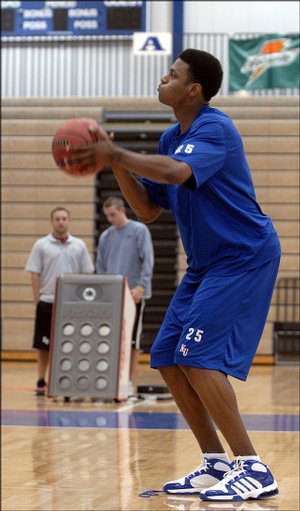 "Great shooters have consistent arc. Brandon's is almost always the same," Ballard added.
Rush tried to shoot without noticing the camera's eye.
"I didn't pay much attention to it," Rush said. "I'm still going to shoot the same. All it's going to tell you is the score. It isn't going to change it."
Some Jayhawks who don't shoot with the touch of Rush might benefit from the machine in an attempt to develop a consistent stroke.
"I haven't really studied it yet, but everybody tells me it's pretty cool," Self said. "I do think it'll help our players. We have too many guys inconsistent in shooting the ball, especially free throws.
"At camp we can educate them on how to use it. That'll be one (machine) I bet Sasha (Kaun) spends quite a bit of time on."
Rush has been spending time this offseason on more than his shooting form.
"I've been working on my left hand," said Rush, who had trouble heading left a year ago.
"I am more comfortable with my left hand now. I'm also getting bigger, stronger. I've gained eight, nine pounds since the end of the season," he added, noting he weighed 212 pounds.
The Jayhawks, who assembled for the start of summer school June 6, will remain in town the rest of the month then head to their hometowns until the start of fall semester (Aug. 17). While here this summer, they not only attend class on campus, but play pick-up games up to five times a week and lift weights as well.
More about the camp
"Julian (Wright) is looking good. Mario (Chalmers) is looking good. I think I was star of pick-up yesterday," Rush said with a grin.
Darrell Arthur, a 6-9 freshman forward from Dallas, arrived late last week and has participated in some pick-up action, as well as freshman Brady Morningstar and sophomore walk-on Brennan Bechard, here since the start of summer school.
Frosh guard Sherron Collins graduated high school Saturday, arrived on campus Sunday and was to play his first pick-up game Monday night.
"Arthur is good," Rush said. "He is athletic. He can step out and shoot it. He shoots well for a big man, like Julian."
¢ NBA Finals talk: Rush on the plight of ex-Jayhawk Wayne Simien, who because of the flu, has yet to dress for the Miami Heat in the NBA Finals.
"I feel sorry for Wayne. He's not getting a chance to play," Rush said. "(But) if they win he's still going to get a ring. He's still getting a check. He's getting that bonus every time they move on."
¢ Happy campers: Rush said he attended one basketball camp as a youth. "It was Tyronn Lue's camp at Pembroke Hill," Rush said of the former Nebraska guard, now with the Atlanta Hawks. "You didn't stay all night. It was right in the city."
Wright, who never attend a camp as a toddler in Chicago, said he loved working with youngsters.
"You can't be too serious or the kids will not listen. If you joke too much, they won't take you seriously. I try to have balance," Wright said. "I try to help the kids out and still have a little fun, crack a joke, be serious when it's time to be serious."