It's hard to imagine now, even for Kodiak Quick himself.
Ten years ago, he was one of those kids - who wear the yellow signs around their necks with only a newspaper sponsor and number to label them.
Blessed with a good memory and an ability to memorize words, he advanced all the way to the Scripps National Spelling Bee.
"I won my school, and I won district," Quick said. "Before you knew it, they were sending me off to Washington, D.C., where I just got dominated."
Quick is no longer overmatched, but he sure knows what it feels like.
Though child prodigies and the second-round word "surrey" proved too much for Quick then, he took pride in knowing one thing.
"All these really smart kids," said Quick, now Kansas University's star pitcher, "but I won the softball tournament the day before."
Quick has known ever since that his way to stand out would be on the diamond.
So when he didn't get that chance at Stanford as a reliever, he began to look elsewhere.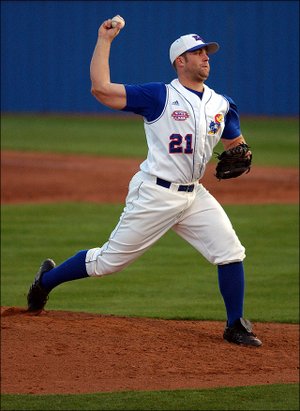 "There's no substitute to actually playing in a game," Quick said. "I could throw bullpens out there and work on stuff, but I think it's a lot more important to get a lot of innings."
Even after pitching three games in the College World Series, Quick ended up searching for a place closer to his hometown of Belton, Mo.
Kansas was the perfect fit.
"I felt like I could be more of an impact player here," Quick said. "I thought this program was on the rise, and I'd really like to help a program."
The right-hander has done that and more.
After tying the school record with 10 wins last season, he broke the mark with 11 this year.
Serving as the Kansas ace, Quick enters today's NCAA Tournament opener with an 11-4 record and the team's second-best earned-run average at 3.36.
"He's been the big-time guy in the weekend," Kansas coach Ritch Price said, "that has saved our season on numerous occasions."
Three times in Big 12 Conference play - against Oklahoma, Oklahoma State and Nebraska - Quick single-handedly kept Kansas afloat in the Big 12 standings.
More NCAA Baseball coverage
In each of the series, he earned Sunday victories to help the Jayhawks avoid costly conference sweeps.
He'll try to be Kansas' savior once again today, taking the mound against Hawaii starter and WAC Pitcher of the Year Steven Wright (11-2, 2.30 ERA).
"If we beat him, I feel really confident about our chances," Quick said. "It only takes three wins (in regionals) if we put them all in a row."
His full name - Kodiak Cochise Quick - was given to him by parents who wanted their son to be unique. Kodiak means "big bear," and Cochise was selected because of his American Indian grandfather.
Quick grew up admiring major-leaguer Roger Clemens.
Today's game
Who: Kansas University (42-23) vs. Hawaii (43-15)
When: 2 p.m. today
Where: Goss Stadium, Corvallis, Ore.
Today's other game: Wright State (32-25) vs. Oregon State (39-14), 7 p.m.
Round Two: Today's losers at 3 p.m. Saturday; winners at 8 p.m. Saturday
"I like him more for his bulldog-like attitude," Quick said. "He just goes out there and tries to dominate every time. I'm not going to throw 96 like he does and have his curveball and split-finger pitch, but I just like the way he plays the game."
If nothing else, Quick will take pride in knowing he has helped turned the Kansas program around.
And he has done so by having a major impact - pitching 2281â3 innings in his two seasons here.
"I've played in the World Series, but I like this year better because I feel like I'm a big part of it," Quick said. "It's been really fun to watch."
More like this story on KUsports.com