Six months after returning to Lawrence for a reunion with about 35 of his players, former Kansas University football coach Chuck Mather died Monday in suburban Chicago.
Mather, 91, coached KU from 1954-57 and had far more success at the end of his tenure than at the beginning.
Former KU quarterback Duane Morris, who organized the November reunion that was capped by KU's stunning rout of Nebraska, died in December.
"Chuck had an awesome time, and Duane had an awesome time," said Morris' widow, Judy Morris. "I feel horrible for the losses, but it's wonderful that the reunion happened. Not just for those two guys, but for a lot of them who gathered."
Mather died on what would have been the 47th wedding anniversary of Duane and Judy Morris.
Mather recruited Wally Strauch out of Chicago to play quarterback for him at KU.
"He had a special relationship with his players," Strauch said by phone from his home in Samberton, N.H. "I had a chance to play golf with him just a year ago in Chicago. He sure loved to golf. He would get mad when he hit a bad shot, and I would tell him I'll be happy if I can just get in and out of a golf cart at the age of 90."
Mather compiled an 11-26-3 record in four seasons at KU and went 0-10 in his first season. He came to KU from perennial high school powerhouse Massillon High in Ohio. Rather than stock his staff with experienced college coaches, Mather brought his high school staff with him.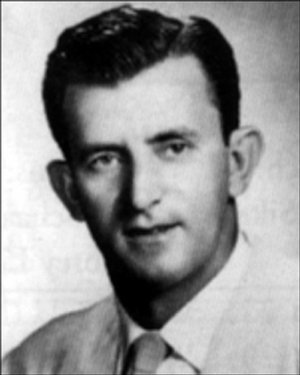 "It was an interesting transition," said former KU tackle John Drake, retired and living in Lawrence. "He was innovative. And I'll say this: The people he recruited really adored him, and most of them kept in touch with him regularly. The players who were recruited by J.V. Sikes didn't quite really understand him."
Drake said Mather was "amazing" at the reunion last November.
"His memory was very good, and he had some good stories to tell," Drake said.
Six games into the 1957 season, KU had a 1-4-1 record, and Mather's career record stood at 7-26-3. At that point, Mather announced that, effective at season's end, he and his staff would resign.
He issued a statement that, in part, read: "Last night, our staff, with deep regret, came to the conclusion that we cannot solve the football problem at the University of Kansas even by winning the next four games. Therefore, we hereby submit our resignations."
After that announcement, KU made a remarkable turnaround and won its final four games, all against Big 7 foes. After the season, Chicago Bears coach George Halas hired Mather as an assistant coach.
During one of his visits with Mather in Chicago, Strauch said his former coach introduced him to Hall of Fame quarterback Sid Luckman and in doing so compared Strauch to another Hall of Fame quarterback.
"He said, 'Sid, I'd like you to meet Wally Strauch. He threw the ball just like Otto Graham.' I don't know if I had ever heard that before or ever heard it again, but I'll never forget that," Strauch said.
Mather was husband to the late Mildred Mather and is survived by son George and daughter Nancy.
Strauch said that he spoke to Nancy Mather, a professor at the University of Arizona, who told him that her father wanted to have a party with friends while living, rather than a traditional memorial service. That party, a celebration of an old football coach's life, was held May 20.
In lieu of flowers, donations be made to Chuck Mather Scholarship Fun, c/o Superintendent Al Hennon, 207 Oak Ave. S.E., Massillon, OH 44646.