Ever the center of attention without ever trying to be that, cool as can be without necessarily being aware of that, John Hadl enjoys having lunch and dinner at the Eldridge Hotel, where the restaurant, Ten, is named after the number worn by another former Kansas University quarterback of note, Bobby Douglass.
On a recent hot, steamy afternoon, Hadl, No. 21, took comfort in the air conditioning and got into the topic of conversation: quarterbacks. Before offering his opinion on Kerry Meier, the redshirt freshman who figures to be under center for every game he's healthy over the next four years, Hadl shared stories on quarterbacks whose stars crossed with his over the years.
"In my opinion, the greatest quarterback of all-time is John Elway, and I really, really believe that," Hadl said. "He took two teams to the Super Bowl that had no business being there."
Hadl knew Elway long before that. He knew him when he was benched. Can you imagine that: John Elway benched? Hadl couldn't at the time, and he was very close to the situation. Working under head coach Dan Reeves for the Denver Broncos in 1983, Hadl was Elway's first NFL quarterbacks coach.
Elway had forced a trade from Indianapolis, which took him with the first pick of the draft, because he did not want to play for the Colts. Veteran quarterback Steve DeBerg was on hand to help break in the quarterback out of Stanford.
Reeves, Hadl said, wanted to start the season with DeBerg under center.
"The rest of us wanted Elway, so he started Elway," Hadl said. "We went into Pittsburgh. Elway didn't have a good game, but he did just enough to win the game, which was a great sign. The next Monday at the team meeting, Reeves comes in front of the whole team, stands up, and says, 'We're going to start DeBerg this week. John didn't have a good game. He's not ready yet, and we're not going to start him.' I knew nothing about it until he stood up and said it."
Hadl said he was shocked.
"It was an easy decision," Hadl said. "I don't know what Reeves was thinking. Reeves was a hell of a guy, but he's not a people guy."
Hadl wasn't the only one who had trouble believing his ears and strongly disagreed with the choice and the way it was handled.
"Let's say we're looking at the stage," Hadl said. "This way's the locker room (points left) and this way's the parking lot (points right). I'm sitting back watching Elway because I know how he was feeling. He gets up and goes out to the parking lot and I follow him out. He's all the way out to his car and I said, 'John, what are you doing?' He said, '(Expletive) this (different expletive). I'm going back to my family. (Expletive) these guys.'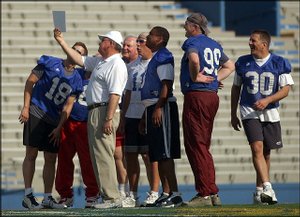 "I said, 'Wait a minute. Wait a minute. We have to talk about this. You have to realize everybody has been criticized in his life at least one time. You have to suck it up. You have to be tough. These things happen all the time. You're going to get hit with things like this all the time.' I kept talking and talking and whatever I said, I finally got him back in there. His old man called me that night and thanked me. He said, 'That kid was leaving.' True story."
The very next season, Hadl coached another Hall of Fame quarterback, this time as head coach, this time in the USFL. Steve Young was the quarterback for the Los Angeles Express.
"We had a great young team, boy," Hadl said. "If that thing had hung on, we could have done some great things. Young was great. Great competitor and a super athlete. He didn't have the arm Elway had, but he was accurate and on time and he could run a 4.5 40. Just a super athlete. He could run like hell and throw it on the run. He did some things running that I'd never seen a quarterback do."
As the financially ruined league was deteriorating, the Express had so many injuries at running back, Hadl started Young at running back.
"He had a hell of a game, too," Hadl said. "We had a good time in that league. There were a lot of good coaches."
George Allen, Marv Levy, Jim Mora, Pepper Rodgers and Steve Spurrier were among the big names to coach in the league.
Hadl remains good friends with the man who goes down in history as the face of a league that was a predecessor of sorts to the USFL, except that the AFL made it, ultimately merging with the NFL.
"Just watching Joe Namath was something," Hadl said. "When he was really good, when his knees felt good, he had the best release of anybody, and he had those big hands. When his knees started bothering him, that slowed him down a lot."
On a personal level, Hadl said he and Namath are, "pretty close. Great guy. Great guy. He's really doing a great job raising his girls (after a divorce that took Namath by surprise)."
Jack Kemp, the Republican candidate for the Vice Presidency in the 1996 election and a former NFL quarterback, was Hadl's roommate when the Lawrence native was an NFL rookie.
"I'll never forget," Hadl said. "I came in my training camp room and he was laying there reading a book about Barry Goldwater. I said, 'Why are you reading that?' He said he worked for Goldwater. I didn't know what he was talking about at the time. I didn't know he wanted to be president at the time."
Hadl never aimed quite that high. Success for the KU football program always has ranked high among his hopes and dreams. He's a huge backer of Mark Mangino, and to hear what he has to say about Meier is to believe Hadl has faith exciting years are on the horizon.
Asked to name a quarterback he's been around who has a similar style to Meier, Hadl went right to the top of his list.
"I'll tell you, he reminds me kind of Elway as far as instincts and the movement and presence on the field," Hadl said, not meaning to suggest Meier would be as good as Elway. "I see him in practice all the time, and I knew he was good. Then in that spring game, I couldn't believe what I was seeing. I really couldn't. He was throwing some big-time passes. Those little flat passes thrown on an angle, those are tough throws, they really are. Savvy, good decision making. He'd take off running when he should. He'd throw it away when he should."
Meier was wearing a red shirt in that game, meaning he didn't have to worry about facing the heat.
"I don't think that will factor in with him," Hadl said. "He'll probably get better because of it. He's fast. He's about the fifth or sixth fastest guy on the team, they say."
Hadl, an All-American as a halfback and then as a quarterback, wasn't fast, but he was elusive and had all the intangibles to go with a strong, accurate arm. He said he liked that former KU quarterback Bill Wittemore, an instinctive player who maximized his physical ability, was on hand as one of Meier's coaches.
"He'll have a settling effect on Meier," Hadl said. "They'll communicate well. He's a natural. He'll be a good coach."
Asked if he missed coaching, Hadl said, "Sometimes."
When?
"On game day," he said.
More like this story on KUsports.com