Travel bag over his shoulder, Bill Self walked hurriedly to his car in an Allen Fieldhouse parking lot, Kansas University's basketball coach needing to hustle to catch a late Wednesday afternoon flight at Kansas City International Airport.
It's a scene that will be repeated over and over during the month of July - Self criss-crossing the U.S.A. during the summer evaluation month in recruiting.
"Both," Self said with a grin, asked if the month-long recruiting period was fun for him, or a major hassle.
"No coach in America would say he'd rather be on the road recruiting in-stead of with his family, but at the same time it's an important part of the job."
Self through this weekend will be scouting high school players at the Nike All-America camp in Indianapolis, the Reebok ABCD camp in Teaneck, N.J., and the adidas Superstar camp in Suwanee, Ga.
Yes, he'll make all three stops in a five-day period.
Other high-profile recruiting events he'll catch include the adidas Super 64, Main Event and Reebok Big Time tournaments - July 22-26 at various locations in Las Vegas; Nike Peach Jam on July 12-15 in Augusta, S.C.; AAU Senior Boys National Championships on July 27-31 in Kissimmee, Fla., as well as the Kansas City Prep Invitational on July 28-31 in Shawnee.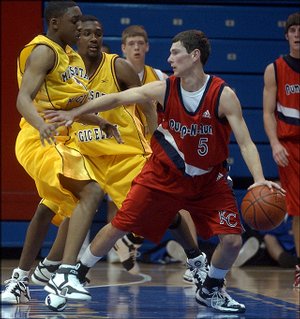 KU's coaches will be out all month - there are various sanctioned events to see in Chicago and on both coasts - except for an NCAA mandated break in the recruiting action July 16-21.
"We have about 20 guys on our radar - about seven or eight that we are probably pretty serious about," Self said of high school prospects. "We have to try to figure out if they fit our needs. Hopefully they will be heavily interested in us after seeing who has great interest in them this month."
KU, which officially has just one scholarship to give, has received an oral commitment from Cole Aldrich, 6-foot-10 center from Bloomington, Minn., who will attend this week's ABCD camp.
Self, however, will be recruiting as if he has two or three scholarships to give because of the fact KU is certain to lose one or more players to the pro ranks after the 2006-07 season.
"I really believe ... we are not going to come out and say it's definite but we all know the situation where Brandon (Rush) said he was going to come back for a year," Self said of the sophomore guard who is expected to leave KU after two campaigns.
""We have two or three other guys in our program that people are saying are great prospects who have a chance maybe to jump soon so we'll prepare for it. We could lose only one. We could probably lose up to three so we'll split the difference and think we are probably going to lose at least a couple guys. The percentages say we'll lose a couple."
Jayhawks who are currently on the NBA radar include Rush, Julian Wright, Mario Chalmers, C.J. Giles and newcomer Darrell Arthur.
Self can't discuss specific recruits in accordance with NCAA rules, but here's a list of some prospects who likely will see KU coaches in the stands in coming days:
Derrick Rose, 6-4, G, Simeon High, Chicago: Rivals.com's No. 3-rated player, has a list of KU, Illinois, Arizona, Indiana, Michigan State, North Carolina and others. The country's No. 8-rated player, Eric Gordon of Indianapolis, says his goal this summer is to convince Rose to join him at Illinois.
Jerryd Bayless, 6-3, G, St. Mary's High, Phoenix: Bayless, who asked out of his oral commitment to Arizona, still is considering UA as well as KU, North Carolina and Texas. He's the country's No. 9-rated player.
Kyle Singler, 6-8, F, South Medford High, Medford, Ore.: Ranked No. 6 overall, Singler has KU, Duke, UCLA and Washington on his list. Singler played well for the U.S. Under 18 national team last month.
Anthony Randolph, 6-10, F, Woodrow Wilson High, Dallas: The country's No. 7-rated player, who has been compared to Chris Bosh and LaMarcus Aldridge, has a list of KU, Duke, Texas, UConn, Memphis, Illinois, Baylor, Georgetown and UCLA.
James Anderson, 6-5, G/F, Junction City (Ark.) High: The country's No. 64-rated player has a list of KU, Alabama, Arkansas, Baylor, UConn, Florida, Oklahoma and Oklahoma State.
Tyrel Reed, 6-3, G, Burlington: The No. 58-rated player out of the small Kansas town still has a lengthy list, including KU, K-State, North Carolina, Purdue, Wichita State, Illinois, Missouri State, Iowa and Baylor.
P'Allen Stinnett, 6-3, G, Brewster Academy, New Hampshire: Originally from Las Vegas, the country's No. 77-rated player has a list of KU, Clemson, Virginia Tech, Oklahoma, Iowa State, Oregon, Tennessee and Texas.
George Goode, 6-8, Raytown (Mo.) South: The country's No. 78-rated player has received some interest from KU, K-State, Iowa, Oklahoma, Oklahoma State, Marquette, Florida, Baylor and others.
Tyrone Shelley, 6-6, Crawford High, San Diego: The country's No. 47-rated player, who scored 76 points in three quarters of a game last season, likes Washington, Arizona, KU, UConn, Illinois, Boston College, UCLA and Oklahoma State.
Isaiah Rusher, 6-8, Bellaire High, Houston: The country's No. 147-rated player likes LSU, KU, Oklahoma, Florida and UConn.
Obviously there are many, many other players on KU's wish list in the Class of '07.
"Top to bottom this is an extremely talented class," said analyst Shay Wildeboor of rivals.com. "If there was no rule prohibiting players from going from high school to the NBA, 10-15 would probably declare for the draft. I don't know if they (Jayhawks) are currently leading for anybody, but they have a legitimate shot with anybody on the (above-mentioned) list. I think they are in position for many talented players."
More like this story on KUsports.com