Ames, Iowa — The magic is out of the hat, or at least out of Hilton Coliseum.
The Jayhawks had five players score in double figures as Kansas handed Iowa State its third-straight home loss with a 95-85 victory Saturday in Ames, Iowa.
KU's final tally marked the most points for a Big 12 team in ISU's home arena since Missouri put up 95 on Jan. 31, 1990 in Hilton.
KU guards again led the Jayhawks charge with Mario Chalmers leading Kansas with 21 points, while Brandon Rush added 20 points, and Russell Robinson chipped in 18. Darnell Jackson tied his career-high with 13 points and freshman Julian Wright also tallied 13 points in his second-straight start as KU picked up its third-straight conference victory and second Big 12 road win this week.
"Guys have had a good week," KU coach Bill Self said. "A lot of really good KU teams have come up to Hilton Coliseum and not fared as well as these guys did today."
Indeed the young Jayhawks squad not only handed the Cyclones their third-straight loss at home, but scored the most points in Hilton since Morningside put up 97 in the 2000 season.
"League play is different play, so we're just bringing it," Rush said.
A 13-3 run early in the second half gave Kansas its biggest advantage at 16. However, much like the Cyclones did in closing out the first half with a big spurt, ISU went on a quick 8-0 run.
But Kansas didn't fold.
A couple of fast break lay-ups and free throws down the stretch -- including 12-straight makes in the final minutes -- helped Kansas improve to 13-6 on the season and 4-2 in the Big 12.
"We feel fortunate to be 4-2 in the conference," said Self, whose squad has an 8 p.m. date with Texas Tech on Monday. "We need to play better at home. We've probably played our best in our four road games."
Iowa State was led by Curtis Stinson's 24 points. ISU's Rahshon Clark added 20.
"They just hit all their shots, it just seemed like they could not miss," said Stinson, who came into the contest with three-straight games where he scored 27 points. "Kansas came in here laid back, they came in here ready. If they got an open look, they took it, and it was going down."
Kansas shot 58-percent for the game and fired at a 67-percent (16-of-24) clip in the second half. Iowa State hit just 37-percent for the game.
Kansas outrebounded the Cyclones 42 to 32 and outscored ISU, 38-28, in the paint.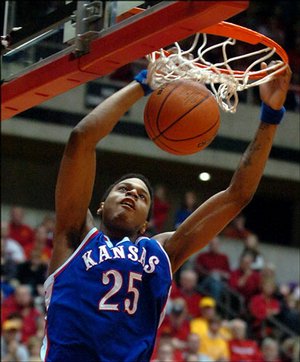 A three by Stinson cut the score to 80-70 with two and a half minutes left, but Wright hit a pair of free throws to kick-start Kansas' solid charity shooting down the stretch.
"Against Texas A&M; he was scared to death, today he was only half-scared," joked Self about Wright, who finished with 13 points, eight rebounds, four assists, and four blocks in 25 minutes. "He had a calm look today. Maybe it was too early for him in the morning to get all wound up. But he's going to be such a good player for us."
Iowa State coach Wayne Morgan praised Cyclones fans for doing their part to put the magic back in Hilton Coliseum, but said afterwards he continues to struggle with why his squad can't win at home.
"I'm extremely disappointed in how we played today," said Morgan, whose squad has dropped as many games this season at Hilton as ISU has combined the past two seasons. "We should have played better, although I'm not taking anything away from KU."
Second Half Action
Iowa State's Curtis Stinson got the Cyclones going on their first possession of the second half with a quick basket.
Russell Robinson scored off a fast break pass from Chalmers to keep KU in front.
Rahshon Clark cut the contest to one, but Sasha Kaun scored an easy lay-in and was fouled.
The KU big man missed the free throw but the Jayhawks lead 42-39.
Robinson picked up his third foul and so did Kaun, who fouled ISU's Jessan Gray on a putback with 17:07 to. The Cyclones forward hit both charities to cut KU's lead to 42-41.
Chalmers answered with a three from the left wing. The KU freshman leads all scorers with 12 points.
Blalock followed with a jumper in the lane after a KU defender flew by him on a pump fake.
Robinson banked in a basket on a drive from the right side.
Taggart added a turnaround shot for ISU to make the score 47-45.
Rush missed an alley-oop from Chalmers, but gathered his own rebound and was fouled. The KU freshman reached double figures as he hit both free throws for the four-point Kansas advantage.
Robinson got a steal and fed Rush for a break-away dunk.
Chalmers followed with a swipe, got a lay-up and was fouled. The Jayhawk freshman hit the free throw to put Kansas up 53-45. Chalmers has 14 points.
ISU missed a short shot, but Moody walked with the ball to give it right back.
Robinson hit a floater in the lane for the 10-point lead.
Stinson hit one of two free throws to cut the contest to single digits. Stinson has 12 points.
With 13:01 Robinson knocked down a three-pointer as Kansas is on a 13-3 run.
Chalmers found Jackson down low for a quick lay-in and the Jayhawks largest lead of the game at 60-46.
Iowa State, which had three turnovers in the first half, already has four in the first 10 minutes of the second stanza.
Jackson, who has eight points added a hook shot.
John Neal hit a three to try and spark the Cyclones.
The ISU guard followed with another three from the left wing.
Stinson got a quick score off another fast break and Iowa State's 8-0 run has the Hilton Coliseum crowd back on its feet.
C.J. Giles ended the spurt with a lay-in down low. With 9:44 to go KU leads 64-54.
Tasheed Carr hit two free throws to make the score single digits again.
Rush, who now leads all scorers with 16 points, drilled a three from the left corner.
Giles hit a free throw to make the score 68-56 with just over eight minutes to go.
Jiri Hubalek hit a free throw to cut KU's lead to 68-57.
Chalmers knocked down a three at the top of the key to give him a game-high 17 points.
But Clark answered for the Cyclones with a three of his own from the right corner.
Chalmers picked up his sixth steal and will go to the free throw line. The KU freshman missed both free throws.
Robinson hit two free throws to give him 14 points and KU a 73-60 lead with just under six minutes to go.
Hubalek tipped in a basket.
Jackson added a free throw to give KU a 12-point lead.
Wright blocked a shot from Stinson, but Rush was called for an offensive foul.
Wright followed with another defensive stuff and Robinson banked in a shot on the other end to put Kansas up 76-62 with 4:14 to go.
But Clark came back for the Cyclones and nailed a another three-pointer to cut the score to 11.
Stinson hit two free throws with 3:26 left to cut the score to 76-67.
Rush hit a shot in the lane.
Wright came up with a steal and got in double figures with a lay-up.
Stinson knocked down a three from the right side to cut the score to 80-70.
With 2:27 to go Wright hit a pair of free throws to put Kansas up 12.
Blalock hit a three and ISU got a steal. But Stinson missed another three and Wright was fouled. Refs reversed the last Iowa State basket to a two-pointer.
Blalock knocked down another triple to cut the score to 83-75 with just over a minute left.
Jackson became the fifth KU player to reach double figures when he knocked down a pair of free throws.
Clark hit a three with 53.8 left to cut the game to eight.
Chalmers hit one free throw, but Stinson followed with two free throws.
With 45 ticks left Chalmers hit two free throws to put KU ahead 89-80.
Stinson airballed a three and Rush rebounded and was fouled. The KU freshman hit two free throws.
Jackson followed with another pair of charities for a 93-82 lead.
Stinson banked a three in, but Robinson was fouled and hit two more free throws as KU as connected on 12 straight charities for a 95-85 win.
Halftime
Kansas looked like it might just run away with the game in the first 10 minutes Saturday at Hilton Coliseum.
The Jayhawks took a 12-point lead early and matched that total with a 32-20 advantage with just over five minutes left.
But costly turnovers, 13 total, and a 15-6 run by the Cyclones to close the half allowed ISU to come right back and cut KU's lead to 38-35 at the half.
Mario Chalmers and Brandon Rush each had nine points a piece for Kansas, while Curtis Stinson and Rahshon Clark each tallied nine points for the Cyclones.
Kansas shot 50-percent from the field (13-of-26), while Iowa State fired at just a 34-percent clip. The Cyclones hit 3-of-11 three-pointers, while KU was 3-of-8.
KU outrebounded ISU 23-15.
First Half Action
Kansas University's Julian Wright played only six minutes in his first career start at Texas A&M;, but Saturday morning in Ames, Iowa Wright got it right on KU's first possession.
After the Jayhawks won the tip the KU freshman drove the lane to throw down a big dunk.
Iowa State's leading scorer Curtis Stinson tied the game on a basket in the lane.
Wright fed Kaun, but the KU big man was fouled. Kaun hit one free throw to make the contest 3-2.
Mario Chalmers scored on a uncontested lay-up with 18:24 to go to give KU a 5-2 lead.
ISU's Shawn Taggart, a roomate of Brandon Rush in high school, hit a long jumper moments later.
Rahshon Clark hit a free throw to tie the game at five-all with two and a half minutes gone by.
Russell Robinson fed Kaun underneath, while the big man bobbled the ball briefly, Kaun quickly reagained control and stuffed it home for the 7-5 lead.
KU turned the ball over, and ISU followed with a turnover of its own. Then the Jayhawks threw the ball away again.
Wright hit a pair of free throws with 15:20 left in the half to put KU up 9-5.
The KU freshman followed with a lob dunk off a feed from Robinson to give the Jayhawks their largest lead.
Clark had a break-away lay-up, but Robinson fouled the Cyclone. ISU fans wanted an intention foul, instead the refs ruled Robinson went for the ball. Clark hit both charities.
Iowa State is 0-of-5 from three-point range.
Rush scored his first basket on an easy lay-up that put KU ahead 13-7 with 13:16 to go.
Robinson added a three as Kansas continued its 11-2 run.
Iowa State, which has missed its last nine field goals, misfired on another jumper.
Meanwhile Robinson threw another lob, this time for Rush for an alley-opp.
Taggart broke ISU's drought with a jumper at 12:08, then John Neal followed with the Cyclones first three to make the score 18-12.
Darnell Jackson missed a shot, C.J. Giles got the rebound but couldn't keep the handle. But Jackson grabbed the loose ball and scored.
ISU's Will Blalock, who missed his first four shots, hit a three with just under 10 minutes to go to cut the score to 20-15.
Chalmers knocked down a three-pointer to give him five points in the contest and KU a 23-15 lead with under nine minutes left in the half.
Kaun got the ball down low and threw down KU's fourth dunk of the first half.
Chalmers banked in a jumper for a 27-15 lead.
ISU's Tasheed Carr stayed with a loose ball and scored to cut KU's lead to 10.
Blalock dropped a nice shuffled pass to a streaking Clark for a big dunk that got ISU fans on their feet.
With 6:19 to go Rush added another three to put KU up 30-19.
Carr hit one of two charities.
Wright missed a tip dunk, but Jackson was there for the rebound and fouled. The KU big man hit both free throws for the 32-20 lead, matching KU's largest lead.
Wright added two free throws with just under five minutes to go to put Kansas up 34-22.
Clark got the Hilton crowd on its feet again with another big-time dunk on fast break.
Stinson got a floater to fall to continue Iowa State's 6-0 spurt which has closed the gap to 34-26 with 3:08 left as KU called a timeout.
Clark was fouled hard by Christian Moody on a dunk attempt. The ISU forward hit both free throws to cut KU's one-time lead of 12 to six.
Kansas hasn't hit a field goal in three and a half minute.
Stinson missed a drive, but Jiri Hubalek followed with a putback. KU proceeded to throw the ball over.
Chalmers ended ISU's run with two free throws to put KU back ahead 36-30.
But Stinson sliced that margin in half with a long three with under two minutes to go in the half.
Kansas committed its 12th turnover when Wright was whistled for a travel. ISU has just three turnovers. Both teams have hit 12 field goals.
Chalmers was called for a turnover with under a minute to go.
Stinson followed with a shot in the lane to cut the game to 36-35.
Wright came back and threw a lob to Rush for a lay-in and a 38-35.
Blalock missed a three that would have tied the game at the buzzer.
Pregame
As if games inside Hilton Coliseum weren't hard enough to win already for Kansas University's basketball team inside the hostile arena in Ames, Iowa -- the Cyclones have decided a new uniform hue is just what they need to reclaim the "magic."
"Whatever works," ISU guard Will Blalock told the DesMoines Register. "The coaches say we went from Hilton Magic to Hilton Tragic. On the road, we really bring it. I can't explain what happens at home. It's crazy."
Iowa State's four home losses this season match the number of the setbacks the Cyclones suffered the previous two seasons in Ames.
"It's a very tough place to play," said KU coach Bill Self, of today's 11 p.m. contest between ISU and KU. "If you've played well enough to win there, you've done a nice job."
Self is 1-1 in the building as Kansas' coach, and his Jayhawks recorded a 71-66 victory in Hilton last year when the Cyclones were once again wearing their nontradition yellow unis. "If you've played well enough to win there, you've done a nice job."
Kansas leads the nation in field goal percentage defense at 35.7 percent. The Jayhawks also lead the Big 12 in assists at 18.39 per game. Kansas is outscoring opponents by 15.6 points per game, including 11.4 in Big 12 contests.
Guard Brandon Rush continues to lead the Big 12 freshmen with a 13.8 scoring average. In Big 12 play he is scoring 16.4 points. Freshman Mario Chalmers ranks second in the Big 12 in steals at 2.5 per contest and seventh in assists at 3.89 to pace KU. He is scoring 8.9 points per game overall and 14.6 in Big 12 contests.
Sophomore guard Russell Robinson is also stepping up in league play with an average of 13.8 points per game. He is scoring 8.6 in all games. Sophomore center Sasha Kaun leads KU in rebounds with a 5.8 average - 13th in the Big 12. Rush at 6.2 rpg and sophomore forward Darnell Jackson at six rpg - pace KU in conference play.
Iowa State is currently 7-4 at home this season and 3-1 away from Hilton Coliseum. The Cyclones (13-6, 3-3) average 77.8 points and are giving up 72.2 per contest. They lead the Big 12 in steals with 10.16 per game as they have forced an average of 19.8 turnovers per contest.
Junior guard Curtis Stinson leads the way for ISU averaging 19.1 points per game which is tied for third in the Big 12. Stinson, who has scored 27 points in three straight contest, leads the league in steals at 2.63 per game.
"One thing about Curtis ... just don't let him get comfortable," said KU guard Russell Robinson said of fellow New York native, Stinson. "If he starts hitting shots and starts getting too confident, you are going to be in for a long game. Basically, you need to disrupt him and never let him get into a good rhythm,"
Blalock is scoring 14.6 points per game and leads the conference in assists at 6.53 per contest. He is fourth in the steals per game at 2.11. Sophomore forward Rahshon Clark leads the team in rebounds at 5.3 to go along with his 13.5 points per game.
Kansas leads the all-time series with Iowa State 158-58, yet the two teams have split their last two season series meetings. In fact, each of the last four meetings have been decided by seven points or less with two of those going into overtime - both in Lawrence.
Last season the visiting teams each won games with KU a 71-66 winner at Ames and ISU a 63-61 overtime decision in Allen Fieldhouse. Kansas is 60-36 against Iowa State in games played in Ames, yet ISU is 18-16 against the Jayhawks in Hilton Coliseum. Since 2002, Kansas has won three of its last four trips to Hilton Coliseum. KU holds an 11-7 edge in Big 12 league play. This series dates back to 1908.
But ISU coach Wayne Morgan told the Register that even with the rowdy crowd backing his squad, his squad will have to make its own magic happen.
"If everything was in a perfect world, and I had magic dust, we'd be undefeated," he said.
More like this story on KUsports.com