Once upon a time, half the fun in watching talented freshman college basketball players came in closing your eyes and trying to peer into the future.
Not anymore.
Now it's best to keep your eyes wide open and focus on the here and now. Trying to project the future can be so very stressful.
It's nearly impossible to do that, but it's at least worth a try. A look at this year's class of four freshmen, ranked as the best recruiting class in the country by rivals.com, illustrates why that's the best approach.
Brandon Rush has been such an entertaining player to watch, particularly when soaring above the air traffic and reaching to snare a rebound above the rim, or catching a lob and throwing it down. It's so hard to see that without asking that stress-inducing question: Will he be doing that for Kansas University next season, or will he be doing it for an NBA team?
And then there was Micah Downs, a highly skilled, smooth, 6-foot-8 scorer. Every time he walked back to the bench after throwing an errant pass or getting beat on the dribble, wasn't it tough to keep yourself from wondering if the minimal playing time would cause him to be the latest transfer out of the program? As it turns out, all that worrying was justified, and Downs didn't even wait until the season was over to quit the team.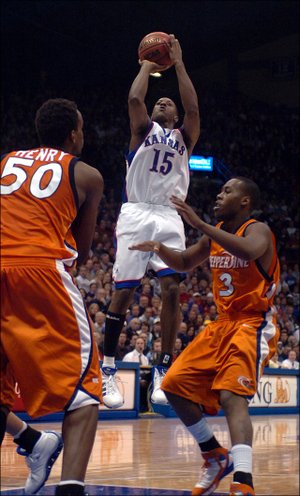 The best approach with the three remaining freshmen - Rush, Mario Chalmers and Julian Wright - is to try to block out thoughts of what future years will bring and enjoy every wild dunk, every no-look pass, every flashy steal the young Jayhawks supply in this, their first year of college basketball.
As for the hype that preceded them, that's history. Enjoy the moment.
Rush has reminded us all that it's best to forget what you've heard about a player and judge for yourself. He arrived to the college game with a reputation as a player who didn't put forth a lot of effort, would provide a challenge for a coach, didn't play a lick of defense and was a terrific athlete who had a good natural feel for the game and a shaky jump shot.
Well, the terrific athlete who has a good natural feel for the game portion of that scouting report has been accurate. Rush already has refuted the rest of that reputation and has done so in likable fashion.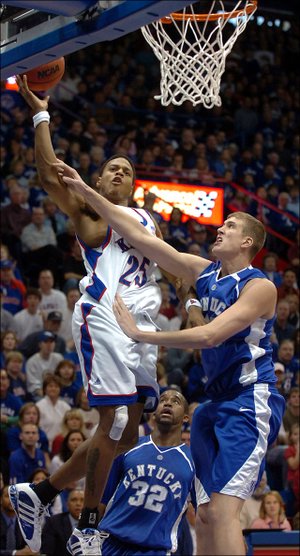 His three-point shooting percentage has hovered around 50 percent most of the season. His shots settle softly into the net, and that requires defenders to guard him closely. That's when his quick first step comes into play. He'll almost always go right, and even though defenders know that, he has the quickness to beat them most of the time anyway.
He needs to get over his tentativeness in taking game-deciding shots, and he will. During earlier stages of games, his pass-first mentality might frustrate coaches at times because they like the idea of the team's best scorer and most efficient shooter taking more shots, but that quality also adds to his appeal.
When being interviewed, Rush doesn't come across as a guy who is at all stuck on himself and always seems to be in a good mood. If he stays just one year, it still will be a memorable one. If he stays three, well, who knows how far he and KU could go in the tournament.
Unlike in the case of Rush, Mario Chalmers has played his way toward the reputation he brought to Kansas from Anchorage, Alaska. Chalmers had the hot hand in the nationally televised McDonald's All-American game.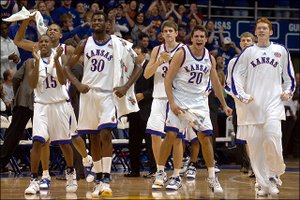 In the opening weeks of his college career, Chalmers couldn't get his three-point shooting touch down, was too sloppy with the basketball and was getting burned defensively because he was gambling too much.
His three-point shooting has shown signs of coming around. He's become an extremely disruptive defender, and he's settled in nicely alongside Russell Robinson in the backcourt. Robinson runs the point most of the time, though Chalmers is easing back into more playmaking duties. His shot fakes that precede laser passes are as entertaining as anything any KU player does.
Julian Wright came to KU as a ballyhooed small-forward prospect. He quickly became a power forward and gradually is working his way to the point where he can help the team in both capacities. Wright and Rush are the team's best rebounders. Wright and C.J. Giles are the best shot-blockers. Wright and Chalmers are the best passers. Wright and Rush are the best finishers on the fastbreak. Unorthodox and versatile best describe the personable Wright.
Enjoy them while they're here, because looking into the future isn't as soothing as it used to be.
More like this story on KUsports.com