They couldn't speak her language. They didn't live in her country, nor were they able to go outside and play.
But Tom and Jerry always were there for 12-year-old Ivana Catic.
They were a click away when everything else was falling around her - when the whole world forced her to grow up long before she was ready.
The civil war in her childhood country of Serbia not only surrounded her life - it encompassed her TV as well.
"When you watch that on TV, you watch bombings, crashed bridges, you watch military, you watch all of that - you don't want to live like that," Catic said. "You just want to kind of escape and watch cartoons and kind of run away from that."
For Catic, there were only two ways to run. One was to the imaginary world of cartoons - to the cat and mouse who, for a moment, helped her forget about her own country and challenging life.
The other was basketball.
"I used to practice, watch TV and play ball," Catic said. "That was what I used to do. It was a getaway to somewhere."
Tom and Jerry and basketball. They might not have saved Ivana Catic, but they sure helped her survive.
For the Kansas University freshman, two of them have become more than a cartoon.
And one has become more than just a game.
"For me, when I'm on the court," Catic said, "it's life, it's battle, it's war."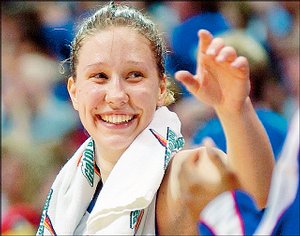 War trouble
Catic didn't just watch the war in Serbia - she lived it.
"We didn't have power for like 12 or 18 hours a day," Catic said. "You'd have power from midnight to 6 a.m. You'd have to cook your lunch then. You had to do laundry then. It was just your entire life."
continued from page 16
One year, school was cancelled from March until June. Catic and her classmates fell behind an entire semester.
Meanwhile, costs skyrocketed in the war-torn country, with inflation soaring on items taken for granted in the U.S.
"People stood in line for sugar, literally," Catic said. "You couldn't get more than one pound of sugar per person. Just little things you don't really think about when you're here in the States. That's normal to have sugar, to have gas. We didn't have gas. People would resell gas on the streets. They would put water in it, so cars used to break down.
"It was a mess. You just have to be really, really thick to live through that."
But Catic was determined. She gave additional time to basketball. She worked with a strength and conditioning coach in the morning. Then, she would shoot in the afternoon. She watched basketball games on television and began to emulate her favorite players.
And, when allowed, she would sometimes even play games outside.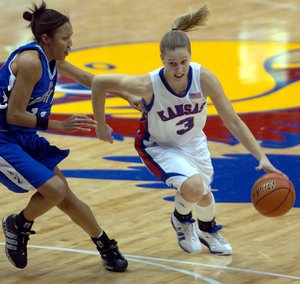 "The first couple of weeks were tough because we didn't know if they were going to just randomly drop bombs," Catic said. "We didn't know what was going to happen."
One thing was for sure: basketball was taking a greater importance in her life.
"How I grew up," Catic said, "I was taught basketball is pretty much everything."
U.S. chance
Catic's opportunity in basketball came a few years later. She decided to transfer to Mount de Chantal Visitation Academy in West Virginia for her senior year of high school, giving her the chance to expand her basketball skills.
The decision to leave her family, her country, and her life as she knew it was one she originally regretted.
"At first, when I decided to come here, it was like I want to come no matter what," Catic said. "As that day is coming closer, it gets worse. You're not going to see your family. Then you're in total doubt. You totally don't know if you made the right move."
The 5-foot-8 guard said she resented everything about the States in the first two months. She despised the fast-food culture and didn't like to get up for school so early in the morning.
But, as she had done all her life, Catic grew up quickly and soon accepted American customs.
"You start to like it and get used to it," Catic said. "I just think that's normal for everyone that leaves their home. Now I can call this home, with all the people I have taking care of me."
It was that development, and also a natural feel for the game, that drew KU women's coach Bonnie Henrickson to the young Serbian.
"I think you've got to be an awfully mature 17-year-old to come over to the United States by yourself to Wheeling, W.V., and you don't know a soul," Henrickson said. "I think there's something about you as a person. I think that helps her as a basketball player."
'Expect a lot'
Catic's background has made her into a solid basketball player.
The guard doesn't make the normal freshman miscues. She doesn't use the normal freshman excuses, either.
"I think I expect a lot from myself," Catic said. "That's not a good thing sometimes because you expect so much and then you make a mistake and get frustrated, and then you're just digging a hole. With Bonnie here, I'm learning not to dig my own hole. I expect a lot, because I think you have to demand more from yourself than anyone else."
Catic knows that, for a while, the game was one of the few things she had. In a sense, she admits thinking U.S. players took basketball for granted.
"I don't think that's a knock on America," Henrickson said. "I think she's being very honest and speaking to herself that it's very, very important. This opportunity is very important. I think it helps her. She understands she can come over here and be a better player."
So far, Catic has done that. With her ability to score and distribute the ball, Catic should be in the running for Big 12 Conference freshman of the year.
But, perhaps more importantly, she has expanded her education. With hopes of becoming a sports agent after her basketball career, Catic is determined to make the most of every opportunity.
She hasn't let herself down thus far.
"Basketball - it's great to have everything I've had - but I have to go to school," Catic said. "I'm aware that one day, I'm just going to be a woman who played basketball before and now is supposed to live a real life."
More like this story on KUsports.com