Kaylee Brown staggered backward, dazed and in obvious pain after head-to-head contact with an opposing player.
Bonnie Henrickson, Kansas University's women's basketball coach, didn't think Brown, a senior guard, would be able to continue, and she was ready to call a timeout.
But to Henrickson's surprise - and relief - Brown began running down the floor.
"I asked her if she was OK, and she said she was fine," Henrickson said about the incident in Sunday's game against Oklahoma State. "Most kids would have been on the floor."
Brown defines the mental and physical toughness Henrickson appreciates and, at the same time, demands in a basketball player.
"She is very, very fit," Henrickson said of the 5-foot-8 perimeter player from suburban Oklahoma City. "She's the most fit kid we have. She really took to the weight program."
Brown is, Henrickson said, "14 pounds lighter, and she has replaced body fat with lean muscle."
Without question, Brown is the quintessential blue-collar player on the KU women's team. She shows up for every game, almost always guards someone taller than herself and consistently reaches double figures in scoring - all the while averaging about 33 minutes a game on the floor.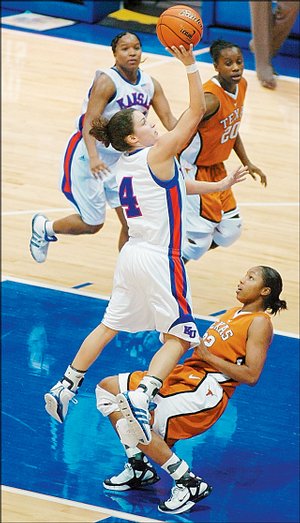 As a senior at Edmond (Okla.) Memorial High in 2002, Brown figured she was a major-college prospect, but the only offers she received were from mid-majors and below.
"I wanted to play in the Big 12," she said. "They said I couldn't, and I wanted to prove them wrong."
Thus, even though she was an academic qualifier, Brown headed up the road to Northern Oklahoma-Enid, a junior college where, as a freshman, she averaged 18.1 points a game and, more importantly, shot 38.6 percent from three-point range.
Desperate for outside shooting, KU coach Marian Washington placed an offer on the table.
"I was interested in Baylor first," Brown said, "but then Baylor pulled out because they said they didn't have a scholarship available, and I decided on KU."
If Baylor hadn't dropped Brown late, she might have been on the Bears' NCAA championship team last spring instead of playing on a 12-16 team under a first-year coach in Henrickson.
Brown vows, however, she has no regrets.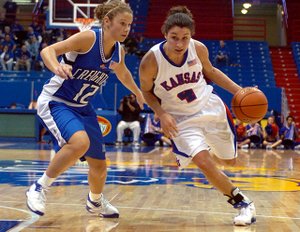 "I don't care if they won the national title," she said. "I love it at KU."
Meanwhile, there's little not to love about Brown's overall game. She - like senior teammate Erica Hallman - rarely misses an open-look three-pointer. Brown is shooting 40.7 percent from behind the arc; Hallman 40.6 percent.
And with Henrickson using Brown, Hallman and Ivana Catic - all standing 5-foot-8 - on the perimeter, one of the three usually has to guard a taller player, and Brown consistently draws that defensive assignment.
By now, Brown says she's accustomed to shadowing bigger opponents.
"I just try to neutralize their athleticism," Brown said, "and if I do what I'm supposed to do, it works out."
Of those three 5-8 KU perimeter players, Brown clearly is the strongest, yet Henrickson stresses that strength is no substitute for consistency.
"Kaylee has grown into a better defender," the second-year KU coach said. "Defensively, she takes a lot of pride in what she's doing, and in the last couple of weeks she's been most consistent on that end."
More like this story on KUsports.com