Baylor University's basketball team opened its 2005-06 season Oct. 15, just like everybody else.
But the Bears didn't play their first game until Jan. 11 - two months later than the other 333 schools in NCAA Div. I.
"What was the deal with that?" Kansas University freshman Brandon Rush asked before practice Monday.
Well, the delay was due to a harsh NCAA penalty for violations committed under the watch of former coach Dave Bliss. As a result, Baylor was banned from playing a nonconference schedule.
"Man, that would be tough," Rush said. "Just practicing against the same players every day would be pretty boring."
The NCAA penalty stifled the progress of the Bears, who take a 2-10 Big 12 record into a battle at 7 tonight at No. 16-ranked KU (19-6, 10-2). The game will be shown live on channels 13 and 38 (Sunflower Broadband channels 13, 15) with a replay at 10:30 tonight on Sunflower Broadband Channel 6.
"I'm a positive and optimistic person," third-year Bears' coach Scott Drew said, "but it's really hard to find positives and optimism in not having a nonconference schedule, especially with our situation."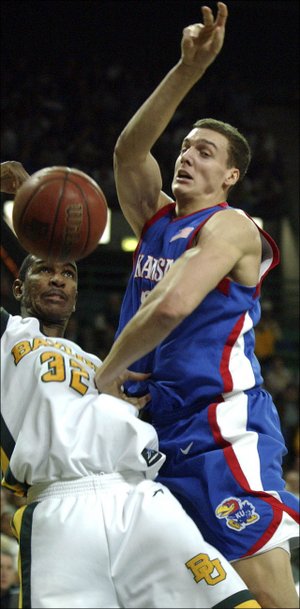 The Bears, who dropped their first six league games before winning at home in overtime against Kansas State, rely heavily on four freshmen.
"Playing a bunch of new guys who haven't had a chance to adapt to college basketball, and then you're giving them the toughest schedule in America (all Big 12 games), is tough," Drew said.
"You don't know what to practice as much until you play games. We thought we were doing a good job rebounding, then we play the first couple games and get beat up on the boards. Now, we're doing the same rebounding drills, but there's a lot more intensity in practice because they believe they have to get better because they just saw how they got beat on the boards.
"You just hope it's a situation that no one else has to get through."
The Bears, led by freshman guard Curtis Jerrells (12.3 ppg) and sophomore guard Aaron Bruce (11.4 ppg), have lost three straight since beating Missouri on Feb. 7 in Waco, Texas.
Baylor's "Freshman Four" of Mamadou Diene, Henry Dugat, Jerrells and Kevin Rogers account for 50 percent of the squad's points, 52 percent of rebounds, 51 percent of assists and 51 percent of minutes played.
That's learning on the job, without the benefit of nonconference contests.
Related Content
"I think, without question, it hurt them more than what people probably thought," KU coach Bill Self said. "I saw early on some said they'd have an advantage because teams won't know what they are running. They won't be as well-scouted. That's true, but there's no substitute for experience. That's shown by the way they've been playing so much better since they've gotten some minutes under their belt."
Self said the Bears, who enter on the heels of Saturday's 64-60 loss to Texas A&M;, had done mighty well, under the circumstances.
"I'd say based on where they started and the scores, they've come a long way," Self said. "They've come from being a team hoping to play well to a team that expects to play well and win. They are talented. They are time away from making a dent in this thing."
The Jayhawks, who are tied with Texas atop the league standings at 10-2, realize they must take care of business against BU tonight to make Saturday's game at Texas a true showdown. Texas travels Wednesday to Kansas State.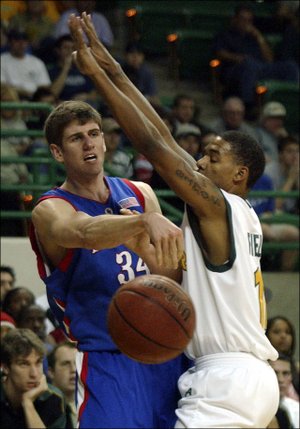 "We can't take anybody lightly," Rush said. "If we win, then we've got a tough game against Texas coming up. It's how we get fired up about it. We're going for a championship. We need to win all our games."
Including one against a team that has played just 12 games compared to KU's 25.
"That would really have been tough," freshman Mario Chalmers said, putting himself in Baylor's shoes. "You've got to adjust to college level of basketball, especially being a freshman. For me, as the season went along, I became more confident. Nonconference games helped out a lot. I'm sure they have a lot of talent, and they'll come out ready to play a good game."
"They'll be hungry," KU sophomore Darnell Jackson said. "They'll want to show they have a good team."
More like this story on KUsports.com