Kansas University freshman Brandon Rush, who can take a joke, was amused by signs held high by Missouri students before the KU-MU basketball game Jan. 16 in Mizzou Arena.
"The main one I remember is, 'Rush can't read,'" Rush, a 6-foot-6 guard/forward from Kansas City, Mo., said with a smile. "They spelled 'can't' wrong. I forget how they spelled it, but they spelled it wrong."
Rush, who scored 14 in the Jayhawks' 89-86 overtime loss to the Tigers, wasn't bothered by the attention. He realizes MU fans were venting frustrating about his choosing KU instead of Mizzou, where his brother Kareem starred in 2000-2002.
"It didn't bother me at all," said Rush, admittedly looking forward to Saturday's rematch versus the Tigers at 2:45 p.m. in Allen Fieldhouse. "People don't know me. They are going on what they hear."
The Border Showdown in Columbia was memorable for Rush, who was involved in one of the biggest plays of overtime.
With KU down, 88-86, he drove the lane and, instead of shooting, made a bullet pass to Darnell Jackson, who was guarded down low by Jimmy McKinney and Kevin Young. Jackson fumbled the ball and fouled McKinney, who made one of two free throws with two ticks left.
Russell Robinson's half-court heave fell short, and KU lost.
"I wish I would have shot it," Rush said. "I'd like to go back in time and play that over again. I'd shoot it, definitely. I'm more confident now than I was then."
Rush, who has been called a "sponge" by coach Bill Self for his willingness to learn, said he learned a lesson watching the replay of his turnover.
"We went over it twice on tape. Coach Self kept rewinding," Rush said. "I need to shoot that. I need to step up and try to make the big play at the big time."
In that situation, Self wanted Rush to shoot.
"You've got to drive it to score. He chose to pass," Self said. "That didn't cost us. What cost us is at the end of regulation, we didn't execute."
KU blew a five-point lead in the last 29 seconds.
"I think it's a little more payback. They got us the last time," Rush said of Saturday's game. "It was our last loss. We're playing better as a team now."
In fact, KU (18-6 overall, 9-2 Big 12 Conference) has won eight in a row entering its home game against Mizzou (11-11, 4-7).
"I want to beat Missouri, but it's not the biggest game of the year," Rush said. "The biggest game of the year is Texas (Feb. 25 in Austin). If we take care of business Saturday and Tuesday (versus Baylor), that will be the Big 12 championship game right there. It'd be the biggest game of my career.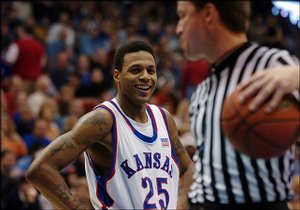 "We can't look past anybody," added Rush, KU's leading scorer (14.3 ppg) and rebounder (6.2 rpg). "If we take care of business, then we can look to the Texas game ... only if we take care of business."
KU leads for Arthur: KU has emerged as the team to beat for Darrell Arthur, a 6-foot-9 senior forward from Dallas South Oak Cliff High. Arthur tells rivals.com he's eliminated Indiana following the announcement that Hoosier coach Mike Davis was out after this season.
Arthur said KU, Baylor and SMU were the schools he currently was considering, but UConn, Oklahoma and Texas are starting to show interest. He has taken official visits to KU, Indiana, North Carolina, SMU and Baylor and still plans to take another unofficial visit to Mount Oread.
"KU is at the top of my list. I really like the coaching staff at Kansas, and they are cool with the players," Arthur said. "I also like KU because they have good freshmen and they are playing good ball right now. I feel that I could come in next year and produce a little bit for Kansas."
Self speaks about Sutton: KU coach Bill Self on one of his mentors, OSU coach Eddie Sutton, who announced late Wednesday he would check into an alcohol-rehabilitation center in the wake of Friday's car crash that forced him to leave the team for the rest of the season:
"It saddens everyone in the coaching profession that knows coach (Eddie) Sutton that he is taking a medical leave of absence for the rest of the season. Coach has meant so much to so many, and it was indeed an honor to be a part of his staff during the early 1990s," Self said.
"Coach Sutton is a Hall of Fame coach with Hall of Fame credentials. Most importantly, we hope coach addresses his health issues and is feeling much better in the very near future. Our league will certainly miss not having him on the bench the rest of the season, but Oklahoma State is in very capable hands with Sean (Sutton) coaching and the experienced staff on board."
More like this story on KUsports.com