Seeking redemption, Kansas University senior Christian Moody hopes he's sent to the free-throw line with :04 left on the clock with KU and rival Missouri deadlocked on Saturday afternoon at Allen Fieldhouse.
"I'd love that opportunity," Moody said wistfully.
He has been haunted by the memory of missing two charities with under a second left in KU's 89-86 overtime loss to the Tigers on Jan. 16 at Mizzou Arena.
Just one make would have given the Jayhawks a victory in regulation.
"I think about them every time I step up to the line," Moody said of the misses. "I shot four free throws the other day (making three at Oklahoma State) : when I shot them, I was thinking, 'I've got to get better at this in case I'm ever in that situation again.'''
A 50-percent free-throw shooter when he toed the line at Missouri, Moody has made nine of 13 attempts in KU's last eight games - all victories.
"I think time helps, and it's been some time since that game," Moody said. "I'm just excited about having a chance to play Missouri again."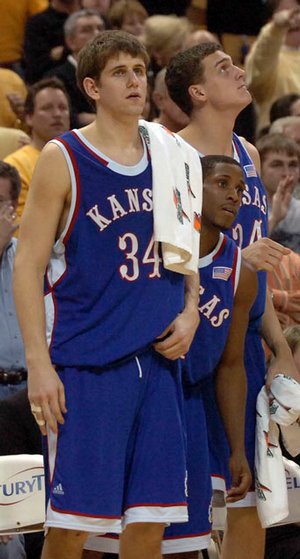 He received a lot of support immediately after the first MU game.
First to help was Almarie Chalmers, mother of KU freshman Mario Chalmers, who gave Moody a hug and a gift in a hallway outside the visitor's locker room.
"It was a Bible verse about having the strength to move mountains," Moody said. "She had it with her in her purse. It really helped. The Lord is my savior. His word is always encouraging to me."
Moody's dad, Mark, also was at the game and lent some fatherly wisdom and support before Christian boarded the team bus and back in Lawrence.
Moody's support system also included his KU teammates, coaches and Jayhawk fans.
Yes, fans.
"I got multiple phone calls from a lot of different people - teammates, family, friends here, friends back home," Moody said. "The support was unbelievable. I got mail from KU fans in western Kansas, stories from little kids' letters. When a little kid says something, that is really meaningful to you.
"I've gotten e-mails from parents talking about things their kids might have said about that game or the games since, a lot of things that have provided motivation for me."
Related stories
Moody, who said he had written back all the fans who contacted him, also received some criticism following his misses.
Some fellow students left nasty messages on his Internet 'Facebook' page.
"There's a lot of people who like to talk, I guess," Moody said. "I don't read the Internet (message boards). The Facebook was pretty tough.
"I'm just happy with how the team has responded since then. You can't get things back. You've got to look ahead. I'm really proud of the team and how we've done that."
KU coach Bill Self, who said he had lost no confidence in Moody, said, "Christian will be looking forward to the game Saturday.
"I don't want to say that game affected him negatively, but I do think at least initially it hurt, and it hurt bad. I hope he's fully worked his way through that.
"I'm sure he thinks about it every day. How can you not," Self added, correctly reading his emotional senior. "He's a mature kid, a tough kid, and handled it well. His teammates rallied around him and others he cares about, too. He's fine."
Moody played double-digit minutes in 16 of KU's first 17 games, but has played 10 or more minutes in just two of KU's last seven contests.
"It's more a coincidence more than anything else that his role has diminished, not because of the Missouri game," Self said. "It's because Darnell (Jackson) and Julian (Wright) have been playing pretty well."
Moody understands.
"Julian has been incredible," Moody said. "You look at the talent level Julian has shown : he made some incredible passes the other day. Darnell has been a beast. When we are playing well and we are winning, I'm so happy."
¢ Coaching changes Kansas University coach Bill Self spoke to former Missouri coach Quin Snyder and Snyder's wife, Helen, on Tuesday, four days after Snyder decided to resign.
"He sounded upbeat on the phone," Self said. "All the call was for was to wish him well and keep his head high."
Self said he didn't like when coaches exited before the end of the season.
"This is not professional athletics regardless of how the media or fan base play it out to be that way," Self said. "This is not the NFL or NBA or major-league baseball, where if things don't go well you just can a guy halfway through the season. You are still dealing with 18- to 22-year-olds, and things do change overnight as evidenced by the University of Kansas basketball team this year."
The Jayhawks, who started 3-4, are 18-6 entering Saturday's 2:45 p.m. home battle versus MU.
"It's been one of the more rewarding times I've had as a coach," Self said. "The real fun times are turning a negative into a positive and showing some toughness.. It's been an enjoyable ride in that regard for me."
¢ Bruises: Jeff Hawkins, who is playing despite recent injuries to his wrist, back, knee and groin, was asked if he felt sorry for Missouri, considering all the turmoil of late.
"No," he said with a smile. "All I can do is worry about us. I'm not worried about how they are feeling, if their spirits are high or low. I'm worried about our spirits.
"I'd say, yeah, we owe them a nice little : I don't want to get in trouble with words," added Hawkins, asked if KU sought a payback for an overtime loss a month ago in Columbia. "I'd say we owe 'em one. It'll be a fun game."
Hawkins said treatment has helped his most nagging ailment, his strained groin.
More like this story on KUsports.com