Anybody remember December? Anybody recall when Kansas University's women's basketball team was the talk of the town following a 12-0 start?
The Jayhawks are 2-9 since then, the latest ignominy coming Wednesday night when struggling Nebraska rallied for a 65-57 victory in Allen Fieldhouse.
"We've lost what we had at the beginning of the season," KU's Crystal Kemp said, "and we need to get it back."
With about 11 minutes remaining, Kansas appeared poised to reacquire its stinger against a team that had dropped seven of its last nine games.
Kemp had wheeled for 19 points, and the Jayhawks had snatched a 44-40 lead after an unimpressive 25-point first half. But Kemp wouldn't score again, and the Huskers outscored KU, 25-13, the rest of the way.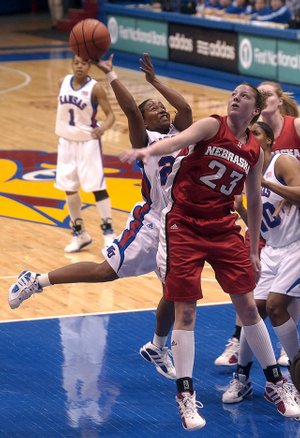 "It was good defense on their end," Kemp said. "Give credit to them."
With Kemp buttressed, her teammates made only two of 12 shots in the last 11 minutes and committed six turnovers - half of them attempts to force the ball inside to the 6-foot-2 senior.
"We struggled to find another offensive weapon," KU coach Bonnie Henrickson said. "Their third and fourth options made shots, and we're not that deep."
Seniors Kemp (19), Erica Hallman (15) and Kaylee Brown (11) scored all but a dozen of the Jayhawks' points. KU wasted a 13-of-13 performance at the free-throw line - eight by Hallman - and a 34-31 edge in rebounding.
Wednesday's defeat means the KU players will remain locked out of their locker room except on game days.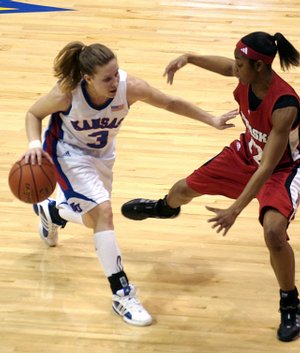 After the Jayhawks bowed to Colorado on Feb. 1, Henrickson told her players they could not use the dressing facility until further notice. Moreover, they would have to wear their own practice togs - and wash them, too.
Except on game days, the locker room is off-limits.
"That's a privilege," Henrickson said.
In addition, during practice, the Jayhawks cannot wear anything with the word "Kansas" on it.
"If it does," the KU coach said, "it has to be turned inside out. They can wear high school and AAU uniforms."
A few days after the coach's edict, the Jayhawks trimmed Iowa State, 65-64, but Henrickson did not lift the ban, and Kansas now has lost three in a row.
"I've been trying to send a message," Henrickson said, "and obviously it hasn't been heard real loud."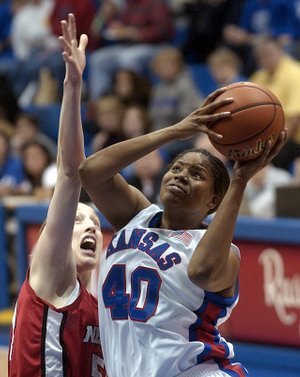 Wednesday's loss did send a message that the Jayhawks' hopes of earning a postseason WNIT berth are all but dead. KU's next two games will be at Iowa State (Saturday) and at Texas Tech, and KU hasn't won on the road all season. Then the Jayhawks will close at home against Missouri and Kansas State.
All four of those schools have better league records than the Jayhawks.
"I'm crazy enough to think we can win out," Henrickson said, "but what matters is if they believe."
Right now, the Jayhawks are staring at a 10th or 11th place finish in the conference standings and a low seed in the Big 12 Tournament.
"We have to try to put everything behind us," Kemp said, "and play them one at a time."
Notes: KU signee Kelly Kohn, a 5-9 guard from Adrian, Mich., earned honorable mention on the WBCA High School All-America team. : Hallman's eight free throws were a season high. She hadn't attempted more than four. : Guard Sharita Smith logged 27 minutes, matching her total for the last seven games combined. : For only the third time this season, Ivana Catic had more turnovers (5) than points (4). : NU's Kiera Hardy, a junior guard from Kansas City, Mo., made her first three three-point attempts and finished 4-of-5 from beyond the arc for a team-high 19 points.
More like this story on KUsports.com