It wasn't exactly pretty but Kansas, which earlier in the day jumped into the national polls for the first time this season, pulled away from Oklahoma State late Monday night to record a 64-49 victoryat Gallagher-Iba Arena in Stillwater, Okla.
"I'm proud of our guys, they fought, it was ugly. Oklahoma State played hard, but we responded," KU coach Bill Self said.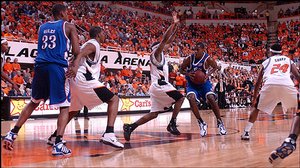 KU freshman Mario Chalmers led the Jayhawks, which improved to 5-1 on the road in Big 12 action, with 13 points. Three Jayhawks, Brandon Rush, Julian Wright, and Sasha Kaun added 12 points a piece as Kansas, which was slotted 22nd in both the Associated Press Top 25 Poll and ESPN/USA Today Poll, improved to 18-6 and 9-2 in the Big 12. Rush grabbed a team-high nine rebounds.
Oklahoma State -- who was missing legendary coach Eddie Suttton, who earlier in the day announced he would take a he take a medical leave of absence the rest of the season after being cited for driving under the influence during a traffic accident Friday night that landed him in the hospital -- was led by JamesOn Curry's 15 points and Mario Boggan, who tallied 12. The Cowboys connected on just 18-of-48 field goals for 37.5-percent, and committed 24 turnovers.
Kansas wasn't much better hitting 22-of-55 shot for 40-percent, and turned the ball over 20 times.
But the Jayhawks broke open a back-and-forth battle a little after the midway mark in the second half.
Kansas trailed 42-40 with a little over eight minutes left, but Russell Robinson knocked down a deep three-pointer to spark Kansas, which closed the contest with a 24-7 run.
A quick 8-0 spurt by KU, punctuated by Brandon Rush's two-handed, alley-oop jam, put Kansas up 47-42 with 6:51 to play.
"That game could have gone either way," Self said. "We go on a really good run to end the game, but we put ourselves in a tough postion to do that."
Self, an Oklahoma State alum who was on Sutton's staff for three years, said playing in Stillwater wasn't the same without his coach.
"I wish coach was here," he said. "I hope he gets to feeling better. It wasn't very enjoyable to be honest with you, because I wanted to compete against coach."
"I wanted to play against his team. I wanted to show my mentor what we do. That's something I'm proud of. I certainly hope that he gets to feeling better fast, and the entire situation is handled as well as it can possibly be handled. And hopefully, everybody can move forward. I know he needs to get healthy. He's struggled a long time with his health. Certainly, it's a tough enough job when you feel great, let alone when you don't."
Oklahoma State players said they didn't think Sutton's absence was a distraction, and admitted that they not only wanted to win for Sutton's son and head-coach designate, Sean Sutton, but wanted to win one for Eddie Sutton.
"Actually, I thought with coach leaving that it would kind of help our team a little bit because we would do it more for him now instead of just ourselves," said OSU freshman Terrel Harris said.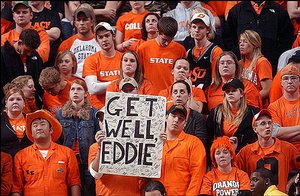 Instead the Cowboys (13-12, 3-8 Big 12) stayed with the Jayhawks until their struggling offense failed in the final 6 minutes.
"We knew their situation," Jayhawk guard Russell Robinson said. "They came off a tough loss (45-44 Saturday at Texas A&M;). We knew they'd come out fired up at home. They came out aggressive, but we delivered the knockout late in the game."
The Cowboys rallied from eight points down to tie the game at 23-all at halftime and looked to perhaps take control after Boggan's three-point play with 10:30 left put OSU up 42-39 . Instead Oklahoma State -- which is averaging 55.6 points in their last five games -- scored just seven the rest of the way.
"We played a lot harder, but we've just got to get better at the end," Harris said.
"As soon as we see the run start, we've got to just bear down, get it done and stop the run, quit letting them just run it up our throats," he added. "In crunch time, we know we need to win more games. We've got to suck it up and play."
Second Half Action
Oklahoma State's JamesOn Curry started the second half with another sloppy play as he committed a turnover.
KU's Sasha Kaun got the Jayhawks started with a big one-hand dunk.
Curry came back on a drive to tie the contest at 25-all
Mario Boggan gave the Cowboys their first lead of the night slamming home a deflected pass off Julian Wright's hands.
Wright followed with a basket in the lane to tie the game once again.
Curry put OSU ahead again on a shot.
Kaun, who leads KU with seven points, scored on a lay-in underneath.
Boggan answered for OSU, then Wright followed with a lay-in to give him eight points and KU 31.
Robinson missed a break-away lay-up.
Curry hit the first three-pointer of the game to put OSU up 34-31. On the play Boggan tackled Chalmers which infuriated Self, who walked half way across the court to let referee John Higgins know his opinion during a timeout.
Jeff Hawkins missed a wide-open three in the left corner, then fouled Jamaal Brown on the other end.
Jeremy Case came up with a loose ball and converted on a lay-up at the other end to cut KU's deficit to 34-33.
Mario Boggan picked up his third foul with just under 14 minutes left.
Rush scored his first basket of the second half on a jumper just seconds after Marcus Dove of OSU went to the bench in foul trouble.
Darnell Jackson missed a lay-in, but Curry did not on the other end to put OSU ahead 36-35.
Jackson was blocked, then missed a follow. Harris scored on a drive.
Rush followed with a soaring baseline dunk.
Chalmers hit a pair of charities to tie the contest at 39.
Boggan grabbed a steal, scored and was fouled. He hit the free throw to put KU up 42-39.
Kaun missed a dunk, but was fouled by Boggans, who picked up his fourth foul.
Kaun hit the first free throw, but Rush grabbed the rebound.
Kaun missed a shot in the lane and then picked up his fourth foul.
Robinson knocked down a deep three to put KU back in front 43-42 with a little over eight minutes left.
Giles scored on a putback, then came up with a loose ball and called a timeout.
Curry turned the ball over for OSU, and Chalmers lobbed a one-handed pass to Rush for a big alley-oop and 47-42 lead.
KU is on an 8-0 run.
Johnson banked in a shot to cut OSU's deficit to three.
Chalmers missed a lay-in, but Wright flew in for a two-hand putback dunk.
KU picked up a loose ball and Kaun scored a bank shot to put KU up 51-44 with under five minutes to go.
Kaun scored on a two-hand dunk to give, and Chalmers scored on a scoop shot.
Johnson scored for O. State and Boggan followed with a dunk.
Chalmers hit a pair of charities with 1:29 to go to put KU up 59-48.
OSU missed a shot and Chalmers, who was named the Big 12's Player of the Week earlier today, will go back to the line. The KU freshman missed the first, but hit the second to put KU up by 12 with 1:10 to go.
Moody got a rebound off a missed OSU three and was fouled. The senior hit one for the 13 point advantage.
Curry hit a free throw.
Rush added an exclamation two-hand dunk.
Robinson hit a free throw.
KU dribbled out the clock to win 64-49.
Halftime
Kansas and Oklahoma State combined for 28 turnovers and each school scored just 23 points a piece.
The Jayhawks and Cowboys have 13 combined field goals and 25 fouls in a game that has been as sloppy as slow because of a handful of clock violations.
Mario Chalmers leads KU with six points on 2-of-6 shooting, while the Jayhawks have hit just 6-of-20 shots.
Mario Boggan has six points as OSU has hit just 7-of-21 field goals.
Kansas outrebounded O. State 16-13.
First Half Action
Kansas won the tip, but Russell Robinson turned the ball over when he stepped on the out of bounds line.
But on Oklahoma State's first possession, KU's freshman took over. Julian Wright blocked OSU's JamesOn Curry's shot, got the ball to Mario Chalmers who found a wide-open Brandon Rush for a lay-up.
Chalmers got another loose ball in the open court and threw down a one-handed dunk for the quick 4-0 lead in Stillwater, Okla.
O. State's Kenny Cooper was blocked and KU got the ball back and Wright was fouled on his way to the hoop. Wright hit both free throws to put KU up 6-0 with 17:36 left.
Wright missed a long lob from Chalmers, but KU kept possession. Chalmers was then whistled for a travel.
OSU, has missed its first four shots, committed a turnover.
Wright scored on a pretty reverse for the 8-0 lead.
Mario Boggan finally ended OSU's drought with a hook shot in the lane with 16:10 left.
Robinson drove the lane and was fouled by Curry, who picked up his second foul with 15:47 to go. Robinson missed the first charity, but hit the second to put KU up 9-2.
O. State committed its fourth turnover, and KU followed with its fourth give-away.
Boggan hit a pair of free throws to cut the score to 9-4.
Okie State's David Monds hit a jumper from the baseline.
Jeff Hawkins missed a drive, but OSU threw the ball away again.
C.J. Giles missed a point blank putback and Curry cut the game to 9-8 with just over 12 minutes to go in the half.
Darnell Jackson kicked the ball away on KU's first possession after the timeout.
Kansas hasn't scored a field goal in nearly five minutes.
Wright drew defenders off of him and found Kaun, who was fouled down low.
Kaun hit one of two free throws to put KU up 10-8.
Kaun followed up a Robinson block with an easy putback.
Wright missed a shot, but Rush rebounded. Giles and Robinson were both blocked.
OSU had a shot block, and Rush came back the other way catching an alley oop for the dunk.
Giles missed a dunk, but was called for basket interference when he hung on the rim.
OSU picked up an offensive foul and Kansas followed with one of its own.
KU has 5-of-17 shots, while OSU has connected on just 3-of-14.
Terrell Harris hit two free throws for the 14-10 score.
OSU hasn't hit a field goal in over five minutes.
Harris hit one free throw to cut the contest to three with six and a half minutes left in the first half.
Chalmers scored on a drive to the basket.
Christian Moody hit a pair of free throws with 5:29 to go to make the score 18-11.
The Cowboys haven't scored a field goal in 7:11.
Curry hit a free throw, then Boggan followed with a putback to cut the score to 18-14.
But on the inbounds pass, Curry picked up his third foul with 4:44 to go.
Robinson hit a free throw to make the score 19-14.
The two teams have combined for 10 made field goals, but 21 turnovers.
Make that 22 as OSU committed its 12th.
Giles hit a pair of free throws to make the score 21-15 with just over three minutes left.
Harris swiped the ball away from Rush in the open court and scored on the break-away lay-in.
KU had a shot clock violation.
Brown stole a Moody pass for a lay-up to cu the score to 21-19.
Rush committed a turnover as he drove the baseline, although it appeared he was pushed near the out-of-bounds line.
Torre Johnson hit a jumper in the paint to tie the game at 21-all with under a minute ot go.
Chalmers hit two free throws to put KU up two.
Referees issued a double technical foul on Jeff Hawkins and Jamaal Brown.
Chalmers was called for a foul with 7.8 seconds in the half as he tried to fight through a screen. OSU's Curry, who was in for his shooting ability, hit both free throws to tie the game.
Chalmers, the Big 12's Player of the Week, missed a three at the buzzer and OSU's 8-2 run in the final minutes helped the Cowboys tie the contest at 23-all at halftime.
Pregame
Kansas University's basketball team is one of the hottest squads in the nation as it has won seven straight and 14 of its last 16 games dating back to Dec. 10.
To be sure, pollsters on Monday voted the Jayhawks (17-6 overall, 8-2 Big 12) into the 22nd spot in both the Associated Press Top 25 Poll and ESPN/USA Today Poll.
"I don't think any coach wants to get off to the start we did," KU coach Bill Self said Monday, hours before the Jayhawks played at Oklahoma State in a 8 p.m. game in Stillwater, Okla. "We weren't mature enough to go to Maui. We didn't know enough about ourselves and then lost a couple more when we came back home.
"Looking back now if those young kids had had a lot of success early they wouldn't have been tough enough to sustain what they have. The one blessing is what we went through helped this team get where it is now."
Tonight though the Jayhawks should face a test against a struggling Oklahoma State team (13-11 overall, 3-7 Big 12) that is without legendary coach Eddie Sutton, who earlier Monday announced that he will take a medical leave of absence for the remainder of the season.
The 69-year-old Sutton, who is six wins shy of 800 for his career, has been dealing with constant back and hip problems the last couple of seasons is also recovering from injuries suffered in a Friday automobile accident.
"It has been an extremely difficult season," Sutton said in a released statment by OSU officials on Monday. "With my deteriorating physical condition and other issues, I have been under a tremendous amount of stress. I told Dr. Schmidly I was close to making this decision after the trip to Kansas State because the pain in my back was making it very difficult to coach. After Friday's events, I know it is best to go on medical leave the remainder of the season to address my future health.
"It is very difficult to step away from the team," continued Sutton, whose son and head-coach designate, Sean Sutton, will lead the team the remainder of the season. "But I know they are in great hands. The season has not gone as we wished, but we have a talented and fine group of young men and I look for them to finish the season strong. I won't be on the bench, but I'll be with them."
Police cited Sutton with driving under the influence after the traffic accident but did not jail him on a complaint because of a lack of physical evidence, the city's police chief said Monday. Police are awaiting the results of blood tests that will confirm whether Sutton was driving under the influence at the time of the accident, Stillwater Chief Norman McNickle said. It could take six to eight weeks to receive the test results.
Under Oklahoma law, driving under the influence can include a range of substances, including prescription painkillers or alcohol.
According to a report in The Oklahoman, witnesses reported smelling a "slight fruity odor" on the coach's breath and seeing a bottle of hydrocodone, a narcotic pain reliever related to codeine, in his SUV. McNickle wouldn't discuss whether alcohol or medication was a contributing factor to the accident.
"I can't say anything more," McNickle told The Oklahoman.
Sutton was not given a field sobriety test at the time of the accident because he needed medical treatment, McNickle said. Before issuing a DUI citation "officers have to have reasonable suspicion to believe the person was under the influence at the time," the chief said, declining to discuss those suspicions because they are part of an ongoing investigation.
Self said in Monday morning's Big 12 teleconference that tonight's contest won't be the same without his mentor there.
"It's very unfortunate. The biggest thing is he gets to feeling better," Self said. "No one wants somebody with a Hall of Fame career to miss a game.
"I knew last night he probably would not be there. I talked to their staff, but I haven't talked to coach."
Oklahoma State is looking to turn around a tailspin that includes two straight losses after a 46-44 defeat at Texas A&M; Saturday. The Cowboys have lost six of their last seven with five of those games being decided by two points and two of those in overtime.
The Cowboys lead the Big 12 in field goal percentage at 48.9 percent and free throw percentage at 73.5 percent. Junior forward Mario Boggan leads OSU in scoring at 13.7 ppg, rebounding at 5.5 rpg, field goal percentage at 58.2 percent and blocked shots with 17. He is making 80.2 percent of his free throws.

Sophomore guard JamesOn Curry is next in scoring at 13.5 ppg and leads the team in assists with 4.2 per game. Junior forward Torre Johnson is next in scoring at 11.5 ppg. Freshman guard Bryon Eaton leads the team in steals with 42. Like Kansas, Oklahoma State is a young team consisting of seven freshmen and sophomores. The Cowboys lost four starters and nine letterwinners from last season's 26-7 team.
"It's puzzling we let games get away," said Sean Sutton, who is set to become head coach when his dad retires. "We've spent a lot of time with the team, talking about the tradition of the building and the reputation it has across the country. You don't just win here. You stomp on people."
Kansas, meanwhile, will be trying to avenge the 80-60 loss the Jayhawks suffered in Self's first trip to his alma mater as KU's coach.
"We played miserable down there, and they played great," Self recalled. "I already got a technical and used all our timeouts by the first TV timeout. Hopefully, it won't be the case this year.
"I think our team was embarrassed, and, of course, I'm part of the team," Self added. "Last time, even though I didn't do it intentionally, it was a business trip that became social. Trying to see people ... people trying to see me and not being rude to people.
"This year there won't be any of that until after the game. I wanted to see the facilities, which are impressive. There's no need to do that now."
KU leads the nation in field goal percentage defense at 36.2 percent and the Big 12 in assists at 18.1 per game. KU guard Brandon Rush leads KU and the Big 12 freshmen class in scoring with 14.4 points per game, 13th overall. He is scoring 16.6 points in Big 12 contests. Last week's Phillips 66 Big 12 Rookie of the Week, Rush also leads KU in three-point field goals with 34 and in rebounding with a 6.0 per game average, 13th in the conference.
Freshman Mario Chalmers, who today was named the Big 12's Player of the Week, is next in scoring at 10.6 points per contest, including a 15.5 scoring average in league games. Chalmers leads the Big 12 in steals with 2.65 per game and is also among the league leaders in assists - sixth with a 4.0 average.
Sophomores Russell Robinson and Sasha Kaun are each averaging 8.7 points per game. Kaun is second on the team in rebounding with a 5.8 average, 14th in the league. KU's blocked shots leader is sophomore C.J. Giles with 33, just ahead of freshman Julian Wright's 31. The Jayhawks are outscoring league foes by more than 13 points per game.
In addition to Self, KU has two Oklahoma natives in Darnell Jackson and Jeremy Case.
Case, a sophomore guard from nearby McAlester, Okla., said he will be trying to claim bragging rights over his dad, Win, who played at OSU in the 1980s.
"I wouldn't necessarily say it's a battle, but I find it more rewarding if we beat my dad's alma mater," Jeremy Case said. "It will be exciting. It's probably the loudest place we play. The fans feel like they are right there breathing on your neck."
This series dates back to 1926 and Kansas holds a 98-51 all-time advantage. KU also leads the series in games played in Stillwater - 32-29 - including a 30-29 mark in Gallagher-Iba Arena.
Since the Big 12 started the Kansas holds a 9-4 edge, including a 7-2 regular-season match up record against OSU. Oklahoma State has won two of the last three meetings but Kansas has won six of the last 10. Last season saw two top 10 teams clash twice with Kansas winning 81-79 in Lawrence and Oklahoma State claiming a 78-75 decision in the semifinals of the Big 12 Championship in Kansas City.
Self said he knows the Cowboys and OSU fans will try to do everything in their power to avoid another home court loss.
"That's a great home court. That surprises me," Self said. "People are surprised when we lose at home, too. We lost two this year. I think with talent level more equal than years past I think you are seeing more road victories."
Information from The Associated Press was used in this report.
More like this story on KUsports.com