STILLWATER, OKLA. — Bill Self had a lot more fun playing basketball in Gallagher-Iba Arena in the early 1980s than coaching in Oklahoma State's tradition-rich building two seasons ago.
The former Cowboy guard's first Kansas University team fell WAY behind - 26-8 - after seven minutes en route to an 80-60 ESPN Big Monday blowout defeat on Feb. 9, 2004.
"We played miserable down there, and they played great," Self, KU's third-year coach, recalled.
He returns to his alma mater for today's 8 p.m. Big Monday contest pitting red-hot, soon-to-be-ranked KU (17-6 overall, 8-2 Big 12 Conference) and unrated OSU (13-11, 3-7).
"I already got a technical and used all our timeouts by the first TV timeout. Hopefully, it won't be the case this year," Self added.
The former Oklahoma high school player of the year from Edmond, who attended OSU from 1982 to '85 and served as assistant to head coaches Leonard Hamilton and Eddie Sutton from '86 to '93, said that rout had to be one of the low points of the 2003-04 season - one in which KU reached the Elite Eight of the NCAA Tournament
"I think our team was embarrassed, and, of course, I'm part of the team," Self said.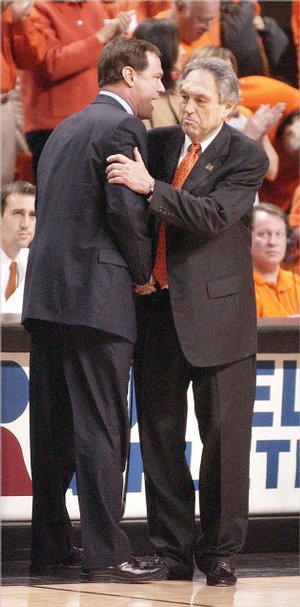 Self said he learned a painful lesson regarding future trips to his alma mater.
"Last time, even though I didn't do it intentionally, it was a business trip that became social," Self said. "Trying to see people : people trying to see me and not being rude to people.
"This year there won't be any of that until after the game. I wanted to see the facilities, which are impressive. There's no need to do that now."
Self received a loud ovation during pregame introductions, which put a smile on his face. It's safe to say it was the only time he smiled during that contest.
"He didn't want to lose. That's where he went to school," KU senior guard Jeff Hawkins said. "If I was coach, I'd be mad and a little embarrassed, too. If we play the way we are capable of playing, we can send coach home happy."
The Cowboys have been vulnerable this season at Gallagher-Iba, OSU's self-proclaimed "rowdiest arena in the country."
"They (fans) have done about everything they can do," said 16th-year OSU coach Eddie Sutton, whose Cowboys have suffered four home losses against eight victories this season - the most losses in Sutton's 16 seasons in Stillwater.
"We haven't seized the opportunity like times in the past," added Sutton, who suffered minor injuries in a car accident Friday, which required an overnight stay in the hospital.
He will decide sometime today if he's feeling well enough to coach the game, OSU associate athletic director Steve Buzzard said Sunday afternoon.
Sunday night, an OSU press release indicated Sutton called the Cowboys at practice Sunday, told them he missed them and loved them and told them "to beat the Jayhawks," leading to speculation Sutton definitely would miss tonight's contest.
The Cowboys fell to Oklahoma, 73-65, in their last home game Wednesday, then lost at Texas A&M; Saturday.
They have experienced the most losses at Gallagher-Iba since dropping five during a 14-16 campaign under Hamilton way back in 1987-88.
"It's puzzling we let games get away," said OSU coach designate Sean Sutton, set to become head coach when his dad retires.
He filled in for Eddie in Saturday's 46-44 loss to Texas A&M; in College Station, Texas.
"We've spent a lot of time with the team, talking about the tradition of the building and the reputation it has across the country. You don't just win here. You stomp on people," Sean Sutton added.
Self vs. his alma mater
¢ 1993-94 - Oklahoma State 94, Oral Roberts 52 in Stillwater, Okla. ¢ 1994-95 - Oklahoma State 84, Oral Roberts 45 in Tulsa. ¢ 1995-96 - Oklahoma State 73, Oral Roberts 56 in Stillwater, Okla. ¢ 1996-97 - Oral Roberts 71, Oklahoma State 60 in Tulsa. ¢ 2003-04 - Oklahoma State 80, Kansas 60, in Stillwater. ¢ 2004-05 - Kansas 81, Oklahoma State 79, in Lawrence. Oklahoma State 78, Kansas 75 at Kemper Arena.
Losing to Northwestern Louisiana, Nebraska, Colorado and Oklahoma is simply unfathomable at OSU, where Eddie Sutton has compiled a 202-25 record in home contests.
"That's the thing I thought we could count on, winning games at home," Sean Sutton said.
He refuses to use youth as a crutch.
The Cowboys have seven new players in their 10-man rotation, with sophomore JamesOn Curry the squad's veteran leader.
"At first I thought they might be somewhat intimidated, playing in front of that many people at home," Sean Sutton said. "But they've played a lot of games here."
The main problem, the elder Sutton said, was the team's toughness - or lack of it.
"We're a very soft basketball team," Eddie Sutton told the Daily Oklahoman. "We're not like the teams I've had here. Softest in the 16 years I've coached. I don't think defeat hurts them as much as teams I've coached."
The players have accepted major blame.
"It's frustrating," Curry said. "Like coach said, we play soft a lot. That's coming from everybody, not just the perimeter or down low, but as a whole. We have to get tougher. It's not too late. Our backs are against the wall. These last few games you will see some character built."
The Cowboys will do everything in their power to avoid another embarrassing home loss.
"That's a great home court. That surprises me," KU's Self said of the Cowboys' homecourt record this season. "People are surprised when we lose at home, too. We lost two this year. I think with talent level more equal than years past I think you are seeing more road victories."
Self OSU highlights
Kansas University basketball coach Bill Self played guard at Oklahoma State from 1982 to '85 and worked as an assistant coach at OSU from 1986 to '93. He returns to his alma mater tonight to lead the Jayhawks against the Cowboys in an 8 p.m. Big Monday tipoff.
Self's playing career highlights include: ¢ 12th in school history in assists (317). ¢ 109 games: 5.4 points per game average, 2.9 assists per game, 2.1 rebounds per game. ¢ 12 assists vs. Iowa State, Feb. 29, 1984. ¢ 11 assists vs. Florida International, Nov. 30, 1983. ¢ 10 assists vs. Kansas, March 2, 1985; 10 vs. Colorado, Jan. 16, 1985; 10 vs. Kansas, Feb. 8, 1984; 10 vs. Oklahoma, Jan. 29, 1984. ¢ Third in OSU history in double-digit assist games (6). ¢ Second in OSU history in double-doubles (points and assists only, 3). He had 13 points, 10 assists vs. Colorado, Jan. 16, 1985; 13 points, 12 assists vs. Iowa State, Feb. 29, 1984; 10 points, 10 assists vs. Oklahoma, Jan. 29, 1984. ¢ 21st best single-season assist mark in OSU history (126 in 1984). ¢ All-Big Eight freshman team selection in 1982. ¢ His OSU teams, coached by Paul Hansen, went 15-12 overall, 7-7 in Big Eight in 1981-82; 24-7, 9-5 in 82-83; 13-15, 5-9 in 1983-84; and 12-16, 3-12 in 1984-85. ¢ Self competed in the NCAA Tournament one year, 1983, when OSU lost to Princeton in the first round.
Some of Self's coaching career highlights are: ¢ Self worked as an OSU assistant for Leonard Hamilton four years (1986-89) and Eddie Sutton three years (1990-93). ¢ Under Sutton, OSU reached the NCAA Sweet 16 in 1990-91 (24-8) and 91-92 (28-8) and the second round in 1992-93 (20-8). Hamilton's teams reached the NIT twice. ¢ Self has coached against Eddie Sutton seven times. Self was 1-3 versus Sutton at Oral Roberts and is 1-2 versus Sutton at KU.
More like this story on KUsports.com