Russell Robinson might want to wear shoulder pads the next time Kansas University and Iowa State meet in men's basketball.
Armor definitely would have come in handy Saturday when Robinson, KU's sophomore guard, was body-blocked into the scorer's table by Will Blalock -- a play that best exemplified the Jayhawks' 88-75 victory over an aggressive, chatty Cyclone team in Allen Fieldhouse.
"They were trying to punk us. I guess they thought we were soft," Robinson said after a game in which tempers flared the second half.
KU's C.J. Giles and ISU's Shawn Taggart each received a technical foul for jawing moments after Robinson hit the table with so much force it ripped apart the power cord to KU's main stat-crew monitor.
"All it did was make us more aggressive," added Robinson, who for the second time this season -- the first after KU's 10-point victory Jan. 28 in Ames -- had words with ISU junior Curtis Stinson in the postgame handshake line.
"Ames wasn't that bad. This was a little more heated," Robinson said of the exchange with the fellow native of the Bronx, N.Y. "He just said, 'We'll see what happens when I go home'-type thing. I guess we'll meet up again, probably when we play back home. I guess he's looking forward to that."
In Ames, Stinson had told Robinson he was looking forward to the rematch in Lawrence. Robinson's response Saturday was about the same as before.
"I just said, 'All right. No problem,''' Robinson said. "I think respect is there between us. He's probably just upset they lost."
Robinson, who had nine points, seven assists and six rebounds, guarded and was guarded at times by Stinson (19 points, 9-of-20 shooting) and Blalock (21 points, 8-of-19 shooting).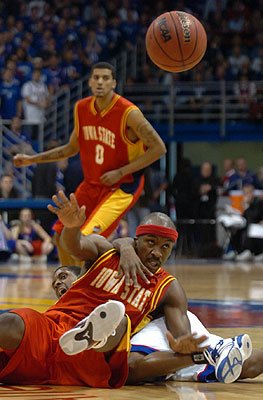 With 2:19 left, Blalock shoved Robinson in the backcourt. Robinson turned to an official, shrugged and said, 'Did you see that?'''
The ref apparently did not.
"I got hit with a cheap push," Robinson said of the body block, not the late shove in the backcourt. "My momentum was going too fast, took me into the table. It was an aggressive game. We matched their aggression.
"I hold nothing against (Blalock). He was trying to do whatever it takes to get back in the game. He's a competitive kid. I respect that."
Stinson talked more than anybody on the court, according to KU's Brandon Rush, who had 16 points off 7-of-15 shooting.
"He's got a big mouth on him. He talks to you the whole game," Rush said. "He told me, 'Physical game ain't you; just stick to finesse.'''
That line drew laughter from Rush. Other lines weren't as humorous, making KU's 17th victory in 23 games and eighth in 10 league outings that much sweeter for Rush and his teammates.
"It's real good to win when somebody is talking smack. It shuts 'em up quick," Rush said. "They are up there and can't say anything at all."
No fights broke out Saturday. The most contact came when Robinson sailed out of bounds and when Mario Chalmers was pushed shortly before Giles and Taggart received their technicals with five minutes left, with KU up, 76-61.
"On the free-throw line, I was trying to walk back. I got shoved by two people. It's how it all started out there," Chalmers said.
Giles said he didn't know he was whistled for a 'T' until after the game, when coach Bill Self approached him about it in the locker room.
"I was just trying to break up, be there to protect Russell," Giles said of his standing outside an ISU huddle. "I thought Russell was walking over there."
28Fouls called on Iowa State
18Fouls called on Kansas University
4Points made by ISU from the free-throw line
26Points made by KU from the free-throw line
7Blocks by KU
0Blocks by ISU
6Fouls by ISU's Shawn Taggart (including a technical)
50KU's field-goal shooting percentage
Self said he was glad to see his players support Robinson.
"I'll be candid with you. I'd be disappointed if our guys didn't stand up for teammates," he said. "They should never throw a punch."
From Self's vantage point ... "I think Blalock, whether intentionally or unintentionally, I am certainly not accusing him, but there was a bump, and Russell goes over the scorer's table. I think that's what led to guys jawing.
"I don't think C.J. deserved a technical. I don't know if Taggart deserved a technical. It was obviously the thing to do to keep everyone under control. I think the officials wanted to call something, I don't mean it negatively, to make sure they kept control of the situation."
ISU's Stinson and Blalock did not meet reporters after the game.
Guard Rahshon Clark, who had four points in 33 minutes, said, "It really got out of hand tonight. It was teams trying to be aggressive, and players didn't like it. We tried to get aggressive, and they didn't like how we were getting aggressive, I guess."
As far as actual basketball, the Jayhawks were led by Chalmers' career-best 23 points off 6-of-12 shooting and 8-of-8 free throwing.
"It's nice, but I'd rather have a victory than a career high," Chalmers said.
Freshman Julian Wright contributed 13 points with nine rebounds, four blocks and four assists. ISU was led by guards Blalock and Stinson, who combined for 40 points, but just seven the first half as KU blazed to a 47-32 halftime advantage.
The Jayhawks saw a 17-point lead (49-32) shrink to four (59-55 at 13:31), but KU responded with an 11-4 run.
"We've not had that many close games. It's good to see our guys make plays under pressure," Self said.
KU will meet Oklahoma State at 8 p.m. Monday in Stillwater, Okla.
More like this story on KUsports.com