Russell Robinson, whose Kansas University men's basketball squad won Jan. 28 in Ames, Iowa, knows Curtis Stinson and Iowa State won't go down again without a fight.
"When we were lining up for handshakes at the end of the game, he said, 'We'll see you again. We'll see you at your house.' He said, 'We'll get you next time,''' Robinson, KU's sophomore guard, said of Stinson, a fellow Bronx, N.Y., native who was disappointed after ISU's 95-85 loss to KU in Hilton Coliseum.
"I said, 'All right.' It's no biggie. We'll be ready," Robinson said, referring to today's 3 p.m. rematch between the teams in Allen Fieldhouse.
Robinson played AAU ball against Stinson as a youth and helped hold the 6-foot-3 junior to 24 points off 8-of-22 shooting in Ames.
In his next game, Stinson, the Big 12 Conference's second-leading scorer at 19.7 points a game, recorded the third triple-double in school history -- potting 24 points with 10 rebounds and 10 assists in a Feb. 5 home victory against Colorado.
"With him, you've got to force him to take some bad shots," Robinson said. "You know he'll get some shots up. Whether he makes some or not, you can't let him control the game.
"He's capable of (triple doubles). He's a good playmaker. You've got to do your best to limit him."
Stinson, who scored 29 in Iowa State's 63-61 overtime victory over KU last season in the fieldhouse, also likes to talk during the heat of battle, too.
"Actually, he does," Robinson said, smiling. "Pretty much everybody else is quiet, do what they've got to do. He does talk a little bit, not too much."
Robinson is hoping he someday will be able to match Stinson's triple double, just the third in ISU history.
No Jayhawk officially has recorded a triple double in the KU record books, yet Wilt Chamberlain and B.H. Born each had triple doubles in research compiled by the Journal-World's Bill Mayer and former KU sports information director Don Pierce.
"I came close in the Missouri game. I was three assists and two rebounds away," said Robinson, who had 12 points, eight rebounds and seven assists in an overtime loss to the Tigers on Jan. 16.
"I think somebody on our team is going to get one this year. I think I could get one. Mario (Chalmers) has a good chance. Brandon (Rush) could get one."
Today, it will be important to keep guards Stinson, Will Blalock (14.3 ppg) and guard/forward Rahshon Clark (14.0) in check if KU (16-6 overall, 7-2 Big 12 Conference) hopes to sweep the season series against ISU (14-8, 4-5).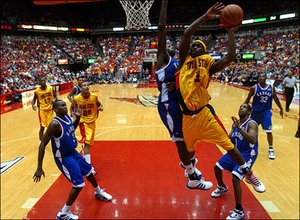 "I think they have a good backcourt," Robinson said. "I will not forget Rahshon Clark. He takes a lot of pressure off them (other guards). They have a good, three-guard lineup. Our backcourt is close. We've got a good backcourt, too."
"We've got to do a good job on those two," KU coach Bill Self said of Stinson and Blalock. "Those two have pretty much controlled the game the last two years we played them here (including KU's narrow 90-89 overtime victory in 2004). And Clark has emerged as one of the best 3-men in our league."
There's been talk of Stinson turning pro after this season.
"I don't think about the NBA," Stinson told the Des Moines Register. "Getting to the NCAA Tournament is what I think about. If coach (Wayne Morgan) recommends I go to the NBA, then it will happen. I wouldn't know. I just play."
Morgan said: "If he plays the rest of the year to this level and they let it known he would be drafted in the first round for sure, then I would recommend him to go because he could help take care of his family."
It's believed Blalock also is a future NBA player.
"I've thought about this lately, because (Stinson) and Will are both juniors," Morgan told the Register. "It's hard to even consider going into a game and not having those guys with me. Hopefully, we'll have another year with both of them."
More like this story on KUsports.com