Tracy Bunge can count many blessings as she begins her 10th season as Kansas University's softball coach.
In shortstop Destiny Frankenstein and second baseman Jessica Moppin, Bunge has KU's single-season and career home run leaders.
In right field, the KU coach has a returning first-team All-Big 12 Conference selection in Heather Stanley. At third base, she has Val Chapple, last year's national high school player of the year.
But softball is a pitcher's game, and the Jayhawks will open this weekend at a tournament in Houston with no clear-cut No. 1 hurler - unless, that is, junior right-hander Kassie Humphreys reverts to her freshman form.
Two years ago, Humphreys fashioned a 14-12 record with a 1.57 earned-run average. Last year, however, the Glendale, Ariz., product plummeted to 5-6 with a 3.74 ERA.
Humphreys' woes weren't caused by physical ailments, so Bunge has adopted a different approach.
"I'm trying not to coach her as much, so she won't be overthinking," Bunge said. "I'm not giving her too much information. She has a tendency to nibble, but last fall she was just going out and throwing."
Bunge's other pitcher is Serena Settlemier, a fifth-year senior who didn't pitch for two years after undergoing surgery on her pitching arm.
"She's been fighting nagging injuries this winter," Bunge said of Settlemier, "but she's a gamer. She'll be better in games than in practice."
Settlemier posted a 14-9 record last season with a 2.46 ERA. She also hit .281 and slugged nine home runs, and will be the designated player when she isn't pitching.
Bunge's other pitcher is Valerie George, a slender 5-foot-5 freshman right-hander from Tucson, Ariz., who may struggle early while adapting to the additional three feet between college and high school pitching mounds.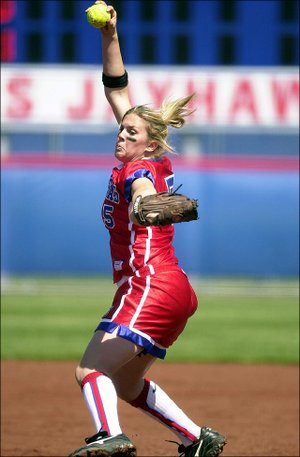 All three Kansas hurlers are expected to work this weekend with five games scheduled in three days.
Today, KU will play Florida at 10 a.m. and Texas A&M-Corpus; Christi at 2 p.m. On Saturday, the Jayhawks will meet host Houston at 4 p.m. and A&M-CC; again at 6 p.m. On Sunday, KU and Oregon will tangle at 10 a.m.
Kansas qualified for the NCAA Tournament last spring on the strength of school records in home runs (54) and fielding percentage (.973).
Frankenstein, a senior from Broken Arrow, Okla., played a major role in both marks by slugging a single-season record 14 home runs and playing the entire 17-game Big 12 schedule without making an error. In fact, Frankenstein will go into this season with a 26-game errorless streak.
Meanwhile, keystone partner Moppin, a senior out of Olathe South, will add to her school career home run record every time she knocks one over the fence this year. She has hit 24 round-trippers during her first three seasons.
Chapple's arrival has moved incumbent third baseman Nettie Fierros to left field. The centerfielder will either be Betsy Wilson, a transfer from Arizona, or freshman Stevie Crisosto. Junior Nicole Washburn is the returning first baseman.
Elle Pottorf, who caught nearly every game last season, is taking a medical red-shirt, throwing the backstop job into a battle between freshmen Erika Simington and Tiffany Craner, a walk-on from Paola.
More like this story on KUsports.com