LINCOLN, NEB. — Left for dead after a 25-point loss Nov. 5 to Kansas University, Nebraska's football squad finished the 2005 season with three straight victories, including a pulsating 32-28 victory over Michigan in the Alamo Bowl.
Coach Bill Callahan went from goat to hero in a hurry as NU fans toasted an impressive 8-4 campaign.
A similar rebirth may again be taking place in Big Red country.
Barry Collier's NU basketball team, which fell to 12-6 overall and 2-3 in league play after a 42-point shellacking at KU and 22-point annihilation at Colorado, has rattled off three straight victories and stands 15-6 overall and 5-3 in the Big 12 Conference entering today's rematch against the Jayhawks.
Tipoff is 6:30 tonight in Devaney Center, with a live telecast on channels 13 and 38 (Sunflower Broadband channels 13, 15).
"We've been playing great lately," NU guard Charles Richardson told the Lincoln Journal-Star. "We just need to keep it up. (Until recently) we hadn't shown much consistency playing at a high level of intensity."
It took a major setback off the court - soph sensation Joe McCray's dismissal from the team - to make the players stand at attention.
NU is 3-0 without McCray - the Huskers steamrolling Missouri, 65-52, on Jan. 28, in Lincoln, then tripping Oklahoma State, 59-57 on Jan. 31 in Stillwater, to go with Saturday's 60-45 mugging of Baylor back in Devaney Center.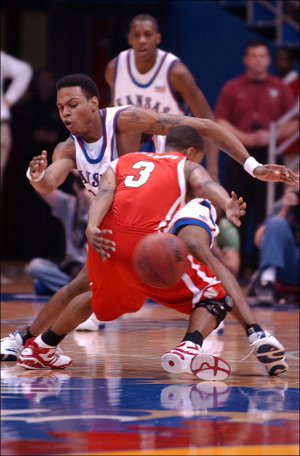 "I know there was a lot of speculation out there saying we weren't going to be as good without Joe. It's given us a lot of motivation to play even harder," Richardson said. "He's a good player and a good athlete, but we've got a lot of players. I never thought for a second that would hurt us."
McCray, who had a horrid game in the Huskers' 96-54 loss at KU, missing six of eight threes en route to six points with four turnovers in 25 minutes, lasted just one more game, an 81-59 loss at CU. Collier gave him the boot for skipping a practice after that CU game.
The Huskers seemingly have banded together without McCray, who last year averaged a school-freshman record 15.5 points a game, hitting a Big 12 record 80 threes.
"My opinion is that helped their team. They are playing so well right now," KU coach Bill Self said. "They seem to be moving the ball better. They've probably played some of their best games of the season since he's been gone."
"He was their No. 1 go-to guy," noted KU soph forward C.J. Giles. "Now without him they are a totally different team with a lot of go-to guys. They are playing better without him."
Indeed, the Huskers have positive vibes without McCray.
"Our chemistry has gotten better," NU senior captain Jason Dourisseau told the Omaha World-Herald. "We are playing for each other now, playing for ourselves, playing to win.
"I don't want to say it was because one guy was a distraction. It's been handled. He's gone, and we've moved on."
Freshman guard Jamel White scored 28 versus Mizzou, then hit a game-winning follow shot to beat Oklahoma State, perhaps the biggest win of Collier's six-year tenure at NU. White had just three points but skied for seven rebounds in Saturday's victory over Baylor.
"I'm just trying to step up in place of Joe McCray right now," White said. "A few coaches and players were telling me they're going to need me to step up in place of Joe. I love the game. I don't just like it. I love it."
Apparently a lot more than McCray, who showed at campus grossly overweight for the start of his sophomore season and made no friends on the team in the KU game when he was horsing up off-balance three-pointers.
"The guys have each other's back now," said Dourisseau, who had 16 points versus Baylor. "Especially on defense, where we are picking up responsibility for each other's man. We're trying to move on. We've taken some lumps. We're rallying around each other."
Suddenly, the Huskers, who opened league play 2-0 only to drop three straight before the current three-game win streak, are in contention for an NCAA Tournament bid.
There's been less talk of late about Collier likely losing his job, though those whispers could return if the team doesn't continue its Callahan-like resurgence.
The Huskers have made just one postseason trip under Collier - to the NIT his first year - and never have finished better than 7-9 in the league or in the top six.
The Omaha paper indicated Collier was told before the season there were things he should do to keep his job: beat Creighton (NU fell 70-44 to its rival); finish in the top half of the league, which remains possible; garner the school's first NCAA bid since 1998, also a real possibility; and increase fan interest.
The latter remains a problem. The Huskers, who are expected to have their usual sellout for the KU game, have averaged 8,888 fans in 15 home dates.
Still, with NU on a roll, it would seem silly to discuss firing Collier, who has the team tied for third in the league race, one game behind second-place KU and two games behind Texas.
"I don't get frustrated with the job," Collier told the Omaha paper. "I get frustrated when I don't feel we're doing the best we can as a program. I love coaching. I love coaching these kids. It's a really, really hard business to be in. But it beats working."
A victory tonight over KU might guarantee him working in Lincoln for at least another season.
More like this story on KUsports.com