LINCOLN, NEB. — No Brandon Rush, no problem.
Kansas freshman Mario Chalmers made sure that Nebraska (if not the rest of the country) knew Wednesday night that the Jayhawks are certainly not a one-man team.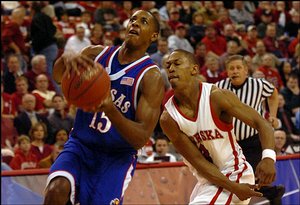 The Cornhuskers all but eliminated KU's leading scorer when they held Rush to six points on 3-of-11 shooting, but Chalmers calmly took over the second half -- scoring 16 of his game-high 20 points in leading KU to its sixth-straight victory in a 69-48 win at the Bob Devaney Center.
"I saw that they were trying to make a big run, and Russ (Russell Robinson) kept penetrating, so they left me open. I had no choice but to take the shot," said Chalmers, who knocked down four three-pointers in the second half.
All of the freshman's treys came right after NU's scores -- which not only sparked the near-sellout crowd of 13,055 in the Devaney Center, but seemed as if they might just get the Cornhuskers back in the game.
Instead NU, which cut the score to 54-45 with just over eight minutes to play, went six minutes without a point and the Jayhawks closed the contest with a 15-3 run.
"We knew we wouldn't score that many points on Nebraska," said KU coach Bill Self, whose (16-6, 7-2 Big 12) squad knocked out Nebraska 96-54 two weeks ago in Allen Fieldhouse. "We thought it would be a game, first one to 60."
Instead the Jayhawks spurted out to an 8-2 start, led 32-24 at the break and then easily disposed of the Cornhuskers down the stretch to record their fourth Big 12 road win.
"We come in really competitive and more focused," said C.J. Giles, of KU's road success. "We come out and play with energy on the road."
In addition to Chalmers' big night, senior Jeff Hawkins hit three three-pointers to tally 11 points, while Julain Wright, Russell Robinson, and Giles all tallied eight points a piece.
Kansas, which outrebounded Nebraska 41-to-35, shot 42-percent from the field, and limited NU to just 35-percent.
Aleks Maric led the Cornhuskers with 16 points, while Jason Dourisseau added 14.
"We appreciate the crowd. It was helpful," NU coach Barry Collier said. "We didn't do enough to keep them in the game.
"The pace of the game was where we thought we would be best suited from a defensive standpoint, but we weren't able to get anything done consistently offensively."
Second Half Action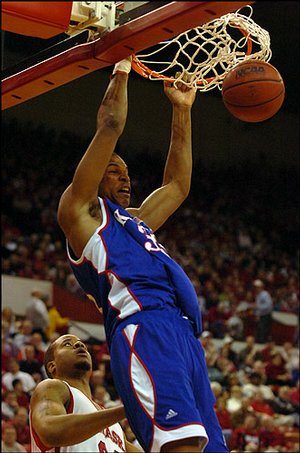 Nebraska's Aleks Maric got a packed crowd on its feet again with a big putback dunk.
But KU's Mario Chalmers came right down the court and drilled a three to keep Kansas ahead by seven.
Maric answered with another bucket to give him 13 points for the game.
With just under 15 minutes left, Brandon Rush tried to dunk over NU's Wes Wilkinson, but was called for the charge.
Maric hit a hook shot to give him all eight Cornhusker points in the second half.
Chalmers came down and knocked down back-to-back threes to push KU ahead by 10, 42-32 with under 14 minutes to go.
After a putback by NU's Jason Dourisseau, Jeff Hawkins hit his third three of the game.
Chalmers then fed Rush for a big lob dunk to make the score 47-34 with 12:30 to go.
Kansas hasn't found a way to stop Maric. Sasha Kaun fouled the NU big man instead of giving him an easy lay-in, and Maric hit just one free throw to give him 16 points on the night.
Kaun was fouled and hit a free throw with 11:50 to go to tie KU's largest lead at 48-35.
Nebraska has nine turnovers in nine minutes.
B.J. Walker has cut the KU lead to 10 with 9:40, but Chalmers hit his third three-pointer of the half.
Walker added a pair of free throws to give him six points, the most he's had in league play.
Wright adds an offensive putback and so too did NU's Dourisseau.
The NU senior added a pair of free throws to cut the lead to 54-45 with just over eight minutes left.
Kaun came right back with a two-hand slam.
Chalmers continues to kill the Cornhuskers from the outside, knocking down his fourth three of the half to put KU up 59-45 with just over five minutes to go.
Maric, who recorded his seventh double-double, fouled out with 4:39 to go. Chalmers hit two free throws to put KU up by 14.
Kansas has scored 13 in a row, thanks to two more free throws by Robinson with a little more than two minutes to go.
Wright threw down a spectacular reverse alley-oop.
Walker hit a free throw to break Nebraska's six-minute scoring drought.
Walker hit another shot to give him nine points in the second half.
Halftime
Kansas started the game strong with an 8-2 run, but Nebraska was able to stay close with a couple of timely three pointers. Kansas still was able to go into the lockerroom with a 32-24 lead.
C.J. Giles led the Jayhawks with eight points on 4-of-7 shooting, while Jeff Hawkins, who has yet to miss a three against the Cornhuskers this year, added six points off two bombs.
Kansas, which was outrebounded 24-18, shot 40.5-percent, while the Cornhuskers hit at a 33.3 rate.
Jason Dourisseau led NU with eight points, while Aleks Maric contributed seven.
First Half Action
Kansas won the tip but Brandon Rush misfired on the game's first jumper.
Nebraska missed a point-blank lay-in on its first possession.
Julian Wright got KU on the scoreboard first with a putback.
NU's Jason Dourisseau tipped in a ball to tie the game.
Russell Robinson found Sasha Kaun underneath for a dunk that put Kansas back in front.
Wright drove the lane and scored on an up-and-under drive, and Mario Chalmers followed that with a steal and dunk to give KU the early 8-2 advantage.
Kansas took a 12-8 lead when C.J. Giles threw down a lob with 11:11 to go in the half.
Nebraska's Bronsen Schliep made his first basket of Big 12 conference play with a putback.
While Rush remains cold missing all five of his shots, Giles a 10-foot jumper for the 14-10 lead, and Robinson scored a lay-up under the basket despite a lot of contact which made NU coach Barry Collier toss his coat.
Cornhusker Aleks Maric cut the contest 16-12, but Rush hit his first basket on a small hook shot off the glass for the 18-12 lead with just under eight minutes left.
Jeff Hawkins continued his hot shooting from behind the three-point stripe when he knocked down a triple from the left side. The KU senior is 6-for-6 this season against the Cornhuskers from outside and only 1-of-12 against other Big 12 opponents.
Maric threw down a dunk to keep the packed crowd in the game.
Hawkins came right back to knock down another three.
NU has missed 14 of its 21 shots.
Jamel White knocked down a three to cut the score to 24-18 with under four minutes to go in the half.
Giles added a strong putback to put KU up by six with two and a half minutes to go.
Chalmers hit a jumper to put KU ahead by seven.
Darnell Jackson rimmed in a shot from the free-throw line.
Dourisseau, who came into the came just 3-of-15 from three-point line, drilled a triple from the top of the key to cut the score to 30-24 with under a minute to play.
Robinson scored and was fouled. The KU sophomore missed the charity, but KU got the rebound and Chalmers was called for a charge.
Kansas heads into the lockerroom with a 32-24 lead.
Pregame
Kansas University's basketball team will try to make it six straight Big 12 victories tonight when it takes on Nebraska at 6:30 p.m. tonight at the Bob Devaney Center. But unlike the last time these two teams met two weeks ago, KU coach Bill Self said he doesn't expect a 40-point victory.
"They missed 17 shots that game inside of three feet," said KU coach Bill Self, of a NU squad that missed 17 of 62 shots for 27.4 percent in Allen Fieldhouse. "Obviously, they got the ball where they wanted it to go. We'll harp on those things as opposed to what the actual score was."
A number NU coach Barry Collier still can't get remember.
"Kansas scored 196 or 96 on us, one or the other," said Collier, whose team is 3-0 since Joe McCray was dismissed from the team. "Kansas didn't just cut our hair, they shaved our head when we played them in Lawrence."
Nebraska wins have come against league foes Missouri, Oklahoma State and Baylor. The Cornhuskers are 13-2 at home this season, including a 3-1 record in Big 12 play. NU is averaging 67.4 points per game and is a plus-3.4 in rebound margin.
"They are playing so well right now," Self said. "They seem to be moving the ball better. They've probably played some of their best games of the season since he's been gone."
Senior Wes Wilkinson leads the Huskers with a 12.8 scoring average and 40 three-point field goals made. His 6.8 rebounds per game are 11th in the Big 12. Wilkinson leads the Big 12 team in blocked shots with 40 for a two per game average.
Senior guard Jason Dourisseau is next in scoring at 10.8 points per game. He leads the team in rebounding at 6.9 per contest, ninth in the league. Junior guard Charles Richardson Jr. leads Nebraska in assists with 56 on the season.
Kansas is 12-2 in its last 14 games. KU is coming off a 59-58 win against No. 19 Oklahoma Sunday. The Jayhawks overcame a 16-point deficit in the victory.
The Jayhawks continue to lead the nation in field goal percentage defense at 35.7 percent. KU also leads the Big 12 in assists at 18.24 per game.
KU freshman Brandon Rush was named the Phillips 66 Big 12 Rookie of the Week and Rivals.com Rookie of the Week (Feb. 6) after averaging 21 points and seven rebounds in two KU wins last week. Rush continues to lead the Big 12 freshman class in scoring at 14.8 points per game. He also leads the team and is 13th in the Big 12 in rebounding at 5.9 boards per contest.
Freshman Mario Chalmers paces KU in assists - 4.1 per game, sixth in the Big 12 - and steals with a 2.57 average, ranking second in the league. He is averaging 9.5 points per game. With a 9.1 scoring average, sophomore Sasha Kaun is making 57.7 percent of his shots from the field. He is just behind Rush in rebounds at 5.8 per outing.
This series dates back to 1900 and Kansas leads 157-71, including an 57-44 record in Lincoln. The Huskers own a 16-13 advantage against the Jayhawks in games played in the Devaney Center. Last year KU defeated NU in Lincoln 78-65. The Jayhawks have won four straight and 13 of the last 14 meetings with the Huskers dating back to the final meeting of the 1999 season. The last NU win in the series was a 74-55 victory in 2004 in Lincoln.
Kansas defeated Nebraska, 96-54, on Jan. 21, in Lawrence behind a pair of 17-point performances from Brandon Rush and Jeff Hawkins. Hawkins was perfect for the game, going 6-for-6 from the field, including 5-for-5 from three-point range. A complete box and story are at the end of the game notes.
"Our chemistry has gotten better," Dourisseau told the Omaha World-Herald. "We are playing for each other now, playing for ourselves, playing to win."
More like this story on KUsports.com