After painfully living through a 2-10 football season in 2002, Kansas University associate athletic director John Hadl met with Mark Mangino in the rookie football coach's office.
"What can I do," Hadl asked, "to help you win?"
Mangino's suggestion - "We've got to get some facilities here at KU" - officially was carried out Sunday, when the KU athletic department announced funding had been secured for a $31 million football complex to be built adjacent to Memorial Stadium.
Though plans remain sketchy - athletic director Lew Perkins said few aspects were certain at this point - the price tag indicates KU at least has an idea.
Perkins said the project was scheduled to be completed by July of 2008 and would feature offices, academic areas, a weight room, locker rooms, an audio-visual room, meeting rooms, a cardio room, a hydro-therapy room, a nutrition area, a display area and nearby practice fields.
On top of that, Perkins was adamant that the view of Campanile Hill would not be obstructed, consistent with the wishes of many KU boosters and Chancellor Robert Hemenway.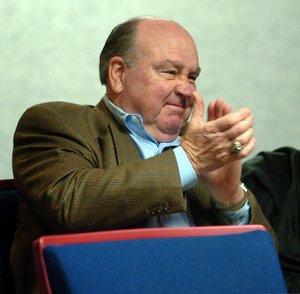 "I told a number of people," Hemenway said, "the only way we should impair the view coming from the Campanile into the stadium is if there was a grave stone with the name Bob Hemenway on it."
With that in mind, Kansas City, Mo.-based HNTB Architecture - the architect of record - is working to find the proper location for the project. It's expected to take 18 months to construct; Perkins said they hoped to break ground by the beginning of 2007.
Several benefactors were credited for helping make the project happen, including Hutchinson's Charles and Sharon Lynch Kimbell, Topeka's Frank Sabatini and his family and Wichita native Ken Wagnon.
Most of the credit, though, went to the Kivisto and Anderson families, who donated a majority of the necessary funds for the project. Both families were in attendance Sunday.
"The University of Kansas is synonymous for great basketball," said Tom Kivisto, himself a former KU hoops standout. "Basketball is going be excellent one way or the other. But the rest of the sports cannot reach the excellence basketball has without a good football program."
The new facility will, in essence, be the one-stop spot for KU football players to do most everything athletic- and academic-related. That, in turn, will unclog the facilities shared by football and other sports - including the Anderson Family Strength Center near Allen Fieldhouse.
Kansas football's new digs
What: The project will feature offices, a weight room, meeting rooms and practice fields, among other things. Where: Adjacent to Memorial Stadium. When: Ground-breaking slated for 2007; completion scheduled for 2008. The cost: $31 million.
For the football team, it will be a centralized location of operations - which works for current Jayhawks and recruits.
"It's a place to develop the total football player, which is so important," Mangino said. "The facilities will be first-class. Our players deserve first-class facilities. I believe they have earned it."
Perkins said Hadl - who is in charge of development and major gifts - was "very instrumental in making this happen."
Hadl, of course, also had the task of keeping Mangino optimistic, too.
"Through good days and bad days, John always said, 'Don't worry coach, we'll get this done,'" Mangino said. "There were days I never thought it would happen. There were other days that he was so convincing that I thought the building would be up in 48 hours.
"He never let up. : And (he) was right. We're going to get a football facility."
More like this story on KUsports.com