It's more than practice now, and that's what excites shortstop Destiny Frankenstein the most.
There was a time - not too long ago - when it seemed that she and her teammates shared only the grind of grounders and games.
The senior admits it's more than that now. The players go to the movie theaters together. They hang out together.
Now they're ready to play together.
"We're pushing each other every day," Frankenstein said. "There's competition going on in a much healthier way."
The Kansas University women's softball team's media day Friday was filled with talk of togetherness that many of the players might not have experienced to the fullest last season.
"I think there was some selfishness," senior Jessica Moppin said. "We didn't handle things when we lost, and we didn't come together when we needed to. I think it's different this year. When we lose, we're going to lose together. When we win, we're going to win together. We're going to celebrate and cry together. We've been through so much."
After finishing sixth in the Big 12 Conference and advancing to postseason play last season, the Jayhawks return seven starters and most of their offensive punch from a year ago.
Still, league coaches voted Kansas as the seventh-best team in the preseason poll.
"It's kind of a slap in the face, the rankings we were given," Moppin said. "For me personally, it makes me want to go out and work that much harder. It's cool to be the underdog. It's nice to know you have to prove yourself."
The Jayhawks begin the season Friday, when they travel to Houston to play the No. 19 Florida Gators.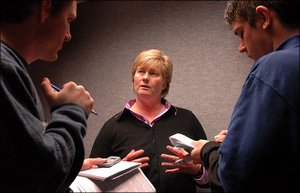 "We feel like we didn't get the respect maybe we should have, but at the same time, we don't have a target on our back," Frankenstein said. "We can come out with guns blazing. People might be a little surprised by that."
One thing is for sure: Coach Tracy Bunge has confidence in her senior-laden bunch.
Bunge put together a challenging early season slate, which includes 20 straight road games, with half of them coming against opponents that are ranked or receiving votes in the USA Today preseason poll.
"I wouldn't have scheduled it this way if I didn't believe in this team," Bunge said. "I really believe the schedule is going to allow us to be ready for a tough Big 12 Conference schedule and give us a chance to earn a lot of points towards national rankings."
A key to the team's early success will be consistency from the pitcher's circle - and Bunge is convinced she will get just that from junior Kassie Humphreys.
After suffering through something of a "sophomore slump," Humphreys increased her velocity and improved her accuracy in the offseason.
"Kassie has thrown the ball so well for us all fall and into our departure next week that I think we're going to get a lot of quality innings," Bunge said. "She has the potential to be one of the better pitchers in the Big 12."
Bunge's ultimate goal for her team is to compete in the upper half of the Big 12 and also battle for a top-25 ranking.
With a renewed sense of team, Moppin believes it's within the Jayhawks' reach.
"I think that's the difference this year," Moppin said. "We all want to go to practice. We all want to do big things this year."
More like this story on KUsports.com