Kansas City, Mo. — There is enough game film to fill a week's worth of free time in this cozy downstairs office. Enough commemorative footballs bearing Tony Severino's name to satisfy an entire team of ball hogs.
And then there are the stories - anecdotes from 23 years as a winning coach for Rockhurst High, two decades of churning out Division I talent and countless comparisons of father to son and older brother to younger brother, each of whom came through "The Rock" to be made into a man.
"There's a real thing when they're sitting at a family dinner and they start comparing who's best," Severino said. "They don't want to come home losing."
Truth be told, few ever do. Kevin Kane, for one, enrolled at Rockhurst after watching his older brother compete there in sports. He wanted to match him, to make his family proud. His junior year, playing guard and linebacker, Kane helped The Rock win a state title in football.
Kane then embarked on a gritty four-year career at Kansas University, where he earned the admiration of a rejuvenated fan base and impressed coach Mark Mangino enough to send him back to Severino.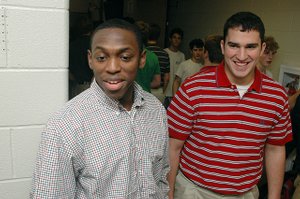 "(Mangino) asked me if all of my kids were like Kevin," Severino said.
"I said a lot of the kids are - hard-working kids, smart, good football sense," Severino said.
"He said, 'Well, I'd like to get a Rockhurst kid every year, if I can.'"
Division I programs place an emphasis on gathering local talent, and for KU, no nearby high school packs as much punch as Rockhurst, a private Jesuit school on State Line Road that produces a handful of Division I-caliber football players almost every year.
Mangino wanted more Hawklets, and he'll get his wish today. Two Rockhurst seniors plan to sign with KU at a ceremony this morning: linebacker Sal Capra, the next Kane, perhaps; and Phillip Strozier, a gifted cornerback who spurned offers from around the country.
Severino has nothing bad to say about either, but rarely have his players deserved harsh words. From in-school discipline to in-pads expectations, The Rock has been a pillar for producing local football gems - and KU finally is starting to cash in.
"They'll play with a passion and work when it's time," Severino said of his future Jayhawks. "But they know how to treat people. And that's important."
Staying home
Phillip Strozier has sat at that dinner table, debating merits.
He was a shutdown cornerback and a soft-handed wide receiver, and he currently is a basketball star at Rockhurst.
Sound familiar? Nearly identical credentials belonged to his big brother, Noah, who played alongside Kane from 2000 to 2002 before going to play football at Kansas State.
And now that Phillip has chosen Kansas, the dinner table might be a little more lively.
"He told me he wasn't going to talk to me anymore," Strozier said with a laugh, before adding, "nah, obviously he was proud of me."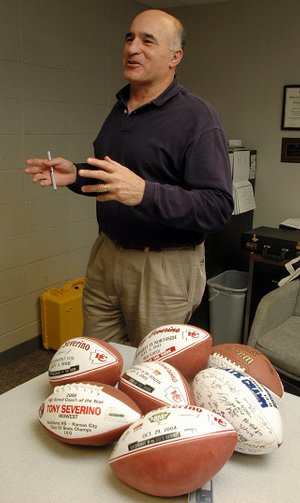 There's a trend here, when you consider Noah and Phillip Strozier, Kevin Kane and Sal Capra, and even Rockhurst grads who left the area for college: All either stayed or considered staying close to home.
It's a Severino rule.
"I tell my kids, no matter who's recruiting you, you make sure to visit one of the local schools," Severino said. "I'm always a believer that kids get this gleam in their eye about going far away. They need to have a place they can go back to."
Many Rockhurst players have gone far away, including D.J. Hord (Notre Dame) and Allan Smith (Boston College) last year and Derek Hall (Stanford) this year. Many have stayed home, too, including current Missouri running back Tony Temple, perhaps Rockhurst's most heavily recruited talent ever.
Severino, with decades of experience mentoring D-I prospects, guides his players as much as they want. Some, like Capra, trust Severino more than anybody. Many take Severino's 23 years leading a D-I factory and interpret it as unmatched credibility.
Kane, when asked how much Severino had to do with his progress into D-I football, called the coach and his program the ultimate factor.
"I give a lot of credit to him," he said. "Definitely."
Maintaining success
Sal Capra is a first-generation Hawklet - a rare trait that probably leads to less-eventful dinner discussions.
While most of his family went to St. Pius X in northern Kansas City, Mo., Capra blazed his own trail to The Rock - and quickly soaked in its opportunities.
Recent Rockhurst alums at KU
¢ Jim Davis, OT (1984-87) A second-team freshman All-America after starting every game his debut season. Earned second-team All-Big Eight as sophomore. A four-year starter. ¢ Tony Blevins, DB (1993-97) - Second team All-Big 12 defensive back in '97, had five interceptions at KU and also returned punts. ¢ Matt Nolen, DT (1988-90) A walk-on who contributed immediately for KU, finishing with 80 career tackles. A current Rockhurst assistant. ¢ Kevin Kopp, DT (1993-96) - A starter at defensive tackle for the '95 and '96 Jayhawks, Kopp registered 79 tackles in his four-year KU career. ¢ Chris Powell, FB (1991-94) - A solid blocking fullback who created holes for tailbacks L.T. Levine and June Henley. Started three years at KU. ¢ Kevin Kane, LB (2002-05) - A standout on special teams before moving into a starting linebacker role as a junior. A team captain in 2005.
"When Sal was offered last spring by coach Mangino, I knew that was a perfect fit," Severino said. "I told him, 'You need to take that right now. Look at what Kevin's done up there.'"
Capra has two inches on Kane, weighs about 10 pounds more and has the opportunity to put on a lot more weight. But the comparisons to the two already are popping up - perhaps, at this stage, wishful thinking by Kansas fans who adored Kane's hustle.
But it's not ludicrous, either.
"They're similar as far as their knack, their knowledge of the game," Severino said, possibly pointing out Kane's greatest strength. "They both run great angles to the ball. They have a great feel for the game."
The conversation then shifts to the Rockhurst program in general. How is it, Severino is asked, with the offseason restrictions put forth toward Missouri high schools compared to Texas and Florida, that Rockhurst continues to churn out D-I football players?
One answer is dedication. To prove it, Severino takes a clipboard off the top of a file cabinet and shows the near-flawless attendance of his players in an offseason conditioning program. Per state rules, the workouts are optional. But consequences are waiting, too.
"If they don't show up, they're not going to play," Severino said. "They have to be in the weight room X amount of times before I even put a uniform on them. I'll let them come out, but I won't suit them up."
Severino admits that the structure of the school makes dedication more rampant. Kane recalled the "jug" punishments for getting in trouble at Rockhurst, which stood for "justice under God." It consisted of cleaning floors, doing yard work or completing other tasks meant to make students both productive and regretful.
"Rules are pretty strict," Kane said. "We have a lot more discipline than a lot of schools."
Of course, a successful football team always has the motivation of not letting down its heralded coach or its tradition. State championships are an annual goal, and past Rockhurst greats - Tim Ryan, Tony Blevins, Sean Doyle, Brandon Shelby - give up-and-coming Hawklets a legacy to shoot for.
Just in case they ever have a dinner with one of them down the road.
"The exposure that the school gets," Kane said. ": it pretty much got me to where I am today."
Upholding tradition
There are Rockhurst greats who earned lifetime bragging rights at that dinner table through state titles and school records and a playmaking ability that burned into people's memories.
Yet there's one who dreams of a day when his Rockhurst legacy is overshadowed.
Severino calls Kenyon Rasheed one of the greatest talents he ever coached. After being named the best player in Kansas City in 1987, Rasheed went to Oklahoma before a four-year career as an NFL fullback ended in 1997.
Now out of football and on with life, Rasheed is a business man. He still remains in touch with Severino, though, keeping the roots to his high school and its beloved coach as fresh as ever.
Still, it's not quite enough, and Rasheed plans to do something about it - a classic example of how tradition keeps treading at the local school that could.
"He's got three sons out in California," Severino said, "and he said, 'Coach, they'll all be back to play for you."
More like this story on KUsports.com