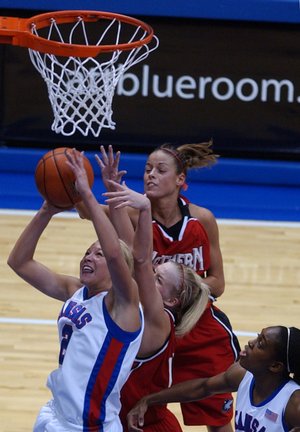 When the going gets tough, the tough get going : back home to DeKalb, Ill., with a win.
Northern Illinois persevered in the last four minutes and plunked Kansas, 82-74, in women's basketball Friday night in Allen Fieldhouse.
Specifically, Kansas had no answer for NIU's Stephanie Raymond, a 5-foot-5 package of perpetual motion who punctured the Jayhawks for 30 points in a route-going performance.
"Right now, little No. 12 (Raymond) has a little more toughness than the Jayhawks do," KU coach Bonnie Henrickson said. "We just never matched her intensity."
Raymond was so unstoppable she spoiled an impressive career-high 23-point outing by KU freshman Kelly Kohn.
"When you have somebody who scores 30 points," Kohn said, "and has seven assists - handling the ball that much and being such a part of the offense - you have to do something to take her out of it."
Trouble was, Henrickson went to the well and found only dust.
"We didn't have anybody who could guard her," the KU coach said, "and we tried everybody."
Raymond, a senior from Rockford, Ill., went in as the Huskies' leading scorer at 20.5 points a game, so her big night wasn't a fluke. But Raymond wasn't the only one with a hot hand.
Kristin Wiener, a 6-3 forward, scored 17 points, all in the second half as the Huskies (8-3) dropped a 53-point anvil on the Jayhawks who had led 35-29 at the break.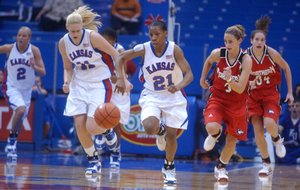 Northern Illinois shot a torrid 51 percent (25 of 49) and, for good measure, drilled 25 of 31 free throws, including 14 of 16 in the last four minutes when the Huskies went into a moxie mode against the Jayhawks.
"They are a Big 12 team that is known for their pressure on defense," Raymond said. "We handled it very well after working on it in practice. When they helped too much, we hit the open shooters, and we made our shots."
What perturbed Henrickson the most, however, was the Jayhawks' late weariness. She called a timeout with about five minutes remaining when it was obvious her players were gassed, then she watched KU's 65-64 lead disappear in the last 3:55.
"We got brain-tired and everything-tired," Henrickson said. "It's been a problem in practice and a problem in games."
Other than Kohn and junior forward Taylor McIntosh, said the KU coach, "We're not tough between our ears and we're not physically tough."
Friday's defeat was the Jayhawks' fifth in the last six games. They were coming off a disappointing 63-48 loss at Indiana last week and were hoping to stop the bleeding against the Huskies.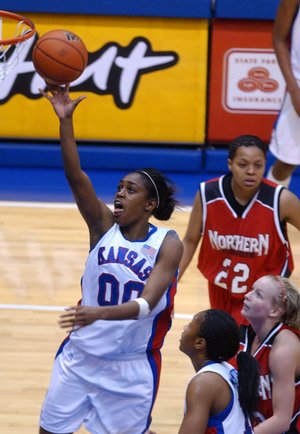 "We needed a win for momentum and for our confidence," Kohn said. "To fight like that and then lose, it goes right to your heart."
Sade Morris, another freshman, scored a career-high 15 points, and senior Shaquina Mosley added 10 as the Jayhawks compiled their second-highest scoring output of the season.
At the same time, however, NIU became the first team to pass the 80-point plateau against Kansas this season.
"To score in the 70s and give up 82," Henrickson said disgustedly, "it's horrible."
In dropping under .500 (5-6) for the first time this season, the Jayhawks don't have much light at the end of the tunnel with Xavier coming to town Sunday and with Big 12 Conference play beginning next week against Iowa State and Baylor.
"We've just got to learn to play when we're down," Kohn said. "We've just got to be tougher. We're too willing to give in when things get rocky."
More like this story on KUsports.com