Who were those women wearing Kansas University basketball uniforms?
Who were those females who shot 56 percent and posted a season-high point total in Sunday afternoon's 78-68 triumph over Santa Clara?
They sure didn't resemble the Jayhawks who had cascaded to the bottom of Big 12 Conference scoring (58.5 points per game) and shooting (38.2 percent) charts.
Yet they were.
"It was a pleasant surprise," KU coach Bonnie Henrickson said of the Jayhawks' best offensive performance of the season.
Henrickson had spent all of last week stressing offense, so the Jayhawks' deadeye shooting in Allen Fieldhouse was no fluke.
"A lot of the kids are working extra on their shooting," Henrickson said. "We're getting a lot more repetitions."
Sunday's Most Improved Shooter Award went to Kelly Kohn, a freshman guard who scored a career-high 19 points, primarily because she nailed five of seven three-point attempts. Going in, Kohn was shooting a dreadful 32.1 percent from the field and a little better than 30 percent from behind the arc.
"Day in and day out, I've been working with the coaches," Kohn said, "figuring out which shots are best for me, and the coaches have helped me find my comfort zone."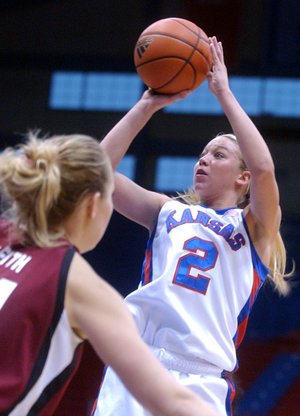 Henrickson and her staff also made a change in Kohn's shooting mechanics.
"She would dip the ball a little bit, and she's eliminated that," Henrickson said. "Her follow-through is good, so now she catches it and goes right up before anyone gets near her."
Kohn, a 5-9 native of Adrian, Mich., also had a team-high five rebounds to go with four assists and three steals.
And oh, by the way, Kohn was the assigned shadow of Santa Clara standout Chandice Cronk in the first half when the Broncos' leading scorer managed only one shot - a guarded and bricked baseline runner.
"My teammates really helped me out on her," Kohn said. "We said, 'You're not going to get a three-point shot.' And she didn't."
Clark, who was averaging 17.6 points a game and shooting better than 52 percent from behind the arc, wound up with 16 points, but 11 were in the last eight minutes with Kansas comfortably ahead.
The Jayhawks were leading by 20 points with about three minutes remaining. Henrickson sent in the last wave from the end of the bench with about a minute left.
The KU coach made two changes in the starting lineup, sitting Marija Zinic and LaChelda Jacobs because they had practiced poorly last week. Zinic and Jacobs responded by coming off the bench to score 13 and 12 points respectively. Also, reserve guard Shaquina Mosley notched a career-high dozen points.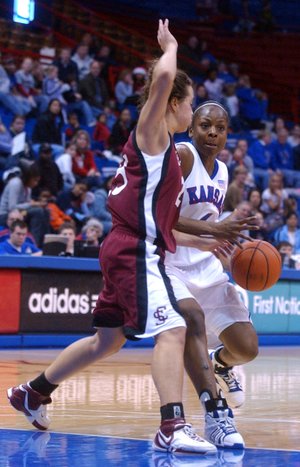 No records are kept for most production from reserves, but surely Sunday's 45 points from non-starters would rank somewhere near or at the top of such a list.
"That's a lot," Henrickson said. "I can almost hockey-sub them in."
Henrickson can't sub her players on the fly like a hockey coach, but she does have the luxury of a deep bench. Only Kohn, who played 36 minutes, logged more than 25 minutes on the floor.
Henrickson, who hails from hockey country (Willmar, Minn.), used one more ice analogy to describe her squad.
"Offensively, we've been scoring like a hockey team," she quipped with a smile, "until today."
Santa Clara (6-6) went back to California O-for-Kansas. The Broncos bowed to Kansas State, 76-52, on Friday night in Manhattan.
Next for the Jayhawks (5-4) is a Thursday night game at Indiana. The next home game will be Dec. 29 against Northern Illinois.
More like this story on KUsports.com