Somehow, some way, Bonnie Henrickson realized, she had to play Danielle McCray.
So the Kansas University women's basketball coach moved McCray from the perimeter to a post position in practice last week.
"She made me look smart today," Henrickson said. "Hopefully, she'll keep doing that."
McCray responded to her new role with 19 points and nine rebounds, both team highs, in the Jayhawks' 73-65 loss to No. 16-ranked California on Sunday in Allen Fieldhouse.
"It was challenging," McCray said. "I just started playing there in practice two days ago, and sometimes they had to tell me where to go."
Henrickson brought McCray off the bench early, and the 5-foot-11 freshman out of Olathe East logged a season-high 32 minutes on the floor before fouling out with less than a minute remaining.
McCray was solid both inside and outside, collecting seven offensive rebounds and draining three three-point goals. She also had three of the Jayhawks' four steals.
"She is a big, strong kid who likes to rebound, so she held her own there," Henrickson said. "She did a pretty good job in post defense. At least she gives us some offense, and we need that right now."
McCray was one of the few bright spots in what has been an early season Kansas pattern - one terrific 20 minutes and one terrible 20.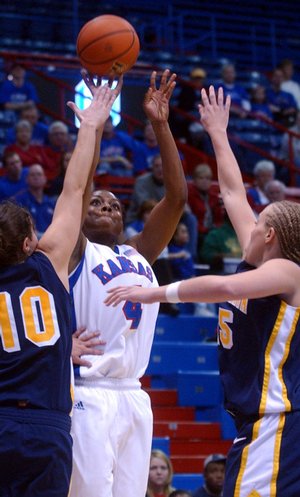 Sunday's Dr. Jekyll half was the first. Kansas shot 40 percent and posted a 38-34 halftime lead. Then Mr. Hyde appeared. KU missed 14 of its first 15 second-half shots on the way to tepid 24.3 percent shooting (nine of 37) after the break.
At one point during the first half, the Jayhawks hit five shots in a row on the way to making 14 of 35.
"We looked like we were ranked 15th in the country in the first half," Henrickson said. "I thought we were physical, I thought we were smart, and we boxed out. I thought we competed."
But in the second half, the Jayhawks couldn't hit Massachusetts Street from the top of Weaver's Department Store.
"It's frustrating," said freshman point guard Kelly Kohn, who drained a couple of too-little, too-late treys in the last minute. "You feel good at halftime, then you come out and play not to lose."
Kansas went in as the worst shooting team in the Big 12 Conference at 39.4 percent, and they took a backward step by shooting just 31.9 percent against the Golden Bears, who did their poor shooting at the free-throw line. Cal clanked 16 of its 42 charities.
"It's not that we can't shoot," Henrickson said. "It's just the shots we take. I know we'll get better."
Because Cal went to the foul line so many times, the Bears took two fewer shots from the field (47) than Kansas missed (49). The Jayhawks were whistled 30 times, mainly because they had trouble containing 6-1 Ashley Walker and 6-3 Devanei Hampton.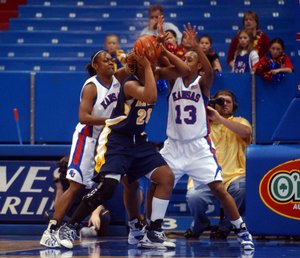 Walker, who finished with 26 points and 14 boards, and Hampton (11 points, five rebounds) made 25 trips to the stripe.
At least Henrickson found a niche for McCray, who came in as the most touted of KU's seven freshmen, but had been spending most of her time on the bench.
"She's too good to be where she is," Henrickson said. "We have other freshman guards. She'll play the 3 (wing) and 4 (low post) from now on."
With final exams under way, the Jayhawks - 4-4 and losers of three in a row - won't play again until Sunday when Santa Clara comes to Allen Fieldhouse.
More like this story on KUsports.com