The first two rounds of the past 12 NFL Drafts have passed without a team selecting a player from Kansas University.
Barring a miracle, the streak will reach 13 on Saturday, when the first three rounds of the draft will take place.
Three KU prospects, all projected as defensive players in the NFL, could be drafted on the second day in the fourth through seventh rounds.
Or not.
During a telephone interview from his office in Cedar Rapids, Iowa, Dan Shonka made it sound as if Charles Gordon, Charlton Keith and Nick Reid didn't need to watch the first day of the draft, but should watch the second day until the final pick because one of them could become Mr. Irrelevant, an honor bestowed upon the final choice.
Shonka, 53, is general manager and national scout for Ourlads Scouting Services. Formerly a scout for the Kansas City Chiefs, Washington Redskins and Philadelphia Eagles, Shonka was on the staff of KU football coach Don Fambrough in 1979, specializing in recruiting.
A line from Shonka's bio in the '79 football media guide: "A 1978 graduate of the University of Iowa, where he finished with a B grade average, Shonka was a standout prep football player but had his collegiate career cut short by a series of knee injuries."
He's been evaluating football prospects ever since, as a Division I assistant coach, a junior-college head coach, an NFL scout and, for the past two years, director of a scouting service.
Ourlads publishes several draft guides and ranks prospects with a number that slots them in rounds for the draft.
According to Ourlads, Gordon and Reid project as seventh-round selections and, surprisingly, Keith is ranked as a "priority free agent," meaning he's projected to be drafted in the same spot as Chiefs All-Pro running back Priest Holmes was coming out of Texas, which is to say not at all.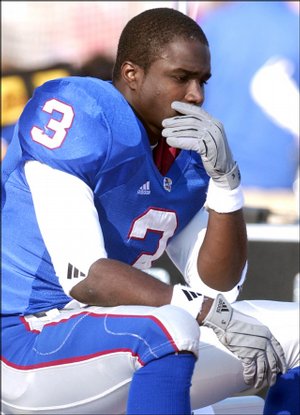 "One thing that's going to hurt some of these kids is, it's such a deep draft," Shonka said. "This is a real deep draft. A lot of legitimate players will go in the late rounds."
Although Shonka projected Keith as the only of the three KU prospects to be bypassed in the draft, he also said if one of the three was picked surprisingly high, such as in the fourth round, he would expect it to be Keith.
"I think he's probably going to end up being a free agent because he's a slender guy," said the former B student. "He's got some ability, but again, he's not a real thick guy, and his speed is very average for the position."
Shonka's last comment on Keith should give a clue as to what position he projects the former KU defensive end playing in the NFL: outside linebacker. Ourlads lists Keith as 6-foot-4 3/8 and 237 pounds with a 40-yard dash time of 4.78 seconds.
"He'd get swallowed up as a defensive end," Shonka said. "Those big tackles get their hands on him, and it's all over. He's got to get stronger at the point of attack, more physical."
Shonka fell short of writing off Keith's chances of getting drafted, saying, "Some team might fall in love with him, and there's a good chance he'll get drafted higher than the other two."
Gordon, Shonka said, had the worst chance of the three KU prospects of getting drafted as high as the fourth round.
"The smaller you are, the faster you'd better be," Shonka said. "We gave him a low-round grade. He might not get drafted. He's 5-10 and one-eighth, weighs 183, and was timed in 4.62. That's not a pretty picture. We grade athletes at the combine, and the thing that was disappointing was he was 33rd out of 34 defensive backs. Corners and wide receivers will have problems if they lack height, weight and speed for the position. He's a decent return guy, but he better be able to play a position."
Nick Reid is listed at 6-foot-2 1/8 and 230 pounds with a 4.73 time in the 40.
"He's a guy that's kind of interesting," Shonka said. "He doesn't look like those million-dollar Texas linebackers, but wasn't he the Big 12 Defensive Player of the Year? That's almost stunning when you look at schools like Texas and Texas A&M;, Nebraska and Oklahoma."
Shonka said the biggest measurable plus for Reid was a 40-inch vertical leap.
"That shows good explosion," Shonka said. "He showed pretty good hip explosion. And he's a real competitor."
The downside?
"He seems a little bit stiff," Shonka said. "He's got some tightness to him; not real flexible. His (40) time is kind of pedestrian for a linebacker. Not slow, but not particularly fast. And he's not big. He's got good timing on blitzes. I made a special not on him that he's not pretty, but effective. He always makes the plays."
Should Gordon, Keith or Reid be the final player selected, he'll be the center of attention for a week. Mr. Irrelevant is honored at a variety of parties with celebrities, beauty pageant winners, etc., and gets the VIP treatment at Disney.
Financially and in terms of pride, though, each of the KU prospects would be better off proving the scouts wrong by getting selected much higher.