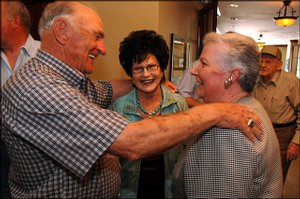 Public-address announcer Hank Booth gave the warning to Jeff Long, after the Kansas University football alumnus made a diving catch near the end of the third annual alumni game.
"Jeff," Booth said into the microphone, "you will feel that tomorrow."
It doesn't matter if he does, he said. For Long, it was redemption after an ill-advised lateral he pitched was fumbled.
He had to redeem himself, by golly. The white team needed him.
"The reason I had to dive for it," he said, "is because I'm slow."
Long's snag drew a nice ovation from several hundred fans watching the alumni game, won by the blue team, 21-7, Friday at Memorial Stadium.
A stealth bomber pilot out of Whiteman Air Force Base in Knob Noster, Mo., Long came to KU in 1981 as a baseball player out of Wichita, then walked on to the football team in time for the 1984 season.
"When I was playing here, they used to say about me, 'He'll go after anything,'" Long said. "I don't care how old I am. I'm going to dive for it if I have to."
Long wasn't the only one with the competitive spirit. Heck, two players from the 1940s - Don Fambrough and Brian Sperry - suited up Friday. While Fambrough booted four extra points, Sperry played defense and assisted in pass coverage.
The quarterbacks ranged from Frank Seurer to Tyler Quast, while Tony Berry had a 60-yard touchdown reception and an interception return of about 50 yards.
Of course, Berry's pick reminded everyone why they were stuck playing two-hand-touch football these days. After juking and jiving about 50 yards up the field, he had one man to beat - and no energy with which to beat him.
Oh well. The 45-minute running clock was close to expiring by that time anyway. Next stop: a local watering hole to reminisce about the glory days.
"I think the way they do this game is perfect," Long said, showing off a new wound on his knee. "We play about 10 drives so we can walk out of here."
More like this story on KUsports.com