For two years now, fullback Brandon McAnderson has been asked to block. Often his reward was watching another Kansas University running back sprint past him for a big gain.
"No problem," he said on the outside. "Man, I want the football," he thought on the inside.
McAnderson's time may be coming. With encouragement from new assistant coach Earle Mosley, development in KU's system and a new-found trust along the way, McAnderson could be getting more action as a ball-carrier this fall.
"He has proven that he can run the ball pretty well between the tackles," KU coach Mark Mangino said. "And he's really developing as a pass protector and pass receiver."
To cash in, Mangino is using McAnderson in areas other than traditional fullback. This spring, McAnderson has been the man in single-back sets, a formation that normally utilizes a halfback.
"It's a little different than high school," McAnderson said, "but it's still fun. It's still challenging."
McAnderson's initial audition as a running threat came at Lawrence High, where he was an All-Sunflower League running back for coach Dirk Wedd's Lions squad. He rushed for 3,052 yards and 41 touchdowns in three years at LHS, the last coming with Mangino watching almost every game; his son, Tommy, was the Lions' quarterback in 2002.
A scholarship offer was extended and accepted. McAnderson was the starting fullback by his sophomore year, but carried the ball just 22 times - less than twice a game - for 102 yards and a touchdown last season.
He did, however, grow as a ball carrier behind the scenes, relishing the work Mosley put on him on the practice field.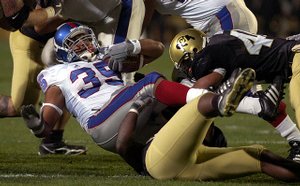 "We were learning things we never even heard of at running back," McAnderson said. "We were learning things like technique and steps that none of us had been accustomed to. It was a great thing to have."
McAnderson certainly will be asked to block a lot, especially with big-play threat Jon Cornish back for his senior season. But Cornish's responsibilities are spread out too much to be the exclusive running threat. That's where McAnderson might be able to help a little more.
"We don't have that many guys in for the spring," McAnderson said, "so I'm getting some work in. It's fun."