With the game out of reach, the Oklahoma University football team marched downfield, looking to add to a 25-point lead with less than a minute remaining during last year's matchup with Kansas University.
A 21-yard rush by Adrian Peterson, one of the top running backs in college football.
An eight-yard run by Kejuan Jones.
Another productive scamper by Jones, putting OU inside the 10-yard line.
The Sooners weren't scaling back for sportsmanship's sake, and the next goal-to-go sequence was proof: Up 35-10 with about a minute left, Oklahoma started passing the football.
With 35 seconds to go, Sooner quarterback Jason White found receiver Mark Bradley in the end zone for an eight-yard score, increasing Oklahoma's lead to 41-10.
With what little time was left, the touchdown was meaningless to the outcome of the game. Yet, for a whole other world, it meant either jubilation or disgust -- depending on whom you asked.
The Las Vegas-appointed betting line for that game Oct. 23, 2004, was Oklahoma by 27. White's unimportant touchdown pass caused thousands of dollars to change hands. OU covered the spread.
It's an issue student-athletes are shielded from, coaches are mum about and fans can't get enough of.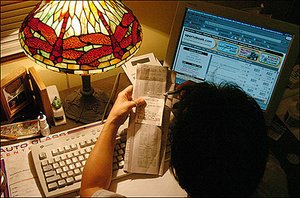 With Las Vegas sportsbooks, offshore Internet casinos and illegal bookmakers operating all over the country, college sports grab gamblers wanting to make a buck using their knowledge and passion for amateur athletics.
The NCAA vehemently is against such wagering and has sponsored symposiums and spent a lot of money combating it.
But the association is losing the fight, now thanks to an explosion of offshore Internet sportsbooks in the last decade. More than 2,000 such sites have emerged, and it is believed that close to $100 billion is wagered illegally each year.
"The potential exists for a student-athlete to illegally place bets on the Internet and then attempt to influence the outcome of the contest while on the court or playing field," NCAA spokesperson Jennifer Kearns said through e-mail.
Such a thought makes NCAA administrators and athletic directors nationwide uneasy. But the climb to conquer the popular pastime of sports wagering continues to grow steeper, and anymore, there's not much anyone can do about it.
Rich history
Sports gambling always has been a staple of United States culture. In the mid-1700s, wealthy colonists bet on horse races, while the lower classes would gather to bet on less-glamorous events like cockfights.
According to the book "Betting the Line: Sports Wagering in American Life" by Richard Davies and Richard Abram, horse racing dominated the gambling scene until baseball became more popular around 1900. Then, as the media attention and alumni bases grew at universities in the 1920s, college football became a hot item for bettors.
Trying to ignore the world of sports gambling was impossible. With widespread fear of high-stakes gamblers trying to influence those on the playing field -- a concern even today -- the most popular game of the year, Notre Dame versus Army, was canceled following the 1947 season because of worries that gamblers would swoop in and suck the integrity out of such a historic rivalry. The annual game took a decade-long hiatus.
The mid-1940s also featured a revelation that changed sports forever -- the advent of the point spread. Now, even the most lopsided games on paper had allure to bookmakers and bettors alike. Before, odds were placed for each team's chance to win, and lopsided games often weren't offered.
With that, college basketball became a delicious chance for gamblers to sway performance. One or two players could impact a game. Point shaving, as it became called, didn't require a participant to actually lose the game -- just win the game by a margin smaller than the spread. And with the athletes unpaid by their schools, many were hungry for spending money -- dirty or not.
Maintaining integrity
Cases of point shaving have surfaced ever since the 1950s, and each is a blow to the credibility of competitive sports -- which hurts the NCAA and bookmakers alike.
The NCAA has harsh punishments awaiting should anyone get caught: Any student-athlete involved with gambling on any NCAA-sponsored sport is ineligible for a year. Any student-athlete attempting to influence the outcome of a game for gambling purposes immediately loses eligibility.
They're consequences KU athletic director Lew Perkins fully supports.
"As far as I'm concerned," Perkins said, "if anyone tries to point shave or illegally tries to hurt a team, they should never, ever be associated with college athletics again."
To prevent such situations, the NCAA and athletic directors nationwide stress education of how devastating such tampering tactics can be. During orientation, anywhere from five to 10 speakers will discuss gambling with KU's student-athletes. Bigger plans are being brainstormed, too.
"At Connecticut, we brought people all over the country to a two-day seminar on sports gambling," Perkins said. "We haven't done anything like that here, but at some time I'd like to do something similar."
Such learning doesn't fully stop the problem. A 2003 NCAA study found 35 percent of male student-athletes and 10 percent of female student-athletes reported wagering on any sporting event at some point in 2003, an NCAA violation. Football players and golfers comprised the highest percentage, and the NCAA is working with those two sports to cut it down.
Blurry line
The NCAA also has gone after media, threatening to decline NCAA basketball tournament credentials to newspapers that print betting lines.
But newspapers, including the Journal-World, continue to run such lines because of their popularity to readers. Many people interested in point spreads actually have no intent to use the line for gambling purposes. Vegas oddsmakers have established great respect in the sports world for their ability to set spreads that end up awfully close to the actual result, and the foreshadowing certainly fuels chatter about upcoming games.
Coaches and players alike aren't deaf to the talk about the looming contest in which they'll participate. But they try to be.
"I never look at that stuff," KU coach Mark Mangino said before last year's Kansas State game. "I have no interest in it, and I never, ever bring that stuff up around our program."
It's just how NCAA officials want it. President Myles Brand formed the Sports Wagering Task Force in 2004 to examine how to most effectively keep the pulsating pastime of sports wagering away from its student-athletes.
The answer, perhaps predictably, primarily was to increase education.
Whether student-athletes stop gambling will have minuscule impact on the business as a whole. Gambling on amateur athletics will continue in astronomical numbers, legally in Nevada and illegally elsewhere.
Perkins doesn't pass judgment on those who gamble on college sports. But he's proactive concerning his own student-athletes, because he feels gambling can be as unstable as quicksand -- not to mention a serious NCAA violation.
"I think it's always going to be out there, and it doesn't make a difference what culture you come from," Perkins said. "(Addiction) can happen to anybody, and it's a sickness. I really believe that."
More like this story on KUsports.com