Roy Williams was the most famous name to come to the Kansas University athletic department with the blessing of Hall of Fame basketball coach Dean Smith, but he wasn't the only one.
Clyde Walker, athletic director at KU from 1973 to 1978, also was recommended by Smith. He died Tuesday at his home in Charlotte, N.C., at the age of 75. Walker came to Kansas from North Carolina University, where he had been an assistant athletic director.
"The biggest thing he did here was re-organize the athletic department and got it on a much more secure financial footing," said Lawrence resident John Novotny, who worked under Walker as the business manager for the department.
It was Walker, Novotny said, who approached the Williams family to incorporate their long-standing generosity toward the Kansas athletic department into an official fund-raising arm which remains known as the Williams Educational Fund.
"With the high interest rates and inflation at the time, the baseball bats, the shoes, the uniforms all got very expensive, and tickets were not paying the way as they did in the past," Novotny said. "He saw the need, brought the Williams family on board and appointed me the first director of the Williams Educational Fund. We were coming out of the old age, and all athletic departments had to address establishing a more sound business approach. He was a good guy who worked hard and put in long hours. I considered him an excellent boss and administrator."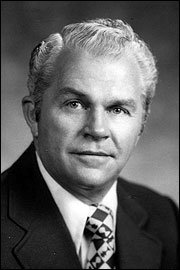 Archie Dykes, then KU's chancellor, hired Walker based in part, according to Novotny, on a "heavy recommendation" from Smith. Walker, who had received his master's degree from North Carolina, worked as assistant coach in charge of recruiting under Bill Dooley at North Carolina before moving to an administrative position.
Walker left KU in May, 1978, to take a similar position with North Carolina-Charlotte. Addressing the move at the time, Walker said, "This job has a heckuva lot less pressures."
Walker felt the most heat when he forced out football coach Don Fambrough a year after Fambrough had coached the Jayhawks to the Liberty Bowl. Walker replaced Fambrough with Bud Moore. He lasted four seasons, was fired after Walker left and was replaced by Fambrough, who had a second four-year tenure.
Former KU track coach Bob Timmons said of Walker: "I know that he always gave his best, and what he said was what he believed."
More like this story on KUsports.com