Kansas University softball player Jackie Vasquez has been reinstated to the team at a judge's order, then kicked off again for the second time - all within 24 hours.
It's the result of a legal battle unfolding in Douglas County District Court and on the KU campus.
The sophomore outfielder is suing the school, claiming she was kicked off the team this fall in retaliation for filing a complaint about the locker-room conduct of coach Tracy Bunge.
Vasquez claims she was let go because she complained to Athletic Director Lew Perkins about an April 2 incident in which Bunge ordered team members to take showers wearing their uniforms to "wash away the bad play" after a loss to Texas A&M.; She claims Bunge ordered players to remove their uniforms in the shower, lectured them as they stood in their underwear and said "great choice of underwear" to a player wearing see-through underwear.
She alleges that the next day, assistant coach Jennifer Sewell said to team members, "I hope you girls make better choices of underwear."
But the university's version is that Vasquez was kicked off the team for reading Sewell's e-mail during the spring semester.
KU athletic officials say it's true Bunge ordered team members to shower in their uniforms, but the coach denies commenting about the player's underwear.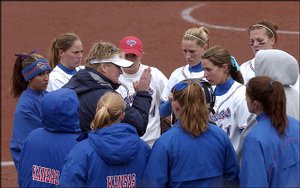 Despite an internal KU report that says other witnesses besides Vasquez heard the alleged comment, the athletic department said it never happened.
"We believe the coach, and we believe the student athletes who have said it didn't happen," said Associate Athletic Director Jim Marchiony.
Lawsuit filed
Vasquez filed suit Thursday afternoon in District Court against various people, including Perkins, Chancellor Robert Hemenway, Bunge and Sewell. The suit alleges KU violated her rights to due process by removing her from the team and asks a judge to review the school's actions.
On Thursday, Judge Robert Fairchild issued a temporary order to put Vasquez back on the team. But Friday morning, the judge vacated the order at the request of KU's attorneys, who argued it was too soon for a judge to intervene.
Vasquez and her father, Albert, of Tucson, Ariz., are represented by Lawrence attorney Al Lopes. Albert Vasquez referred questions about the case to Lopes but said he filed suit because he felt KU had treated him and his daughter with a "lack of respect and integrity."
"They deal with me differently than if my daughter was a football player or a basketball player," he said. "There's no interest in the nonrevenue sports."
The lawsuit claims the shower incident was an "intimidating, hostile and humiliating experience."
Lopes said he could not discuss details of a pending case.
Coach disciplined
Marchiony said that players taking a shower in their uniforms was a tactic used with the 1996 U.S. Olympic softball team.
"We looked into it, and we dealt with it," he said.
According to an internal report, "Bunge received counseling and a written letter regarding the inappropriateness of this incident which contained expectations that no such conduct would occur again in the future without further consequences."
The report also says Perkins knew about the matter before Vasquez complained about it in mid-April, two weeks after it happened.
KU athletic officials say they believe Sewell's alleged comment the day after the shower incident was a reference to players wearing university-issued "slider" underwear as part of their uniform.
Retaliation alleged
Vasquez claims that when she spoke to Perkins about the incident in April, he told her he'd deal with it during the summer. But when she returned to Lawrence for the fall semester, her problems had worsened.
She learned Aug. 24 that she was being put on disciplinary probation by the KU Dean of Students for accessing Sewell's e-mail - something Vasquez claims happened inadvertently after Sewell borrowed Vasquez's laptop computer during the spring semester and used it to check her e-mail.
The same day she was put on probation, Vasquez filed a formal complaint with KU's Department of Human Resources and Equal Opportunity. She alleged sexual harassment because of the shower incident, and she alleged that Sewell's complaint about accessing the e-mail was in retaliation for her complaining to Perkins months earlier.
Vasquez was kicked off the team Aug. 26, a decision she is appealing with the athletic department.
No harassment found
KU's equal opportunity office looked into Vasquez's complaint and, in a Sept. 9 report, found the shower incident and the alleged comments by Bunge and Sewell did not rise to the level of sexual harassment.
What actually was said remains in dispute.
The report said "some of the witnesses interviewed said they heard Bunge make a comment about a teammate's underwear" in the shower, but "Bunge and at least one other witness do not recall Bunge making the statement."
The report says that while some players "expressed being uncomfortable, humiliated and angry" at the time to their parents, none said that it was sexual harassment.
Conflict with assistant coach
According to the report, Sewell used Vasquez's computer to check her e-mail in February. Several times after that, Vasquez's computer was used to access Sewell's e-mail.
Sewell learned of the improper access in May and asked KU's information technology department to investigate it. On Aug. 7, Sewell filed her complaint with the Dean of Students' Office.
Sewell's complaint alleged that Vasquez sought out personal e-mails and e-mails related to teammates and coaches.
Vasquez's defense was that many other people used her computer, and that Sewell's account occasionally popped up on the screen without warning. In at least five instances, Vasquez claimed, she could prove she wasn't at the computer during the times Sewell's account was accessed.
The report by KU's human resources department said it couldn't prove or disprove that Sewell acted in retaliation against Vasquez by reporting the e-mail problems.
According to the report, Sewell claimed to not have known that Vasquez complained to Perkins about the shower incident. But the report said "we find it more likely than not that Sewell knew" Vasquez had complained to Perkins.
Bunge and Sewell did not return phone calls seeking comment.
More like this story on KUsports.com