Never before have bowling shoes been mistaken for Cinderella slippers. Not until Saturday, anyway.
Pressed against a wall that wouldn't budge, Kansas University's football team overcame anyway -- despite injuries, a two-score deficit and, arguably, superior talent lining up against it -- to rally past Iowa State, 24-21, in an unforgettable overtime thriller at Memorial Stadium.
Scott Webb's 34-yard field goal sailed through the uprights on KU's first post-regulation possession, giving the Jayhawks their magical sixth victory. KU now is bowl-eligible and is assured of playing one more game next month.
"This is what I dream about every night," said Webb, who hit all three of his field-goal attempts Saturday. "I finally got to do it, and it felt really good to get it done."
Maybe for a second, before nearly every KU player on the sideline mobbed Webb at midfield.
Iowa State, meanwhile, stood dejected -- a victory by the Cyclones (7-4 overall, 4-4 Big 12 Conference) would have clinched a spot in next week's Big 12 championship game.
Colorado will go instead.
"We kind of spoiled their season, so to speak," linebacker Nick Reid said. "That's great. It makes you feel really good -- especially with them talking all that trash they were talking."
Saturday's heroes for KU were numerous -- and many of them unexpected. Webb's final field goal clinched a game that was borderline chaotic once the fourth quarter rolled around. Down 14-3 most of the game, KU put it within eight on a third-quarter Webb field goal, then watched as injuries mounted and unknowns emerged.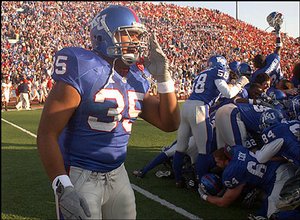 Nearly forgotten quarterback Brian Luke entered once Jason Swanson went down because of knee pain in the fourth quarter.
After struggling his way out of the starting role in midseason, Luke was clutch Saturday. He stretched across the goal line for a one-yard, fourth-down touchdown run on his fourth play in, then found Derek Fine on the two-point conversion to knot the score at 14 with 11:28 to play.
"Everybody here is capable of doing something," Kansas coach Mark Mangino said, "and (Luke) is a living example of someone who has a great attitude in the face of adversity."
Iowa State answered right away on a long, fast drive to go back on top, 21-14.
Time was an issue, and it became more so after a 50-yard drive by KU lasted 13 plays, nearly six minutes and failed to produce any points.
That drive finished with a beautifully thrown ball by Luke to Brian Murph. It brushed the receiver's fingertips before falling incomplete. Luke fell to the turf in frustration as the clock read 2:53.
"I didn't realize how much time was left on the clock," Luke said of his reaction. "I thought that was our drive."
With two timeouts and KU's defense as gritty as ever against the run, the Jayhawks did get the ball back with 1:51 to play.
Then, Luke orchestrated a lightning-quick four-play drive that was as efficient as they get -- a three-yard completion to Clark Green, a five-yard pass to Marcus Henry, a 35-yard bomb to Henry and a 15-yard touchdown pass to Dexton Fields, the first catch of his career.
All of 44 seconds had elapsed on the clock. Webb's point-after knotted the game at 21 with 1:05 left.
Overtime loomed.
Perhaps the turning point was KU winning the coin toss. Playing defense first, the Jayhawks stuffed the Cyclones for two yards on three plays, and Bret Culbertson missed the field goal to set the Jayhawks up for victory.
Four plays later, Webb's boot locked it up.
"That's the best feeling in the world," Webb said. "Having everyone come out of the stands and having your teammates celebrating is one of the best feelings. That's why people play sports -- to have that feeling."
With the victory, KU (6-5, 3-5) is assured of a non-losing season and will be playing in a bowl game next month. In four seasons, Mangino has taken the once-dismal Jayhawks to two bowls.
It's a far cry from what was expected not too long ago. KU was left for dead after falling to 3-4 with a dismal loss to Colorado on Oct. 22.
Quarterbacks were shuffled, the offense was reeling, and bowl chances seemed bleak.
A month later, KU is taking yet another big step in the rebuilding of a program.
"This is a work in progress, every day," Mangino insisted. "It really is."
Now, thanks to unlikely heroes, the Jayhawks know another day awaits.
More like this story on KUsports.com