Tuesday, November 22, 2005
Lahaina, Hawaii — Jeff Hawkins crumpled to the floor, writhing in pain Monday at Lahaina Civic Center.
Cramps -- the same malady that affected Nick Collison and Aaron Miles in Kansas University's first-round Maui Invitational loss to Ball State in 2001 --hit Hawkins, who was a red-shirt freshman the last time KU cramped in paradise.
"I didn't think I was dying. It hurt bad, and it's sore right now," Hawkins said of his left leg.
He dove for the basketball with 8:33 left and didn't get up until KU's trainer and coach Bill Self came out on the court to tend to the fallen player.
He was able to return a few minutes later, after Mario Chalmers suffered a pair of turnovers that led to a pair of baskets that upped a 46-43 Arizona lead to 50-43.
"I've been drinking Gatorade ever since we got here," said Hawkins, who like the rest of the Jayhawks has been guzzling fluids.
"We've done everything humanly possible," coach Bill Self said, noting cramps unexpectedly occurred in such warm climates.
Maryland's D.J. Strawberry was affected by cramps in the Terps' loss to Gonzaga on Monday. Several Michigan State players went down because of cramps in a game against Hawaii on Saturday in Honolulu.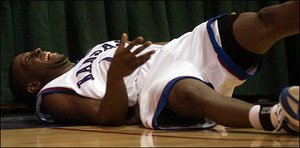 It was hoped newly added air conditioning would take care of cramps in Maui, as well as slips on the floor.
Yet several Jayhawks and Wildcats did indeed slip on Monday.
No Jayhawks suffered injuries Monday. Micah Downs, who missed KU's opener against Idaho State because of a sprained ankle, hit for five points off 2-of-7 shooting. Self said Downs was "about 80 to 85 percent."