All the buzz this spring about Kansas University's booming softball bats has overshadowed the Jayhawks' gluey gloves.
KU already has shattered the school single-season home-run record, and the Jayhawks are well on their way to smashing the school record for fielding percentage, too.
If anyone can be singled out for contributions to both records, it's Destiny Frankenstein. Not only did the junior shortstop establish a school standard with 14 homers, she didn't make an error -- not one -- in the Jayhawks' 17 Big 12 Conference games.
"That's phenomenal," KU coach Tracy Bunge said Wednesday afternoon before the Jayhawks boarded a bus for the first leg of their journey to Athens, Ga. "That's outstanding."
Kansas (30-22) will meet Georgia Tech (49-12) in its first NCAA Tournament game in six years Friday at Georgia University's softball stadium.
While playing one of the game's busiest positions, Frankenstein has been charged with just six errors in the Jayhawks' 52 games. She hasn't made a error since the Jayhawks played March 31 at Wichita State. Her errorless streak stands at 25 games and counting.
"I think a lot of that is because I've been more relaxed, more focused," Frankenstein said. "When one part of your game is going great, you're not pressing."
The other part of her game is going great guns. Frankenstein leads the Jayhawks with a .358 batting average, 14 home runs and a .716 slugging percentage. Compare those numbers to last season when she hit .263 with three home runs and a .371 slugging percentage.
Frankenstein's breakout season brought her first-team All-Big 12 honors, and Wednesday she was named first-team All-Region by the National Fastpitch Coaches' Assn.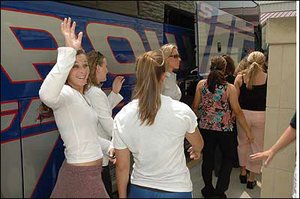 The Broken Arrow, Okla., product's fielding improvement has been almost as dramatic as her hitting spike. She was charged with 13 errors last season as the Jayhawks posted a team fielding percentage of .962.
This year's corresponding number is .972, and, if that figure holds up during NCAA competition, the percentage would break the school record of .969 set by three previous KU teams, the last in 1992.
Another strong contributor to the Jayhawks' solid fielding has been catcher Elle Pottorf, who has caught every inning of all but the two games she missed with a hand injury. Pottorf, a freshman from Washburn Rural, has been charged with only one error, a glossy number for a catcher -- particularly one who missed all of her senior season in high school with a shoulder injury.
"I take a lot of pride in my defense," Pottorf said. "That's my strongest area."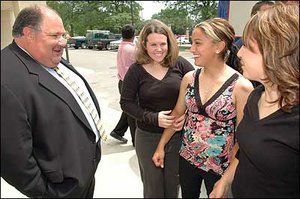 Pottorf has made an impact at the plate as well, with a .286 batting average and a .409 on-base percentage. She has been hit by pitches a team-high eight times and ranks third on the club in walks with 16.
Kansas is scheduled to practice today at the Georgia facility, then meet the Yellow Jackets in the regional opener at 4 p.m. CDT Friday. In the other game, Georgia will meet Tennessee Tech at 6:30 p.m.
Friday's winners will clash at 11 a.m. Saturday, with the losers to follow at 1:30 p.m. in the four-team, double-elimination tourney. Another elimination game is set for 4 p.m. Saturday. The championship game is set for 11 a.m. Sunday.
More like this story on KUsports.com