OKLAHOMA CITY — No national championship.
No Final Four.
No Sweet 16.
No Elite Eight.
Heck, even no Round of 32 for Kansas University's men's basketball seniors, stunned beyond belief following the No. 3-seeded Jayhawks' 64-63 loss to No. 14-seeded Bucknell, a team with just five scholarship players, Friday night at Ford Center.
"It's hard to put into words. Everybody is in a moment of shock," second-year KU coach Bill Self said after the Jayhawks dropped their first first-round tournament game since 1978.
That's before the NCAA seeded teams.
KU had won 21 in a row in Round One.
"Having it end so abruptly is devastating for those guys. I don't have enough words to say how proud of them I am. Just because we lost a game doesn't change what they've accomplished," Self said.
The seniors were in shock.
Point guard Aaron Miles, out of sync after picking up two quick fouls, sat on the floor against a locker-room wall, his head buried in his hands 15 minutes after the game.
"It's shock, just shock," Miles said after his 0-for-5 shooting performance with four points and four assists in 32 minutes. "They made shots, made plays. They made a lot of plays."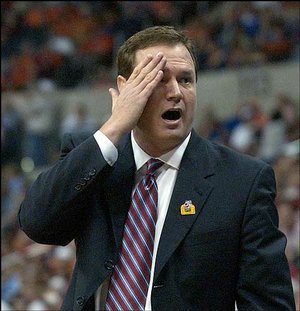 Bucknell, which led 22-14 and 28-21 in the first half, but was outscored 10-0 to close the half, made a ton of plays -- enough to down the Jayhawks, who hit one of 11 threes to Bucknell's eight of 31.
However, KU -- which hit just 43.5 percent of its shots and had 13 turnovers while forcing just nine Bucknell bobbles -- actually had a chance to make the play of the day and pull off a victory.
Michael Lee inbounded the basketball with 2.4 ticks left, KU down by one. He threw a full-court baseball pass to senior Wayne Simien, who caught the ball near the free-throw line and shot over the outstretched hand of Chris McNaughton.
The shot was short and missed, and Bucknell won as the unheralded Patriot League players swarmed the court and celebrated while the numb Jayhawks exited.
"I don't know how many game-winning shots I hit in my backyard dreaming I was a Jayhawk," Simien said. "It was a great opportunity. It came down to the last shot. The ball was in my hands. It didn't work out."
Self didn't like a lot of things about the game and the last part of the season in which KU lost six of nine games, but he did like that final, last-gasp possession.
"We got a good shot," Self said. "Mike made a great pass. Wayne had a good look. With 2 1/2 seconds left, you will not get a better look."
1-for-11Kansas' 3-point field-goal shooting (9.1 percent)8-for-31Bucknell's 3-point field-goal shooting (25.8 percent)21Consecutive first-round NCAA Tournament wins for KU before the loss to Bucknell8:44Time remaining when KU scored its final basket
Of course, KU had miserable looks and offensive play before that. The Jayhawks went 0-for-10 from the field the final 8:44.
KU hit 15 of 16 free throws, however, in that same span.
"We never did get in rhythm on either end," Self said. "We fought our butts off to take a three-point lead at halftime. Give them credit. I thought they played great. I thought they controlled the game."
KU received a yeoman effort from Keith Langford, who played for the first time since logging three minutes versus Missouri on March 6. He battled effects of the flu and his sore ankle to score six points with three assists in 26 minutes.
He was short on most of his shots, however, showing the effects of his lack of conditioning, missing six of seven shots.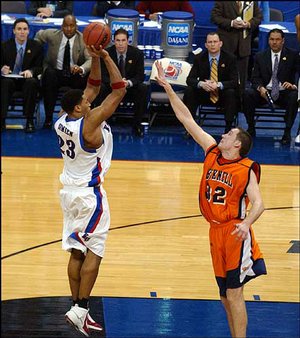 His two free throws at :25.4 gave KU a 63-62 lead, but McNaughton, who hit six of seven shots, iced a hook shot into Simien with :10.5 ticks left to give Bucknell the lead for good.
Langford missed a shot at :04, John Griffin rebounding and getting fouled at :3.5. His missing a free throw gave KU its last possession, which fell short.
"Keith is not close to 100 percent. We came here this weekend thinking he wouldn't play at all," Self said. "I wish I didn't have to play him like that. Circumstances said we needed to. I am really proud of Keith. He's been sick, his ankle is hurt. He gave it his all."
KU didn't call a timeout after McNaughton's bucket, Langford getting a decent look from the baseline.
"With that much time left it's easier to score open court than call time out," Self said. "With hindsight 20-20, I wish I called a timeout."
The Jayhawks seemed a step slow against Abe Badmus, who had 11 assists against no turnovers.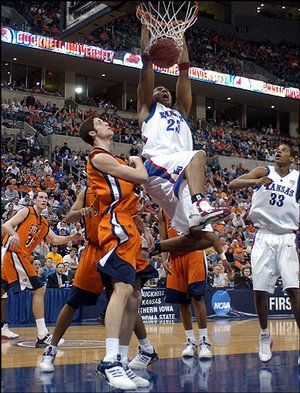 Kansas went to zone the second half in an attempt to save the game.
"They scored a couple of possessions. They scored against our man, too," Self said. "In the end, they had guys step up and make plays. Their guards were really quick. They had more quickness around the perimeter. I think the way they run motion we did a good job guarding plays, not guarding players."
Michael Lee was a dandy player for KU, stepping up for a career-best 18 points with seven rebounds in 31 minutes.
"I'm proud of Mike Lee," Self said.
Lee wasn't feeling too proud after the final game of his career.
"It won't hit me for a while," Lee said. "It's actually over. I won't blame injuries. I won't blame anybody. We just had ups and downs and lost the game tonight. In the tournament, you've got to play every night. We didn't underestimate Bucknell. We didn't. We just got beat."
"I assure you that was not a problem," Self said of lack of energy or focus. "The guys wanted to play well and win."
But they lost, and it's over for the seniors, and wait 'til next year for the rest of the squad.
More like this story on KUsports.com