Whether it was the massive size, the scary strength or the flat-out dominance of the Jayhawk Conference trenches, something kept Kansas University assistant coach Clint Bowen's eyes glued on the defensive line of Garden City Community College's football team last fall.
Man, was it a sight.
"I used to kid with (former GCCC) coach (Bob) Larson that he maybe had the second-best defensive line in the Big 12," Bowen said.
Bowen didn't laugh too hard after recalling his conversations with Larson, evidence that maybe he was half-serious regarding the awesome Broncbuster line. Of course, Bowen and the rest of the KU coaching staff are doing cartwheels now after landing the two leaders from that line, Wayne Wilder and Rodney Allen. Both have signed letters of intent and will compete for starting jobs in 2005 at KU.
"To say that we had a very physical defensive line would be an understatement," said Larson, now an assistant athletic director at GCCC. "They both had a great deal of experience and did a really nice job."
Snagging one was good news for the Jayhawks, who traditionally lose out on GCCC prospects to Kansas State due to location, past program success and the Wildcats' desire to recruit juco talent harder than most schools.
But getting both Wilder and Allen could mean an added wire to a recruiting network that's continuing to expand for the Jayhawks -- not to mention the impact Wilder and Allen expect to bring to KU immediately.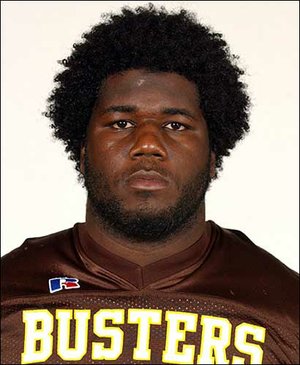 Wilder already is in Lawrence, enrolled in classes at KU and training with the team in hopes of landing a starting spot at defensive tackle this fall. Travis Watkins departed from the position last year, but Todd Haselhorst, Tim Allen and James McClinton return, which could make for a fierce competition for the starting jobs.
"When you see Wayne Wilder, it's almost weird how thick he is," Bowen said of the 6-foot-3, 295-pounder. "He's so strong. Him in the middle ... he would just plug up everything."
Wilder's signing in December undoubtedly gave the Jayhawks leverage in pursuing Allen, a 6-3, 265-pound defensive end originally from Miami. While Kansas State pushed extremely hard to land the juco All-American, Allen was sold on KU, and signed his letter of intent Feb. 2 with plans to join the Jayhawks this summer after completing school work at Garden City.
Wilder and Allen expect to provide immediate help up front, something KU needed with the loss of Watkins, Greg Tyree and NFL hopeful David McMillan from last year's solid defensive line.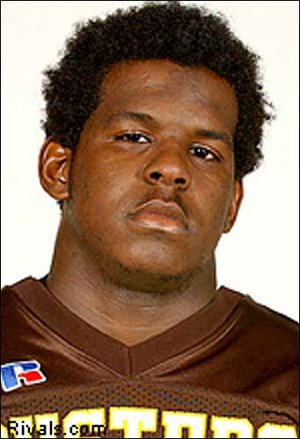 "They were really good friends out there. Their personalities go together really well," Bowen said. "Both of them will get in there and definitely compete for starting jobs and playing time this fall. They'll get on the field."
And just maybe, the duo's faith in Kansas could open the door for future Broncbusters under the new regime of coach J.J. Eckert, who replaced Larson in December.
"I think KU is definitely headed in the right direction," Larson said. "Whatever those guys did on that campus visit just wowed people. Both of them came back and said 'That's the place I want to be.'"
More like this story on KUsports.com