Like many Kansas basketball fans, athletics boosters, university officials and other followers of college basketball, Warren Corman said he wouldn't even consider replacing Allen Fieldhouse.
"We kill everybody that asks about that," joked the architect for Kansas University, who helped draw up original plans for the building that turns 50 years old today. "We shoot them and bury them underneath the fieldhouse."
Corman laughed as he relayed that long-standing joke among university leaders and others charged with protecting and extending the old barn's legacy, but he said he knew there was still plenty of business left to do to keep the fieldhouse alive another 50 years and beyond.
The Ward family, of Russell Stover Candies, has pledged at least $7 million to help preserve and improve the limestone-and-steel building. Now Corman and others are busy crunching the numbers to see just where the money will be spent -- whether it's for power-washing the exterior stone, replacing aging windows, adding protective paint, or all three and more.
After KU finishes tonight's game against Kansas State, crews from Turner Construction in Kansas City, Mo., will be set to get to work building a new Hall of Athletics.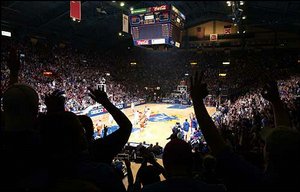 The $4.5 million construction project will go onto the east side of the fieldhouse, paving the way for another "several million dollars" of spending for interior displays, finishes and other features to make the fieldhouse even more of a destination point than its current role as a home for athletics offices, a workplace for one of the country's finest basketball programs and a shrine for collegiate hoops nationwide.
"I don't think anyone's come up with $200 (million) or $300 million to build a new one, and when you do that you lose all the tradition," Corman said, explaining some of the reasons the fieldhouse is considered irreplaceable. "The building's not beautiful or anything, but it's got a tradition that can't be replaced with a new building."
Double the space
The 16,300-seat fieldhouse also has an intimacy that can't be replaced, because to do so would be against the law.
New building codes and access requirements would mandate that a new 16,300-seat fieldhouse cover a site nearly twice as large as the fieldhouse's current footprint, said Craig Penzler, an architect who helped study KU's athletics facilities nearly a decade ago.
Even built on the same site -- a prospect that would close the fieldhouse for at least two seasons -- a new fieldhouse would reach nearly to Naismith Drive to the east and onto KU's baseball field to the south.
Benches would be replaced with chair-back seats, all requiring wider floors and more space between seats. Concourses would be larger, and the number and design of exits would be expanded.
Not a winning game plan.
"If someone came up with a big ol' check, and said, 'Do this,' I still wouldn't do it, because I wouldn't go away from Allen Fieldhouse," said Penzler, who recently opened his own firm, cpenzlersports, which does sports architecture and event planning for U.S. and international sporting events, from previous Super Bowls to recent World Cup soccer events.
"It's kind of like the field lights at Wrigley Field" in Chicago, he said. "I did the (luxury) suites at Wrigley Field. I was at HOK Sport at that point, and we turned down the project to do the lights at Wrigley Field because we didn't want to be the guys known as the guys that put the lights on Wrigley Field.
"I wouldn't want to be the architect that did the new Allen Fieldhouse. I don't care what they paid me. I wouldn't want to be a part of that decision."
Penzler needn't worry. Jim Marchiony, associate athletics director, said that there weren't any officials at KU working on any plans to do anything but improve the fieldhouse.
Replace it?
"We think and hope that in our lifetimes we're not going to have to deal with that," Marchiony said. "That will be somebody else's decision."
Plenty of work left
Brian Lantis, an owner of Lawrence-based Mar Lan Construction, wouldn't mind seeing a big-time construction project land in town -- lining up a lot of potential work for contractors, subcontrators, suppliers and others who make a living through the construction industry.
But he said he figured there was plenty of work left to be done on the existing building to keep workers busy for the foreseeable future.
"KU is big on tradition," said Lantis, whose company handles $8 million to $12 million of commercial construction projects a year. "It's only a 50-year-old facility. It's got a lot of years left in it."
Bramlage curse?
Corman smiled when he recalled his early work on Ahearn Fieldhouse at Kansas State University, which went up before Allen Fieldhouse and became known as a tough place to play for the powerful Wildcats.
Later, as he worked with the Kansas Board of Regents, Corman cringed as K-State leaders pushed to replace that old arena with Bramlage Coliseum.
"We tried to talk K-State out of it, but they wouldn't have any part of it," Corman said. "It hasn't been very successful for them. ... It makes you wonder."
Corman said KU would stick with its beloved fieldhouse, preferring to bolster its standing with upgrades -- remodeled bathrooms, a new sound system, revamped lighting, a new video board and other amenities -- before even contemplating building anew.
Bottom line: The fieldhouse isn't going anywhere.
"It will last forever, as long as you maintain it," Corman said. "The steel and stone don't wear out. You put new roofs on it every 20 or 30 years, you put new windows in, you keep it painted, clean the outside. Look at Europe: You have buildings that are 1,000 years old, 800 years old. And they didn't have the same technology we've had.
"No, the fieldhouse would only be replaced if somebody decided to do it. It won't be replaced because it's falling down."
More like this story on KUsports.com